Losses sparked Waynedale wrestling's 'Decade of Dominance'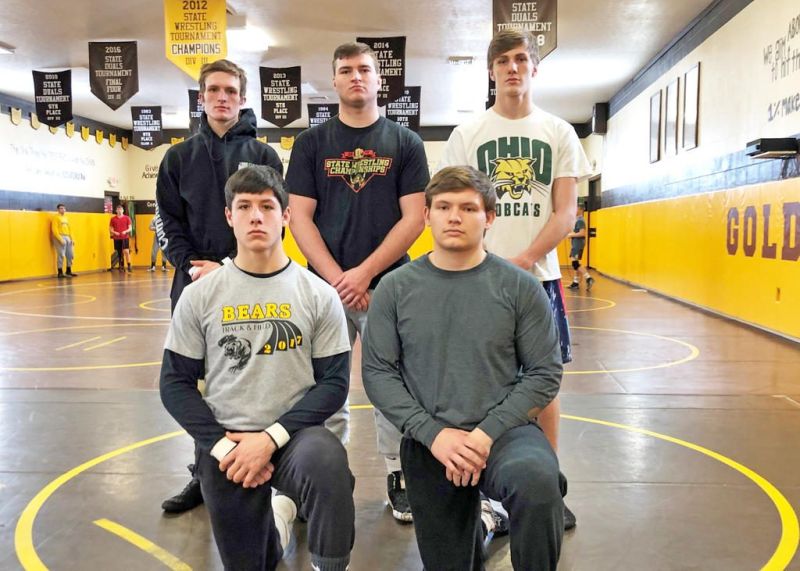 A pair of narrow losses sparked the Waynedale wrestling team to the greatest run in Wayne County history, which is still going strong in 2021.
Waynedale won its 10th-straight Wayne County Athletic League Meet on Jan. 30, easily outdistancing runner-up Dalton by 63 points. The Golden Bears have won 14 of the last 15 league titles and made a name for themselves at the state level as well.
The unmatched local success traces back to a pair of bitter defeats. The Bears dropped WCAL Meets to Northwestern by just a few points (162-160 in 2005, 188-187 in 2006), and coach Loue Stanley was left reeling.
Stanley even considered hanging up his whistle.
Instead, he figuratively took a long, hard look in the mirror and vowed to "go big or go home." The Waynedale alum decided to re-evaluate every aspect of the program and push the kids to train and compete at as elite a level as possible.
"We were good and were working hard, but it wasn't enough," said Stanley, now in his 28th year as head coach and owner of a 481-97-2 dual record. "We thought, 'What are we doing wrong?' The coaches and all the kids knew we had to sharpen up and work even harder."
Already a successful mat coach with four WCAL titles in his first 13 years and seconds in the other years, Stanley immersed himself into the sport of wrestling like never before after losing to the Huskies.
"I started going to the (NCAA) National Tournament and taking notes," he said. "I called my mentors, like Bill McGrain and Jeff Jordan, and asked for their advice. We just started tweaking stuff, all the way down to conditioning, to weightlifting, to mental preparation. It wasn't just mat technique. We had the kids; we just needed some adjustments to how we were doing things."
The rest is history as they say.
Fueled by their local rival, since 2006 the Bears also have become a state power. They've won 10 sectional titles, five district titles and were the 2012 Div. III individual state tournament champs. Waynedale also has been a regular participant in the state duals, highlighted by a runner-up finish last year before COVID-19 shut down the individual tournament while the Bears' qualifiers were packing to go to Columbus.
The tradition continued with five Bears winning championships at the 2021 WCAL Meet: junior Caiden Heller (106), junior Jake Sundberg (126), senior Storm Stanley (145), junior Justin Hershberger (160) and senior Cam Jordan (285).
Taking seconds were junior Peyton Lemon (170), Caleb Zimmerman (132), Kane Murray (195) and Brayden Kidd (220).
Fourth-ranked Storm Stanley (14-1) is working to become a three-time state qualifier while Lemon (15-1) and Sundberg (14-2) are trying to earn repeat state invites.
"I was getting my stuff ready (to go to the 2020 state tournament), and we were about to leave when I found out it was canceled," Stanley said. "It was devastating."
Stanley, whose dad, James, was a state qualifier in 1989, cherishes wrestling for Waynedale. "I'm not taking anything for granted," he said. "Every week we wrestle is a blessing because we never know when it can end. I'm working hard all the time, knowing where I was last year and where I thought I could be."
Lemon was ranked first in the state before dropping a tough 3-2 decision against Rittman's third-ranked Sevi Garza in the WCAL Meet. Both grapplers could be headed for several more showdowns, at the sectional, district and perhaps even the state meet.
Hershberger (16-0) is the team's only undefeated grappler and ranked 15th while Jordan (5-0) and Murray (13-3) are both ranked sixth at their respective weights.
Coach Stanley is always quick to thank the long list of assistant coaches he's had over the years, usually fellow Waynedale alums. This year's staff includes longtime assistant Nick Widder, as well as Jay Vitallo and the coach's sons, former All-Ohioans Brendan Stanley and Reid Stanley.
"Having all these good wrestlers in here coaching us gives me confidence, and I know what they're telling me is gonna work," Hershberger said. "We've got the tradition. With 10-straight (WCAL) titles, it's definitely an honor to be on this team."
Coach Stanley still can't believe the way it all unfolded. "We really should thank Northwestern for kicking our butts and waking us up," he said. "Without that, I don't think these last 10 years would have happened like they did. We would have thought that we were on the right track and wouldn't have made the changes we did."
Aaron Dorksen can be emailed at aarondorksen24@gmail.com. Follow him on Twitter at @AaronDorksen.