Moore on the ballot for Naismith Basketball HOF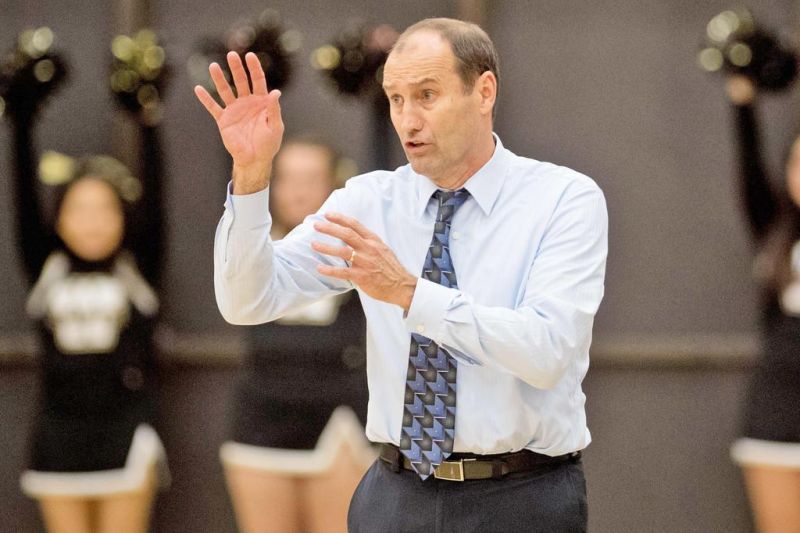 "Blessed" and "fortunate."
Two words that are highly likely to be spoken by the College of Wooster's Steve Moore when commenting on one of his many accomplishments, especially if said accomplishment is personal in nature. Not far behind is typically some variation of an abundance of praise for the "many excellent players" and a "great coaching staff" with near-unparalleled continuity when it comes to the lead assistants.
Now because of them — all of the players and coaches — the Fighting Scots' legend is up for consideration for induction to the Naismith Memorial Basketball Hall of Fame. This year's nominees were announced on ESPN's "NBA: The Jump" on Thursday, Dec. 19. He'll find out if he's a finalist for Naismith's 2020 induction class on Friday, Feb. 14, in conjunction with NBA All-Star Weekend. The announcement of the 2020 induction class is set to take place on Saturday, April 4 as part of the NCAA Div. I Men's Basketball Final Four in Atlanta, Georgia.
Among the 50 nominees on the ballot for the Class of 2020 are former NBA players Kobe Bryant and Tim Duncan.
The Naismith Memorial Basketball Hall of Fame "honors and celebrates basketball's greatest moments and people." Most, but not all, of the college coaches already enshrined in the hall have won at least one national championship as a head coach. That's the one box still unchecked for Moore. The highly respected coach more than makes up for it by how he's gone about leading his charges over the years, and as a result Wooster's sustained a near-unparalleled level of success. Simply put Moore's resumé definitely fits the billing as "one of basketball's greatest people."
The numbers speak for themselves. He's 12th all-time in NCAA coaching victories and second within Div. III with 857, 770 of which have come at Wooster. Only six of the 11 coaches with more wins than Moore can say they've won at least 750 games with one team.
Entering the 2019-20 season, Wooster's won 82.7 percent of its games in the 2000s. That's better than Gonzaga University (82.3 percent), Duke University (81.9) and every other NCAA men's basketball program over the last two decades.
Wooster's won 20 or more games in 23 consecutive seasons. Only the University of Kansas has a longer active streak among NCAA men's basketball programs. There's very little margin for error in Div. III when it comes to keeping that streak intact with a regular season slate of 25 games. Div. I programs have a little more breathing room with 31 games in the regular season.
The Scots have danced in March for 17 consecutive years, the longest NCAA tournament streak in Div. III history. Wooster's made three trips to the national semifinals during that run and played in the 2011 national championship game.
That's just the tip of the iceberg when it comes to Moore's success. Much of an iceberg lies beneath the surface, just like what's made Moore so successful isn't always in the spotlight, just the fruits of the labor.
When Moore was hired in 1987, Wooster's program was in need of a spark. The program was in the midst of a few lean years after Al Van Wie stepped down as coach. Moore quickly went to work, and it was "quite evident" he was going to change the culture of the program, said Erich Riebe, Class of 1992, who was one of the first recruits courted heavily once Moore took over.
"When I first started considering schools, Wooster wasn't one of my top choices," Riebe said. "I attended a few games Coach's first year and just felt like things were going to turn around. The team was competitive in every game, and you could see that there was buy-in from the players. Coach stayed in constant contact with me throughout my senior year, and the one thing that really stood out to me was the fact that he cared about me as a person more than just about me as a player."
More players, especially the local ones, came through the program after Riebe, who was a standout at nearby Waynedale High School. Doug Cline ('95), who will take over as the Scots' head coach once Moore retires at the end of the academic year, was one of them. The Northwestern High School product's never left, as he made a seamless transition to the sideline after his playing career wrapped up.
"Erich showed me Wooster was OK," Cline said. "If it was good enough for Erich, it was good enough for me."
Ian Franks ('11) was a go-to guy at South Central High School in Greenwich, Ohio, but his team wasn't very successful, and thus he wasn't recruited heavily. Those familiar with Wooster's program know all too well the story of how he worked his way up from a JV player to a two-time All-American.
"I kind of thought that I would be a JV guy at least to start when I came on," Franks said. "I saw if I worked hard, I could work my way up, and maybe by the time I was a junior or senior, I'd be able to contribute. I remember there was a point where I did something defensively (early on), and I overheard coach Moore say something to coach Cline that 'he's really picking up what we're teaching.' That's when I noticed coach Moore's seeing what I'm doing, and it was the turning point for me."
Two individuals — Cline and Bruce Martin — have been integral parts of Wooster's sustained success, and other assistants have contributed immensely over the years. Cline's been associated with Wooster's program for 29 seasons, four as a player and the last 25 as a coach, while Martin's in his 26th season on the Scots' bench.
"It's been a tremendous experience and a great ride," Martin said. "We've developed a lot of great friendships. It's hard to leave a situation like that."
"A big reason I've been here for so many years is Coach treats everyone great," Cline said. "More importantly he lets coaches coach. There's a lot of coaches out there, and I've watched them, been to their practices, where the head coach does everything and the assistants just stand on the side and don't do a whole lot. Coach Moore, he doesn't care about that. All he wants to do is win, and he allows his coaches to have a big say in everything that we do."
While the styles have changed over the years, two things have remained constant: Moore always stressing the fundamentals and his teaching impact going far beyond the X's and O's. The National Association of Basketball Coaches honored him in 2008 with its Guardians of the Game for teaching, an award once bestowed to John Wooden.
Moore's certainly done his part to give back to the game that's given him so much, and the Scots' players are a big part of that as well. Each year Wooster hosts a youth skills clinic leading up to the Al Van Wie/Wooster Rotary Classic. While the players are working with the participants, Moore's hard at work imparting his knowledge on the area's youth coaches.
Food items are collected as admission to these clinics, and those are donated to People to People Ministries. More food items are collected during the games of the Classic as part of a large-scale effort by the Rotary Club of Wooster to restock the food pantry at People to People Ministries.
Each December the Scots host one of the longest-running small college basketball tournaments in the country: the E.M. "Mose" Hole/Wooster Kiwanis Classic. A clothing drive is held during that tournament with Goodwill Industries receiving those donations.
Other ways Moore's given back include Wooster participating in the NABC's Dream to Read program at local elementary schools, and he's served on the NCAA's rules committee, is a member of the NABC Congress, and has served on the NABC ethics and regional advisory committees.
More recently Moore and the Scots assist with setting up and cleaning up the American Association of University Women/Kiwanis used book sale at the Wayne County Fairgrounds.
Hopefully Moore's name is among those announced in February and a call from the hall follows in April.