New Phila grad climbs the ranks to NASCAR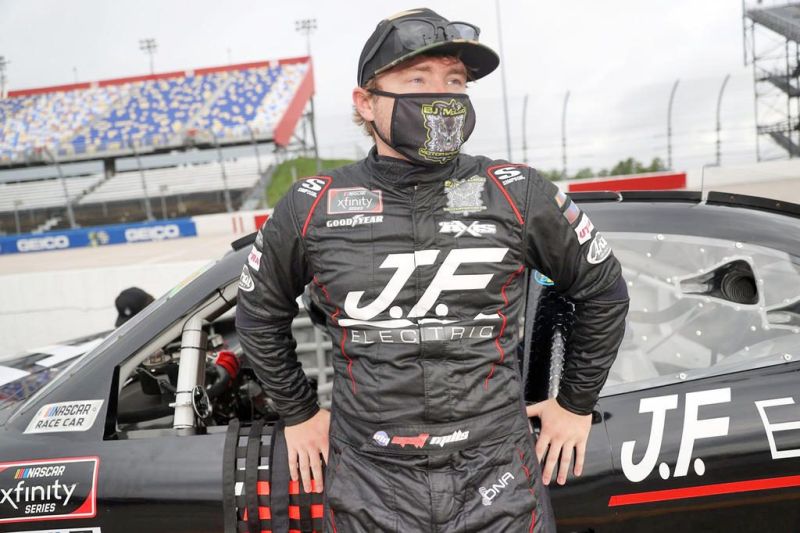 New Philadelphia's own NASCAR driver, Matt Mills, started in motor sports at the age of 3 and has never looked back. At the age of 12, he decided to move from motocross to go-cart and car racing. He raced at his home track, Midvale Speedway, from 2012-15.
Car racing is now his passion. "I just fell in love with it and from there on out just kept climbing the ranks to modified and three or four different late models and then into the NASCAR series," Mills said.
Mills is the son of Jamie and Shelia Mills of New Philadelphia. He is a 2016 graduate of New Philadelphia High School and took classes through the Quaker Digital Academy his last year due to his race schedule.
Mills' ultimate goal as he was going up the ranks was to race in NASCAR. "We started traveling a little bit with late models, and I was down in Alabama, where I got noticed by a sports agency that had NASCAR clients," he said. "I had never seen the track when we went down there. I had never had the type of car I was in, and I won top of the board in the very first practice session."
Mills discussed what the opportunity brought. "We caught a lot of people's eyes including people at that agency," he said. "I talked with them, and they picked me up, and we just kept climbing with more sponsorships. They helped take me to the next level, which is NASCAR."
Mills has been driving in NASCAR since 2016 and made his first Xfinity start when he was just 17 years old. Last year was the first year he raced in the Xfinity series full-time. Mills is a member of the BJ McLeod Motorsports team. He also has raced in truck races.
"I'm very fortunate," Mills said, adding what he likes most is the thrill and competition of the sport. Mills drives the #5 Chevy Camaro, and his main sponsor is JF Electric.
Practice is important, but to continue improving his racing skills, Mills likes to surround himself with other people who are knowledgeable in the sport.
"I talk to as many people as I can, and each time I'm out on the race track, I feel I learn something," Mills said.
With the cars capable of speeds up to 160-200 mph during a race, driving could be a scary experience, but not for Mills.
"It's more just nerve-wracking at times, especially before a race; it's the starting anticipation," Mills said. "I have never really thought of it as scary. Once you get out there with 40 other cars and you are trying to race, you just focus on the race competition."
Mills is impressed with the emphasis on driver safety. "I almost feel safer in a race car than I do in my personal vehicle," he said.
Drivers wear flame-retardant under garments, a fire suit, gloves and shoes that are all flame retardant. "They have to protect us from fire, so it's a little hot, but it's worth it," he said.
The helmets they wear have to meet certain safety requirements, and they have to wear a neck restraint. Cooling units inside the cars provide some fresh air directly to the helmets.
"You can't move once you get inside the race car. You can move your arms and move your legs, and that's about it. You don't turn your head or anything like that, so you are stuck in that position for about three hours," Mills said.
Though NASCAR was the first major sport to restart during the pandemic, COVID-19 has changed many things for the drivers and their teams.
"It's very different. We have to go through a screening process when we show up to the track, everybody has to wear masks and obviously there are no fans," Mills said. "You hardly talk to anybody, like the guys I race with. We just kind of sit in our cars until it's race time, and we sit in our personal vehicles until we walk out to the car prior to the race."
Mills described other differences. "It's very odd; there's no practice or qualifying time. When you get in the car, it's time to go, and you're just supposed to fire right off," he said. "It's challenging, but we're starting to get the hang of it. It makes everybody a better race-car driver when you just have to face those challenges like that."
Mills relies on his spotter, Terry Campbell, who also works cup races, for more than just information on what's happening on the track. "He keeps me motivated and calms me down when I need it and gives me a good awareness of where everybody's at on the track. He does a good job," Mills said.
Mills' favorite NASCAR driver is Jimmie Johnson.
"Since his rookie season I've seen him as a role model. I always cheer for him. I've met him one time, and he's the nicest guy ever. What you see on TV is what you get from him, and he's still a role model for me today," Mills said.
NASCAR adding extra races during the week to complete their entire schedule hasn't had as much of an affect on the drivers as one might think. Taking practice and qualifying out of the equation means one less day spent at the track for drivers.
"We still have to be mindful about not tearing up our cars, and we have quick turnaround times. As of right now it's been still kind of about the same and maybe just a little bit more relaxed," Mills said.
Prior to the COVID-19 pandemic, Mills was scheduled to make his first appearance in cup racing this year.
"We are hoping they will let us do something at the end of the year. We need to find some funding," Mills said, adding the pandemic took away a lot of opportunities to pick up new sponsors. "When I make my cup series debut, we want to be ready for it. We are waiting on what the NASCAR schedule is going to do and find some funding to go run a few races at the end of the year."
NASCAR is a very expensive sport to be in, and Mills is always looking for more sponsors who fit with NASCAR's guidelines.
"We are all the time searching for sponsors. I send cold emails every day; it's very hard to find money," Mills said.
Things could be looking up.
"As the only major sport going on, NASCAR is getting a lot of attention right now. We see new companies coming to NASCAR every day, and they all enjoy coming to the races and getting a good amount of publicity, whether it be on social media or TV. It's a good way for new companies to get their name out there."
Mills enjoys racing with the cup drivers in the Xfinity series, even if their well-funded teams are harder to beat. "Eventually, if you do beat them, it really looks good for you. Sometimes, they steal the show, but it just goes to show how good those guys are. I just hope I can go out and beat Kyle Busch one day. That would be a headline," Mills said.
For more information visit Matt Mills Racing on Facebook.