Pizza Box Art Contest celebrates art and pizza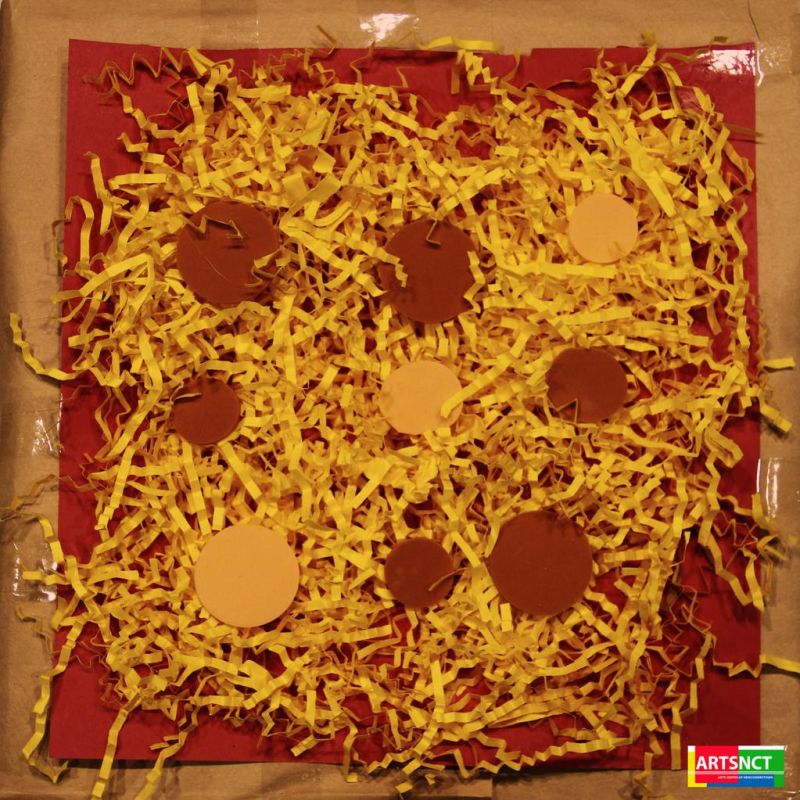 There's much hidden talent in Newcomerstown and to prove it, 400 pizza boxes were distributed this year at all of the Newcomerstown Schools four locations giving students at East and West Elementary schools and those in middle and high school the opportunity to participate in a unique art project.
The reason for a blank canvas on a pizza box is simple, "October is National Pizza Month and we wanted to do something fun and creative to get all of our local youth involved," said Michael A. Wise, executive director of ARTSNCT. "The pizza box contest is growing each year. ARTSNCT serves the tri-county area and next year we hope to open it up to Ridgewood schools."
This is the third year for the contest. The arts center has partnered with Damon's American Pizza, Dominos, and Terry's Pizza for this special program.
Teachers from the schools were asked to inspire each of their students to take a pizza box and create a unique and imaginative piece of art. The finished art on the pizza boxes could be most anything including paintings, drawings, collages, mixed media, wall sculptures, clocks, lights, or anything else the students could imagine and create for a wall hanging.
Wise is pleased with the results of the contest which enhances the lives of the participants.
"The goal (of the pizza box project) is the same as many of our programs; to encourage the exploration of creativity and imagination," Wise said.
The extremely artistic students did not disappoint.
"This year we have a tiered pizza box cake, a working pizza clock, and a colorful diorama," Wise said.
The pizza box art is available for viewing on ARTSNCT's Facebook page, but you can do more than just look, you can help determine the winners.
Anyone can get involved as voting is done by the number of 'likes' the box receives on the ARTSNCT Facebook page. Like your favorite pizza box art boxes on the page and the student artist from each school with the most 'likes' for their boxes will receive a $100 First Prize and the Runner-up will receive a free pizza party for their class from one of our sponsors; Damon's, Dominos, or Terry's Pizza.
Voting is ongoing through October 31. The winners will be announced Monday, November 2.
Wise is pleased that the Pizza Box Art contest was able to be held this year. "We have been greatly affected by the COVID pandemic. We have not had any in-house programs since March," he said. "We are hoping to resume our Free Saturday Arts and Crafts classes in January.
The Free Saturday Arts and Crafts classes are for students in grades K-12 and they are usually offered throughout the calendar year. The classes are entirely sponsored by local businesses, organizations, and individuals.
ARTSNCT is fully volunteer managed, operated and the center is supported by private donations; it is a 501(c)(3) tax exempt charitable organization.
ARTSNCT has accomplished much in addition to the yearly Pizza Box Art Contest and Exhibit, making its mark in a big way in the Newcomerstown area. Over the past two school years, ARTSNCT has taught art and theatre classes at Newcomerstown's West Elementary School in conjunction with the school's L.E.A.D. program.
In conjunction with the Newcomerstown School System, Wise directed and presented two spring musicals for Newcomerstown High School in 2016 and 2017. ARTSNCT also organizes talent shows and entertainment for the Cy Young Days Festival and Newcomerstown Gateway to Fall Festival each year. They participate each year in the spring and fall Art in the Alley event in New Philadelphia.
ARTSNCT has presented programs for other community events and organizations including the West Chester Senior Center in Tippecanoe, two groups of Kiwanis – New Philadelphia and Coshocton and the Arty Party in New Philadelphia. They have become a community center as a site for meetings of area organizations and the center is available for rent for parties and events.
The center has established many other programs and events including sponsoring Manuel Yingling Day to honor the world-renowned trombonist who was born on October 24, 1872 in Newcomerstown, they also present the Manuel Yingling Music Award which was won this year by BJ McFadden, Summer Arts Camp, and many other events and celebrations for the community.
They are involved with other organizations involved in promoting the arts including the Tuscarawas Arts Partnership (TAP) and the Little Theatre of Tuscarawas County.
The center is located at 304 South College Street in Newcomerstown. For more information on the center and their events call Wise at (740) 575-5710 or email michael.wise@artsnct.org. The group has a website at www.artsnct.org.
Visitors to the Facebook page should be sure to look for the photo galleries of all four participating schools and vote for their favorites from each school.
Next up for ARTSNCT is the Newcomerstown Trick or Treat night on Sat., Oct. 31. The residential trick or treat is from 4:00 p.m. to 6:00 p.m. The ARTSNCT center will be open from 3:30 p.m. to 6:30 p.m. for treats and complimentary photographs of all trick or treaters.