Quakers second half versus Reynoldsburg leads to CitC success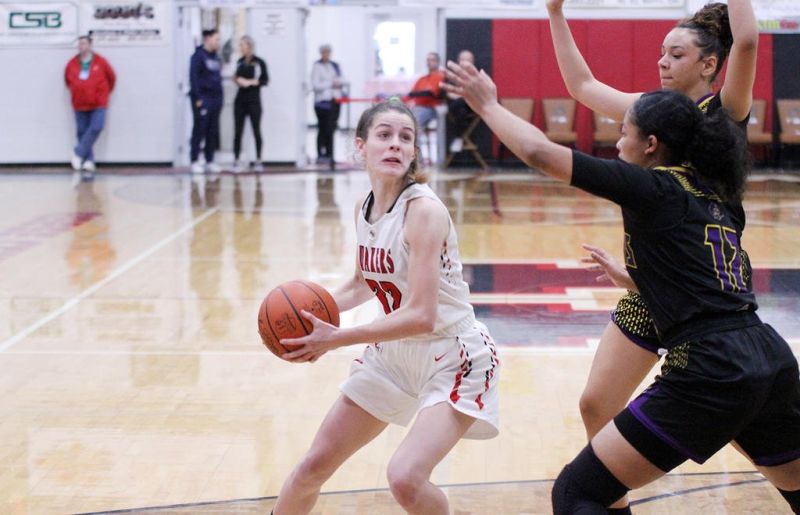 A little bit from a lot of people can go a long way in achieving a goal, and for the New Philadelphia Quakers girls basketball team, that was the case at Classic in the Country 2020, where the Quakers systematically ground out a 49-37 victory over Reynoldsburg on Monday, Jan. 20 at Hiland High School in Berlin.
While the win came by double-digits, the outcome was in doubt, especially in the first half when the two teams fought to a standstill at 21-all.
With All-Ohioan Josie Pry, who was tabbed as the AEP Ohio Player of the Game, and sophomore point guard Audrey Harr leading the charge, New Philadelphia was able to hang around with a talented Raiders team that featured athletic sisters Makiya and Malaysia Miller.
With the score knotted at 21, Pry unknotted it by driving home a long trey to give the Quakers a lead they would not relinquish. Ajia Schreffler hit inside and added to the lead, and Pry struck again. When Julia Ress and Anne-Marie Monaco scored on consecutive steals, the Quakers held a commanding 36-23 lead and appeared to be on the verge of blowing the Raiders out of the gym.
However, perennial state power Reynoldsburg wasn't going to go away without a battle. Two Makiya Miller free throws and a buzzer-beating 3-pointer from Kyria Walker trimmed New Philadelphia's lead to 38-28 through three periods, and things were about to get closer.
"We were a little shaky there at times, and they are very good at pressuring, but I thought that when we took a time-out and got a chance to catch our breath with four minutes to go, we did a good job handling it," Quakers' head coach Kevin Cornell said. "That's the most pressure Harr has ever seen, and she handled it well."
With Reynoldsburg applying full-court pressure and trapping half-court, the turnovers started to pile up for New Philadelphia. Five straight points by the Raiders trimmed the Quakers' lead to 38-33, and Reynoldsburg had the ball, but a Harr steal turned things back in favor of the Quakers.
Pry's and-one got New Philadelphia back on track, and Monaco scored inside to push the lead back to 10. Makiya Miller would bury a 3-pointer, but four points from Harr and two more from Monaco would seal the deal for New Philadelphia.
In advancing to 12-3 on the campaign, the Quakers got balanced scoring, led by Pry's 13-point, five-rebound effort. Harr and Schreffler both added eight points while Monaco and Ress each pitched in with six.
Cornell addressed his team's balance following the game.
"We are trying to rely on our depth," Cornell said. "We play extremely hard with great intensity, and we are well-balanced, and we have had eight girls score 10 or more points in a game this season. The girls don't value statistics. They just play hard, and they want to win."
That balance begins with Pry, who as a junior last year earned All-Ohio honors in volleyball and track. Pry proved to be a steadying influence for the Quakers when things got tight in the fourth period, and she showcased her leadership skills again, something she has not shied away from as a student-athlete.
"I like setting the tone for younger kids," Pry said. "I want them to know that when it's their turn, this is how you want to lead, and it's definitely not something I will back away from."
"You don't see many three-sport stars anymore," Cornell said. "She's special, the ultimate competitor. I'd take a thousand Josie Prys."
He also will take the kind of effort his team gave under the bright lights of the big stage at Classic In the Country.
"I am really proud of how we defended [Reynoldsburg]," Cornell said. "We thought our one-two-two pressure could slow them down, and I thought we did a good job with that. This is a great tournament atmosphere, and it's an honor to be out here. You know you're going to face some of the best talent in the state, and we are proud to be able to showcase who we are."