Records falling as Generals continue playoff run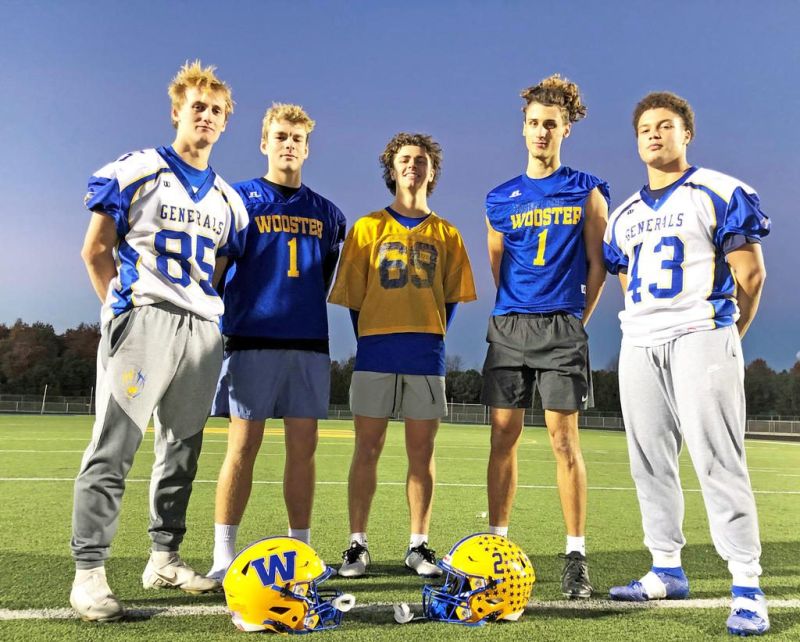 After a pair of playoff upsets on the road, the 14th-seeded Wooster football team has made sure it will long be remembered.
The Generals are the highest seeded team left in OHSAA playoffs and one of just two double-digit seeds still playing.
After winning on the road at No. 3 Olentangy Berlin 23-20 and No. 6 Dublin Scioto, Wooster (7-5) will take on No. 7 Green (9-3) at Canal Fulton Northwest's Smilek Stadium in a Div. II, Region 7 semifinal on Friday, Nov. 12.
The winner of that game will play the winner of No. 1 Sunbury Big Walnut (12-0) vs. No. 4 Massillon Washington (10-2), who will kick off at the same time at Mansfield's Arlin Field.
"Our kids are excited," first-year Wooster coach Austin Holter said. "They love being out here. They love playing in the games and practicing. We have great energy in week 13, and I think that's really important."
Football has often been called "the ultimate team game," but within the team framework, individuals can shine if everyone else is doing their jobs.
Wooster doesn't have a list of individual school records, but this reporter's research indicates three seniors have set single-season school records: Drew Becker (3,002 passing yards), Micah McKee (940 receiving yards) and Drew Rader (14 field goals, all-time area record). Additionally, junior Michael Howman-Williams' 157 tackles are believed to be a school record, and McKee and Jack Williams, with 59 receptions apiece, are nearing Logan Kotulock's 2019 school record of 67 grabs.
Air attack
Becker was 22-for-39 passing for a career-high 347 yards and one touchdown against Scioto. The 6-foot, 186-pound QB is 253-for-412 passing overall with 20 TDs and 18 interceptions. He broke the previous school record of 2,514 yards passing set by Dylan Dagley in 2018.
"Our coaches put out great calls for us, just to get our receivers open in space," Becker said. "We've gotten off to fast starts in the playoffs, which helps a lot just settling us down. It's great to be out here still playing football, and I think we're leading the way for more kids behind us. We've got a lot of good underclassmen that can definitely be where we're at right now."
McKee has eclipsed the big seasons turned in by Darrian Owens (40-859 yards receiving) and James Preston (49-856) in 2012 when they teamed up with Cam Daugherty, who passed for 2,241 yards.
"Coach (Mason) Espinosa has done a great job of identifying what our strengths are on offense and with our passing game," Holter said. "I'm so happy for all of our players to enjoy the success they're having."
Rader gets his kicks
Rader has stood out above not only Wooster's most prolific field goal kickers, but also everyone else in area history. He's 14-for-17 on field goals with a long of 43 yards in 2021. That breaks the area record set by Orrville's Dan Stultz (10 in 1994), who went on to kick for Ohio State, and the Wooster mark held by Joe Stoll (9 in 2018). Rader's 27 career field goals has broken Stultz's mark of 22.
"I realized I was getting a lot of chances, especially just seeing other kids' stats, but I had no idea about any records," said Rader, who's 27-for-32 on career field goal attempts and was named the OCC Special Teams Player of the Year. "It's pretty cool."
Rader made two fourth-quarter field goals against Scioto. "I definitely feel the pressure in the playoffs, but it just helps me focus more. I know they're big kicks and they need to be made."
At this point Rader is getting a lot of Div. III recruiting interest. He credits kicking coach Tyler Warner of Xenia and Stoll for working a lot with him over the last few years. Rader also greatly appreciates long-snapper Kaleb Lamb; the holder, Becker; and the line for setting him up in rhythm.
"Drew's an offensive weapon," Holter said. "He has ice in his veins."
Remembering 1986
This fall is the 35th anniversary of Wooster's greatest team of the OHSAA's playoff era, which started in 1972.
The 1986 Wooster Generals, coached by Bob McFarland, reached the Div. II Final Four and finished with an 11-2 record.
The 2021 Generals have matched the 1986 team for the most playoff wins in a season with two apiece.
That statistic isn't brought up to compare the teams, rather to show how rare it's been for Wooster football to enjoy postseason success. The 2014 Generals' lone playoff win is the only other postseason victory in program history.
In 1986 there were only five playoff divisions and four teams per region, compared to seven divisions and 16 teams per region in 2021.
The Generals defeated Steubenville 21-6 and Columbus Mifflin 24-10 before falling against eventual champ Cincinnati Purcell Marian in the state semifinals.
Drew Gerber links the past and the present for Wooster. He's the current offensive line coach and was a sophomore who lettered by playing special teams on the 1986 team.
"That was a lot of years ago," said Gerber, who went on to star on the offensive line as an upperclassman and then play for Youngstown State. "On the long bus rides to our playoff games, I can't help but think back to those days.
"We had some great players: Mike Huddleston went on to play for Ohio State, Tony Lee went to Bowling Green, John Murphy played for West Virginia and Matt McCoy walked on at Ohio State."
Gerber is thrilled the current Generals are getting to experience some of the thrills he enjoyed so long ago.
"This is really special," Gerber said. "(WHS assistant Rhyne) Ladrach and I coached the current seniors when they were in eighth grade. They're great kids. We had mainly seniors last year, and no one expected these kids to do anything this year, but they're proving everyone wrong."
Gerber also gave major credit to Holter and offensive coordinator Espinosa.
"They've been a ray of light," Gerber said. "They are out-coaching people."
Holter, 33, wasn't even born until 1988 but learned about the 1986 team soon after being hired as the Generals' coach. And he was thrilled to retain Gerber from previous coach Doug Haas' staff.
"Drew's experience is incredible," Holter said. "He understands what it takes to win, and having played at YSU, it's great to have a guy like that here."