Art show to feature little watercolor works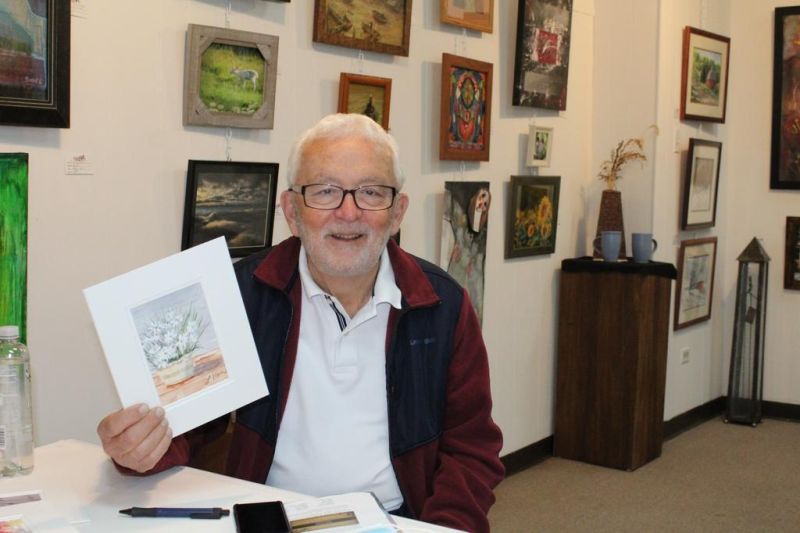 The TuscArts Gallery has a new show planned for May 1 and 2 from noon to 4 p.m. each day. Les Petites Aquarelles/The Little Watercolors will feature more than 80 original paintings that are 5-by-7 inches in size. The gallery is located inside Around the Corner Frames, 207 S. Broadway, New Philadelphia.
Watercolor artists and neighbors Larry J. Kerr and Ed Paradise, both of the Atwood Lake area, are the featured artists.
Kerr is known for his artistic work and is the past president of the Cuyahoga Valley Art Center. He began watercolor painting 30 years ago, and for the past 20 years, it has been a passion as he created works featuring his favorite subjects including seascapes, mountain and woodland scenes, historic buildings, antique cars, pets and wildlife, and other scenes that capture the beauty of nature.
Paradise is a native of Cleveland who moved to Atwood Lake upon retirement. He worked as a florist since the age of 13, and he still works part-time doing flowers. He owned and operated many assorted retail businesses including multiple flower shop locations during his career.
Paradise has been painting watercolors for over 10 years and also is a member of the Cuyahoga Valley Art Center and the Hudson Society of Artists. He has exhibits at the Epiphany Arts Festival and enjoys numerous workshops at Cliffside Artist Collaborative in Hinckley and at Lakeside. He likes painting realistic watercolors, capturing light with attention to value and composition.
Kerr has always been a fan of the small-format pieces of the Whiskey Painters of America, a group of artists who create 4-by-5-inch miniature watercolor paintings. Membership is limited to 150 artists, and the death of a member is the only way a new member can be added. The idea came about after the organization's founder, Joe Ferriot, past president of the Akron Society of Artists, took small-sized art supplies with him to paint at a bar in New York using whiskey instead of water to reconstitute the paint.
Kerr has about a half-dozen WPA paintings in his personal collection that usually sell for between $75-$400 a piece.
"That was the genesis of the idea for the show," Kerr said, although he and Paradise wanted to make their paintings slightly larger.
Kerr also observed the sales made at the TuscArts Gallery. As a member of the group, he spends at least four hours a week at the gallery. They have many paintings in a higher price range; those pieces sell but not as quickly as some of the more moderately priced smaller works, like pottery. The idea of producing original art at a more affordable price that still allowed the artist to make a profit was appealing.
"I'm having fun with it. I've painted larger paintings and recently moved into painting the smaller format," Kerr said. "I get a lot of enjoyment and creative satisfaction."
Kerr has traveled to other states and cities to take art lessons to improve his skills.
"I've rubbed elbows with a lot of painters and made a lot of friends with world-class artists," Kerr said.
After retiring from a career where he was employed by two Fortune 500 companies and later ran his own consulting business, Kerr wanted to remain active. "At 80 years old, I feel like I haven't finished growing," he said. "I'm looking at continued growth, and the arts offer that to me."
Kerr also likes the feedback others in the art community give each other on their work.
"In business you don't want other people to critique your work. In art you respect other's opinions. Art is always critiquing and growing," Kerr said.
After spending about three months working on painting his own collection of little watercolors, Kerr was surprised when he received the May/June 2021 issue of Artists Magazine in the mail. The cover story featured the benefits of painting small-format pieces.
Kerr enjoys being a member of the TuscArts Gallery. "I like supporting the local art community as part of the gallery," he said. "We are expanding community education and knowledge."
All the pieces on display at The Little Watercolors show are matted, original work on quality archival paper for $30 each. Though the pieces are complete as shown, Around the Corner Frames will offer a selection of framing for $25 for those who wish to have them framed. The little watercolors make great gifts and offer the opportunity to own an original piece of artwork for a smaller price.
The TuscArts Cooperative is an art gallery maintained and operated by a group of local artists and photographers. It is open to the public, and visitors are welcome to stop in, relax and enjoy viewing a variety of art. All the art displayed including paintings, ceramics, jewelry, photography, cards and more is available for purchase.
The group's members include 27 area artists, and more are welcome. Visit the TuscArts Cooperative website at https://tuscart.com/ for more information.