New Philadelphia students display art work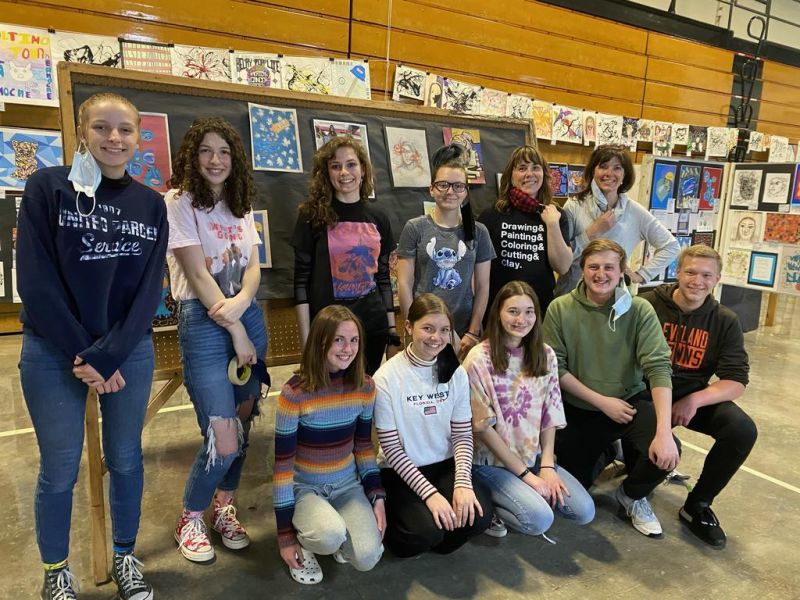 New Philadelphia High School art students displayed a selection of their work at a show held on the school gymnasium balcony. The show was open to the public on April 21 in the evening, complete with live guitar music and plenty of creations by students during the past school year.
"The work is by freshman through senior students, art one through art four, plus AP students," New Philadelphia High School art instructor Heather Agar said as she and volunteer students put the finishing touches on the show after a full day of preparation. "It's a little smaller this year, but we were still able to show a lot of work. It has all come together well."
The back wall of the gymnasium and all the available floor space was given over to drawings, sketches, watercolors and other works. "We didn't include any 3-D sculptural work this year," Agar said. "This is all media on paper."
Agar and fellow art instructor Steph Speedy spent the day preparing the show with the help of the students. Several pieces were copies of artwork, which did well at the recent Ohio Governor's Youth Art Exhibition in Columbus.
"We have never been virtual this year (with classroom time)," Agar said. "It has all been face to face. So this year they've worked at individual desks more than in groups as in the past to allow for safe separation. And we did some work digitally, which kept them on computers a little more than usual."
None of the work is in any way competitive. "We try to be super inclusive," Agar said. "If a student finished their project and did the work to the best of their ability, then we have tried to include it."
Selection occurs throughout the year, Speedy said. "We keep folders of work through the year, which makes this process a little simpler," she said.
Speedy also expressed gratitude for the help the art department receives in assembling the show, from students, custodial staff, Art Club members and other teachers. "Custodians put up clothesline for us ahead of time, and that's a big help," she said.
The show was well attended by the community and by students the next day when the show was available for them to come and have a look during the school day.
Agar said some of the art displayed for this year's annual show reflects the past difficult year in many ways. "You see some students who use their art to express their feelings. Yes, they talk about their emotions, perhaps some depression, and that's coming out in their work. You also see some students who are normally a bit withdrawn and their projects are a part of how they express themselves more openly. They bring what they're feeling to their work."
Guitar ensembles from music classes took up positions on the catwalk above the show to play music for the show.
"We also have some art students who play guitar. The singing and guitar performances featured alongside the art display add to the experience and helped with attendance. There were parents of arts students at all levels in high attendance, and we saw some former art students. It was really a great night, and high school staff attended that evening and some brought their students to see the show the next day," Agar said.