Switch from pitch working out for Wooster's Dunlap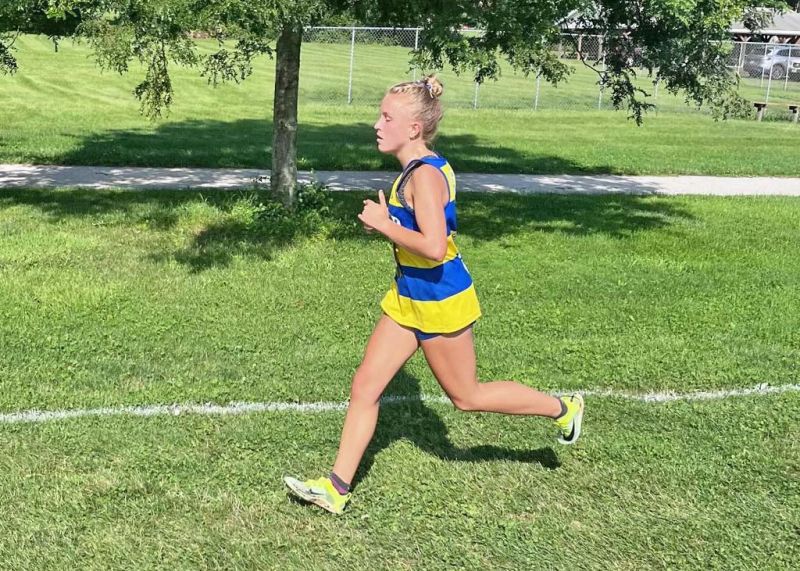 A year ago, Mattie Dunlap traded in her soccer cleats for running shoes — and she's never looked back.
In that short time, Dunlap has quickly become an impact harrier as she played a key role in the Generals run to regionals last fall. This season, she's picked up just where she left off.
"I've always run my whole life," the senior said, following her 34th-place finish at the Sept. 9 Wooster Invitational. "My family runs and I was trying do running and soccer at the same time and it just wasn't for me. I realized that I had more of a passion for running than I did for soccer, so I was like 'I want to go into running cross country full time.'"
The move paid off as Dunlap's impact was immediate.
After spending the first two years of her prep career as a midfielder, that speed was evident on the cross country course as she had one of the top 5K times in the area with a 19:36.40. The result was Wooster advancing to the Boardman Div. I Regional as a team and Dunlap emerging as one of the fastest local runners.
Dunlap added to her resume this past weekend on her home course as she clocked a 20:01.6 – just 0.2 seconds off of her second-fastest time from a year ago – as she assumes her spot as the team's No. 1 runner.
"I feel that I have a lot more experience now," she said. "I trained really hard over the summer, did a lot stuff with my teammates, and I felt very prepared for today.
"This makes me proud of my decision and glad that I switched."
As far as what the second half of the season has in store, Dunlap is hope that the Generals can build off of the success at the Wooster Invite.
Freshman Madelynn Whyte (21:54.60), sophomore Clara Mariola (22:02.40), junior Margaret McBride (22:08.30), and freshman Mckenzie Dorris (22:37.50), who all scored in the meet, registered personal-record times.
"I'm super excited," Dunlap said. "This shows me that I can really improve a lot this year and I can be even faster. The team had a lot of PRs in the race, too, and I'm really proud of all of them."
Speaking of PRs, the Wooster boys team also had a handful of career runs as the junior tandem of Oliver Miller (16:28.40) and Cole Kuzma (16:34.30) paced the Generals, finishing 43rd and 49th, respectively.
Wooster, who was competing without its top harrier Owen Buchholz, also saw career times from its other scorers at the Wooster Invite with Jackson Stansifer (16:52.50), Talen Key (17:01) and Tyler Hamilton (17:06).
Buchholz broke the 17-minute mark for the second time in his prep career, clocking a personal-best 16:50.40, earlier this month at the Ashland Invitational.
Triway's girls are fielding a full team for the first time in five seasons and have been led by freshman Martha Johnson. The rookie, who won the individual title at Gideon's Run Invitational to open the season, paced the Titans once again at the Wooster Invite in the D-II/III race with a 33rd-place finish (PR 21:32.30).
Junior Ella Wigal (22:14.20) and freshman Hannah Lamp (22:17.40) also ran for Triway. Wigal, who splits time between cross country and soccer, was the Titans' lone female runner in 2022.
The Titan boys are also were led by a handful of freshmen as Kaden Hilty (35th, 17:56.10) and Brady Speicher (44th, 18:19.60).