The last of Orrville's Adcocks eyes state tennis berth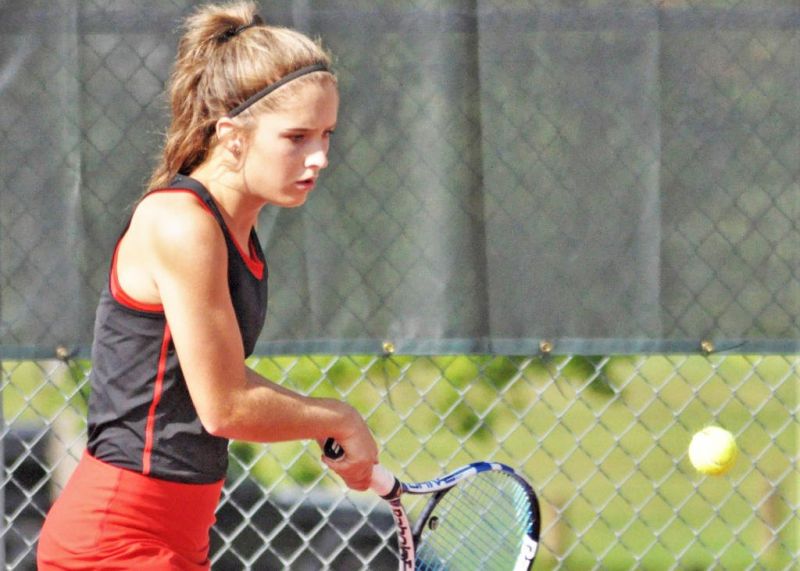 It was pure fate that made Claudia Adcock the last 'tater chip in coach Kent Smith's bag — the youngest in an assortment of sisters who have provided an unmistakable zing to the Orrville Red Riders' tennis seasoning.
Yet rarely — if ever — has the senior go-getter taken a back seat to anyone on the menu.
"She isn't playing in our shadow," former Riders standout and current assistant coach Hallie Adcock recently said at Orr Park, site of the team's home matches. "Yes, she's the youngest, so one definitely might think that she would be. But she's taken what she's learned from us and added her own touch. It's all on her."
That's high praise from the Adcock who followed in her older sister's sneakers during the family's remarkable era at OHS. Miranda set the bar high ahead of Hallie. Bri was next, but her focus was on basketball instead of tennis. Then came Sydney and Abby, the twins and doubles partners who last fall became the first Rider players ever to qualify for state.
"They've had all those girls. They couldn't come up with a few more? What's up with that?" said Smith, the Orrville legend, who, after a storied stint as the school's athletic director, also handles the boys racket brigade in the spring.
Giving all the respect in the world to Claudia's predecessors, Smith feels comfortable putting the speedy competitor now leading the 2020 charge at the top of the heap.
"She's put a lot of time into it, and her sisters all were super players. But by my estimation, she's the best girl player we've ever had at Orrville," Smith said. "I've seen 'em all because I'm the only coach they've had, and that doesn't mean to discredit any of the other players. But Claudia's really got a lot of spark to her game. She's an aggressive player."
In other words, cut from the same beloved Adcock cloth, yet different.
"She's an elite player," Smith said. "Physically, she's not a big girl. She's lean and has super quickness. She's real competitive. Along with her confidence, those are attributes you have to have if you're going to win big matches."
A year ago Claudia Adcock, the area's Tennis Player of the Year as a sophomore, fell just one match shy of a berth in the state singles tournament. Now she's even more determined to advance beyond the district level. "It's my last season. I know I have to keep my head up and just play my game," she said. "I have to give it all I have."
Qualifying for state is just one of two primary goals for her final high school campaign. She's on track to become the school's all-time leader in terms of match victories.
Watching Miranda and Hallie play ignited Claudia's interest in the game. She's been playing since the second grade and always has wanted to end up the best of the Adcock lot, striving still to refine each skill on the court.
Interested in studying criminal justice in the future, college plans are still in the works. She already is testing the waters, though, having enrolled in a semester class at Stark State College of Technology in North Canton, where the twins also are advancing their educations.
Claudia Adcock said she enjoys tennis because it is both an individual sport and a team sport. "All of us are in it together. It's not just one person overall. All of our matches count when it comes to our ranking in the (Northeast Tennis Conference) tournament," she said.
Hallie Adcock has relished her time watching Claudia mature on and off the court. She said her younger sister's best trait is being selfless. There's never been any bickering or jealousy among the siblings.
"I guess it all comes with being from a big family," Hallie Adcock said. "It's all worked out."
For 13 years Orrville tennis has been a huge part of the family's lifestyle. The "Team Adcock" cheering section's most spirited fans are Jean Adcock and Dennis Adcock, the girls' always-present grandparents.
"I've watched every one of 'em," Jean Adcock said. "I breathe it right along with 'em. I'm out there on the court right with 'em."