Tornadoes toe the line in defeating Lady Knights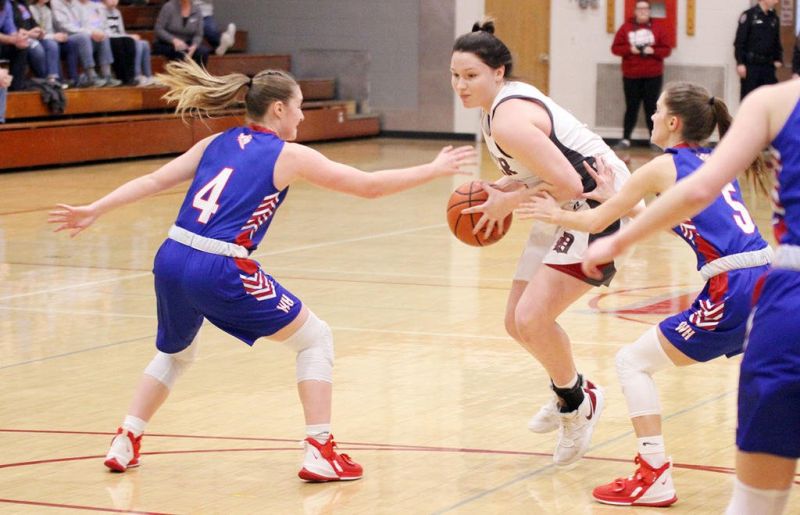 All game long in their East Div. II sectional final tilt, host Dover and visiting West Holmes knocked heads, going toe to toe in a tight battle. But down the stretch, Dover paraded to the free throw line for 16 free throws and made 14 of them to send West Holmes to a 48-35 defeat that was far closer than that score would ever indicate.
At each of the first three stops, the game was within close proximity. As late as the 3:10 mark in the final quarter, Dover clung to a 36-35 lead, but then the Tornadoes forced three consecutive turnovers, turning those into two successful free throws apiece for Alana Belknap, Tori Jones and Samantha Blair, which pushed the lead to seven. Unable to find the hoop and forced to foul, West Holmes did so and proceeded to watch Blair and Belknap deliver the final nails in the coffin.
All told, Dover connected on 25-of-30 free throws, at one point making 20 straight. The Tornadoes scored more than half of their points from the charity stripe, by far the most important aspect of the game for Troy McClellan's crew.
"That became the biggest factor in the game," Blair said of the free throw shooting acumen of the Tornadoes. "If we don't come through at the line, it is a very different game. We take a lot of pride in free throw shooting."
McClellan said when tournament time comes around, free throws are a must, and the teams that make them usually find success. He said free throw shooting is a team strength, and it paid off in a big way in this win.
"For the second year in a row, we have made more free throws than our opponents have attempted during the season," McClellan said. "We knew we were going to have to make free throws because of the way West Holmes gets after teams and defends."
For West Holmes head coach Lindsey Snyder, to see such a close game end up being a double-digit loss was disheartening.
"It was a 10-point-plus game, but it was closer than that," Snyder said. "But they made free throws when they had to, and free throws win games."
Dover took an early 9-4 lead before a Katie Sprang jumper, two free throws from Katrina Rolince and a trey from Hannah Rohr tied things at 11. West Holmes actually pushed out to an 18-13 lead, led by Sprang's 3-pointer and Alicia Alexander's defense, but six points from Blair and a Belknap pull-up jumper in the lane to finish the half spotted Dover to a 21-20 lead at the half.
Rohr and Rolince each drove home threes to start the second half, and again West Holmes had built a 26-21 lead, only to watch it vanish quickly. Hannah Neff started Dover's 11-0 run with a jumper, followed by a trey from Jones. Blair shot two free throws, and Addie Martin scored off a steal before Blair muscled her way inside for a score. Sprang's put-back stopped the run, but Blair's two free throws at the end of the third period gave Dover a 34-28 advantage heading into the final period.
Sprang would hit a triple and drive for two, and Alexander would add two free throws to draw the Lady Knights to within one before Dover would take charge on the defensive end, forcing the parade to the charity stripe, where it shot as well as any team could ever hope.
"The things that we could control tonight, we didn't always control," Snyder said following the loss that saw her team bow out at 18-6. "Our lack of experience sometimes gets in the way of playing hard when things aren't going well, and that is something we have to get better at. We had a bunch of little breakdowns, and in a tournament game against a good team, those cost you, and that is what happened."
The game also had a very defensive-minded flair to it, and with officials letting the players play, it was a physical, frenetic game.
"We really worked hard at [defense] this year," McClellan said. "This might be one of the best defensive teams I've coached, boys or girls. These kids have really bought into it, and we had some droughts but were able to hang around because of our defense. West Holmes is so good defensively that they take you out of everything you want to do on offense, and it became a very defense-oriented game that we just had to grind through."
Sprang ended the day with 17 points to pace West Holmes, getting help from Alexander and Rohr, who each scored six, while Rolince added four. Blair led all scorers with 19, the majority of those coming from the free throw line, where she was 15-of-16. Jones added 11, Belknap scored eight, and Neff and Morgan Kiser scored four apiece.