Trio of Scots earn All-Midwest Region honors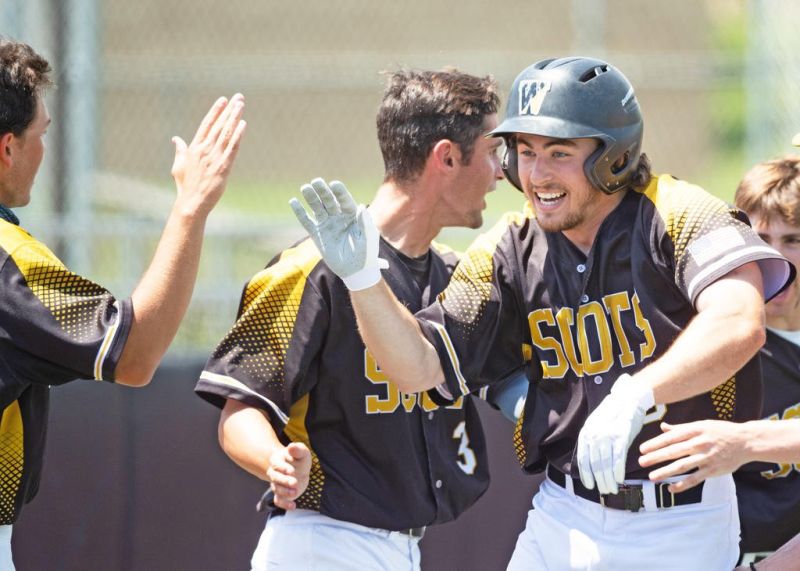 A week after landing a conference-best eight players on the All-North Coast Athletic Conference baseball team, The College of Wooster was well represented on the All-Mideast Region squad, with junior shortstop Tyler Chumita leading a trio of honorees with first-team American Baseball Coaches Association/Rawlings and second-team D3baseball.com honors. Junior right fielder Ben Hines was a third-team ABCA/Rawlings and D3baseball.com selection, while junior right-hander Colin Springer was a third-team D3baseball.com honoree.
Chumita put together one of the top offensive seasons in program history, as his .465 average (59-for-127) is the fifth-highest in program history and the top mark since All-American Greg Van Horn hit .486 (71-for-146) in 2010. Chumita reached base safely 56 percent of the time, with that mark ranking as the third-highest in single-season program history. Through games played May 29, Chumita's ninth in Div. III in on-base percentage, 12th in average, and his 17 hit-by-pitches is the 13th-highest total. Chumita led the North Coast Athletic Conference in average and on-base percentage and was in the top three in hits, runs (42) and doubles (17). In 11 games against regionally-ranked opponents, Chumita hit .500 (23-for-46) with 18 RBI, 11 runs, seven doubles, a homer, and a .537 on-base percentage.
Hines joined Chumita in the .400 club, with the Scots' right fielder finishing the year at .401 (57-for-142). Hines scored 41 runs, had 37 RBI, stole 16 bases, and sported a .470 on-base percentage. The junior finished in the top five in the NCAC in average, hits, runs, triples (5), and stolen bases, and he was just outside the top five in on-base percentage. Hines hit safely in 21 of Wooster's first 22 games of the year, with his 21-game hitting streak marking just the 13th 20-game one in program history. During the streak, Hines hit .462 (36-for-78) with 26 runs, 23 RBI, four doubles, four triples, and a homer. He also walked 10 times and was 10-for-12 on stolen bases during the streak. Hines was Wooster's top hitter during the NCAC Championship Series, as he went 6-for-15 with six RBI, a home run, and a walk-off sacrifice fly in the three-game set against Denison University.
Springer, an All-NCAC selection, went 2-3 with four saves and a 2.41 ERA this spring. The right-hander worked 33 2/3 innings, allowing 27 hits and 16 runs (nine earned). He struck out 29 and held the opposition to a .216 average. Within the NCAC, Springer posted the lowest ERA among pitchers with at least 20 innings this spring, and he was first in saves and appearances. Springer worked four games against regionally-ranked opponents, and he posted a 2.25 ERA over 12 innings in those outings, while holding the opposition to a tidy .209 average. Springer posted seven scoreless outings on the year.
Earning spots on the All-NCAC East Division Team in addition to the three listed abover were sophomore first baseman Dane Camphausen, senior pitcher Jay DiBacco, senior pitcher Evan Faxon, junior center fielder Ben Gbur, and senior shortstop Gabe Sherman.
Camphausen caught fire down the stretch, hitting safely in 12 of Wooster's last 13 games and ranked third on the team with a .355 average (43-for-121), logged 39 RBI, scored 29 runs, clubbed 11 doubles and eight homers, and sported a .459 on-base percentage.
DiBacco, who spent the season as Wooster's No. 2 pitcher, went 6-1 and was one of three NCAC pitchers with at least eight starts this season to allow under one base hit per inning pitched. His signature outing came on March 27 at Denison University, where he fired a two-hit shutout while facing three batters over the minimum.
Faxon, Wooster's ace, is now a two-time All-NCAC honoree. The left-hander led the NCAC in strikeouts (63) and went 5-1, including two shutouts.
Gbur hit .324 (45-for-139) on the year, and was the NCAC leader in runs (43) and triples (five), while finishing in the top-seven in RBI (second, 45), at-bats (second, 139), steals (third, 18), homers (fourth, eight) and hits (seventh). The right-hander homered in four-straight games at one point this year and finished with a perfect fielding percentage in 105 chances.
Sherman hit safely in 12 of his final 13 games, tied for the NCAC lead in walks (22) and was in the top-seven in triples (fourth, three) and runs (seventh, 33). He hit .345 (40-for-116) on the year.
Wooster's eight All-Conference selections are the most since the program had nine in 2018. The Fighting Scots finished the season at 25-13, which included a 9-3 mark in NCAC East play.