Triway's Davis hoping to 'catch' the eye of recruiters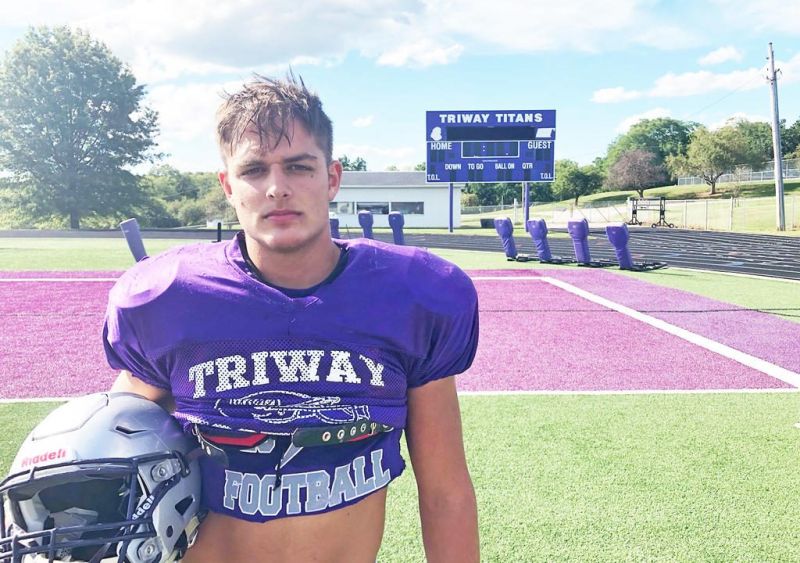 Second-year Triway football head coach Eric Brenner would probably shout through a megaphone from the top of the bleachers of Jack Miller Stadium if he thought it would help senior wide receiver Tyler Davis get more attention from college recruiters.
That's how strongly Brenner feels about Davis' potential to play at the next level.
"Tyler is absolutely the best wide receiver I've seen at Triway," said Brenner, who was an assistant coach for eight years before taking over the reins after Tony Lee, his father-in-law, retired.
It's high praise considering the many athletic wide receivers Lee utilized during the careers of record-setting passers Derek Carmichael and his younger brother, Parker Carmichael.
None of those receivers had the total package of traits Davis is blessed with.
Davis has good size at 6-foot-2, 205 pounds and speed with a 4.6 clocking in the 40-yard dash. He put up one of the best seasons in area history with 102 receptions for 1,465 yards and 16 touchdowns as a junior during a 6-4 season.
"Tyler has the body of the prototypical wide receiver that colleges look for," said Brenner, whose Titans opened the 2020 season playing at Loudonville on Aug. 27. "Guys like Jordon Miller, Sawyer Polen and Troy Haven were around 5-7 to 5-9, great athletes and some of the best players we've ever had. You look at Tyler, though, and with that build, he just looks like a college football player. When you combine that size with his speed and physicality, since I've been here, we absolutely haven't had anything like that before."
No one doubts Davis will compete at the next level. The question is how high of a level can he play at? One of the many things canceled over the summer due to COVID-19 concerns was football summer camps, in which Davis had hoped to prove himself.
"I'd love to play at Ohio State. Who wouldn't?" Davis said during a break from a preseason workout. "If not there, then definitely somewhere else at the Div. I or II level. It was disappointing that I couldn't go to some of the summer camps I was planning on. I was hoping to go to the Kent State camp and some others like that. Being from a smaller school like Triway, I wanted to show what I can do. Hopefully, some of the colleges will have camps after the season."
Davis doesn't just look the part. He's made the most of his natural talent by working as hard as anyone on the Triway roster.
"He's got a lot of natural athletic ability," Brenner said. "His older brother, Austin Davis (plays for Ohio Dominican), was really good too, but more in that mold of those other wideouts I was talking about. He grew some after high school. With Tyler, if we throw the ball up and it's a 50/50 ball, he's going to go get it most of the time. I have the utmost confidence in his character, his intelligence, just the way he goes about his business. He's everything you could ask for as a coach in terms of a student-athlete."
Davis has offers from several Div. II colleges including nearby Ashland University.
"I'm getting a lot of calls from colleges, but it kind of stinks for him right now because at a school our size they all want to see him live," Brenner said. "Normally, you'd be out at all those camps in the summer. I think more coaches would have extended offers, but they still want to see him face to face. The thing is, though, Tyler played against Div. I kids last year like Manchester's Ethan Wright and CVCA's Tre Tucker (both signed with Cincinnati), along with Orrville's Marquael Parks (has several Div. I offers), and he competed right with them."
On Aug. 27, Davis had 13 receptions in the Titans' season-opening 28-21 overtime win at Loudonville.
Davis isn't thinking a lot about college at this point. The senior standout and the rest of the Titans are just excited to be able to play a six-game regular season after an offseason filled with uncertainty due to the coronavirus.
"We have Ty Durbin back as our quarterback, a lot of other returnees and some good new additions to the team," Davis said. "I really think we can have a good season. I can't wait to get going."
Picking a college, that can wait for now. And wherever Davis winds up, they'll get quite a catch.
Aaron Dorksen can be emailed at aarondorksen24@gmail.com. Follow him on Twitter at @AaronDorksen.