United Way campaign now at 57% with Dec. 31 deadline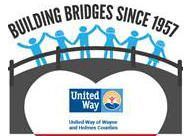 United Way of Wayne and Holmes Counties has announced that its annual campaign drive, benefitting local organizations and programs, is currently at 57% of the $1.5 mllion goal. The campaign runs until Dec. 31.
UWWH is working around the clock to get donations in the door from both Wayne and Holmes Counties, from corporate and individual donors.
"We are pushing harder than ever before in this year like no other," said Katie Koglman, the United Way of Wayne and Holmes Counties Executive Director. "This community is depending on you more than ever.
"With the season of thanks and giving upon us, we continue to have so much gratitude for our donors and will continue to ask and hope that the holiday spirit pushes people to give in order to help us reach our goal," she added.
The start of the holiday season brings many community needs. United Way is a local resource currently providing 19 area agencies with funds to support some of the most necessary programs in the communities it serves.
Last year, United Way donations helped more than 32,000 people. Meals, shelter, food and clothing were provided to many, hundreds were assisted with utility assistance, and even more with low cost prescriptions. No matter the gift, big or small, United Way makes sure your donation stays local.
United Way's campaign has fewer than two months remaining. Call United Way to make your pledge, or visit uwwh.org and click on DONATE. You can also text GIVELOCAL2020 to 44-321, you can Venmo United Way at: UNITEDWAY-WAYNEHOLMES , you can call 330-263-6363, or mail your gift this to: 215 S. Walnut St., Wooster, OH 44691.