WCA holding George Olson Exhibition, silent auction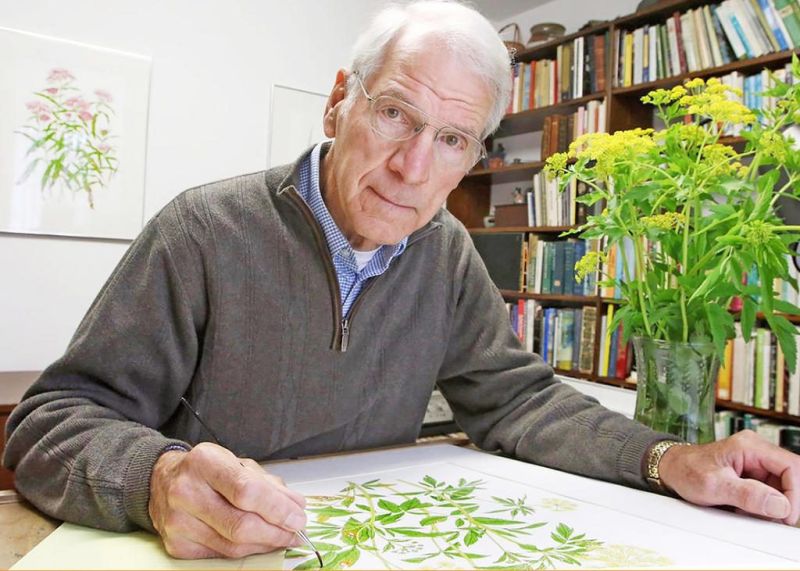 In 1973 when Wayne Center for the Arts was started on The College of Wooster campus, both George Olson and Sara "Sally" Patton were involved. Olson, an artist recognized nationally and abroad, is now retired from the college after 37 years teaching, and after many years of community involvement in numerous positions, Patton is ending a stint as the interim director of the art center.
The Wayne Center for the Arts George Olson Exhibit and Silent Auction will be held Friday, May 20 from 6-8 p.m. at the art center, 237 S. Walnut St., Wooster.
Olson had been thinking about donating something to Wayne Center for the Arts, and he said with Patton at the helm, it seemed like the perfect time. The artist selected nine of his watercolor paintings to donate.
"(The pieces) are primarily based on tall grass prairie like you find in Middle America," Olson said. "They are all native prairie plants."
Olson said his focus on native grasses was gradual as he became more and more aware of the plants along the roadside and in prairie patches in Illinois, where he now makes his home. He has worked on several books on the subject and has had his paintings shown widely at galleries and museums across the country and in England.
After receiving the donation, it was decided the nine pieces would be sold during a silent auction event. In addition, there will be 20-25 additional Olson works of art on display on loan from their owners.
"George gave me a list of people in the area who own his art," said Patton, who made contact with many of the owners and arranged the loans.
The auction will take place during the exhibit opening on May 20. There will be wine and hors d'oeuvres, and advance registration is encouraged to allow organizers to plan refreshments.
"It's really going to be a nice party," Patton said.
The exhibit will remain on display in the Gault and Looney galleries until mid-June.
Patton described the paintings that will be auctioned. "George's pieces are just gorgeous," she said. "They are meticulously executed. They are beautiful and true. He reveals the unique character of every flower and plant."
"I think an exhibition of George Olson's artwork at Wayne Center for the Arts is a wonderful venue to both celebrate and cherish his outstanding accomplishments as one of Wooster's finest artists," said Loren Fedorowicz, owner of Wooster's Walnut Street Gallery.
Each auction piece is framed and ready to hang. Walnut Street Gallery donated the time to assemble and update the materials for Olson's art.
"The original watercolor and pencil drawings are framed using museum quality materials which include an acid-free mat and backing board along with conservation glazing," Fedorowicz said. "The art is housed in a stylish silver metal frame."
Funds from the auction will be used to support a variety of art center programs.
Wayne Center for the Arts is always in need of volunteers and donations. "We're always happy to have volunteers who are interested in the arts," Patton said. "And we can always use financial support. That doesn't have to mean big bucks; an annual gift or occasional donation is invaluable."
This summer volunteer ushers are needed for an outdoor presentation of "The Fantastiks" July 19-31. The show is presented at the art center in partnership with the Ohio Light Opera. To usher or volunteer in other ways, sign up at www.wayneartscenter.org/get-involved/volunteer.html or email general manager Lynn Davis at lynn@wayneartscenter.org.
Davis said requests for scholarships for art center classes and programs are higher than usual this year. To donate to the financial aid and scholarship funds or make a general donation, email Emily@wayneartscenter.org. Donations also may be made online at www.wayneartscenter.org/wca-annual-fund.html.
The art center offers a full schedule of classes, events and summer camps. Information is available online.
"Wayne Center for the Arts will be joining Main Street Wooster on Second Saturdays each month throughout the summer with performances, demonstrations, music, activities and items for sale," Davis said. "We'll also be at Kid's Day downtown Saturday, June 4 from 1-4 p.m."
Though concluding her time as interim director, Patton plans to continue to stay connected with the art center. "I've been involved for 40 years," she said. "I've always supported the art center and will continue to do so."
What does she wish for the art center going forward? "It's amazing that we have been here almost 50 years," Patton said. "I hope we continue to serve by reminding people every day, every week, every year that the arts are a tremendously important part of life in a community. If we do that, we'll continue to merit the interest and support of the community we serve."
Although Olson will be unable to attend the event, he said, "We will be there in spirit."
In many ways both Olson and Patton bring their connections with the art center full circle in presenting this exhibit and silent auction of Olson's artwork. Those attending the free event are encouraged to register online at www.wayneartscenter.org/visit/george-olson-exhibition-and-silent-auction.html.