Wenger shoots Bulldogs into top spot in WCAL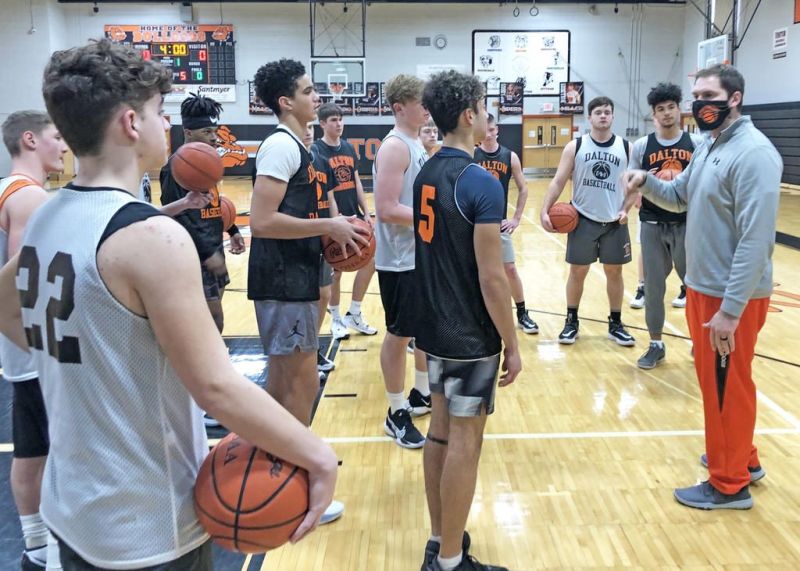 If you want to find Jalen Wenger during the summer, chances are he'll either play basketball at Village Green Park in Dalton or in an AAU game somewhere around Ohio.
This winter the Dalton junior's name can be found atop the area scoring list and among the best in the state.
The 6-foot-4 Wenger leads the Bulldogs (6-3, 6-0 Wayne County Athletic League) with 26.2 points a game, providing a whopping 41% of their offense.
Wenger is the Bulldogs' most prolific scorer since Ryan Berg averaged 26.1 points a game as a junior in 1994-95 and 25.4 as a senior in 1995-96. He led back-to-back state Final Four teams.
Second-year Dalton coach Kaleb Reed has been around the WCAL for many years including his time starring for Northwestern from 2004-07 and calls Wenger one of the league's best players he's witnessed.
"As far as scoring goes, Jalen's right up there with any of the top guys," Reed said. "He has really good range, and if he makes one (3-pointer), he's gonna make a lot more. His ability to finish around the basket is another area where he's improved. He's stronger and more physical. He's put down a couple breakaway dunks this year. His defense needs more work for the next level."
It's still early in the recruiting process with Wenger being a junior. Reed said it wouldn't be fair to even speculate what level the standout will wind up at.
"I wouldn't ever want to put a kid on a pedestal or undersell him," Reed said. "He's gotten some feedback from a couple Div. I schools, and Div. II Ashland has shown interest, but there's a long way to go."
Wenger said he wants to play college basketball at the highest level possible and works year round at his game to make that dream possible.
"During my offseason work, I put in many shots," said Wenger, who averaged 16.9 points per game en route to earning special mention All-Ohio honors as a sophomore. "(The park) is like my second home. A lot of people don't do this, but I work out outside a lot. It can be 95 degrees out, but I'll be out there working. I'll play when it's cold out too."
Wenger is quick to also credit his coaches and teammates for his success. They've still found ways to get him the ball, despite opponents playing box-and-one and other gimmick defenses.
"That work obviously helps," said Wenger, who's connecting on 47% of his 3-point attempts (33-70) and shooting 51% overall from the floor (86-168) while also grabbing 3.4 rebounds a game. "The offenses that our coaches have put in for me, and my teammates working hard, I can't take all the credit for it. They've really helped me out."
Wenger and the Bulldogs are focused on repeating as the WCAL champion and advancing as far as they can in the Div. IV tournament. Dalton shared the WCAL co-title with Northwestern last year.
"It's great to have Jalen, but we also have a lot of other guys who are doing everything they can to help the team," said Reed, who hopes a challenging nonleague schedule that has included losses to Div. III state-ranked Lutheran East and Div. II Revere will help the Bulldogs advance farther than last year's district appearance.
Junior Jaiden Malone is a third-year starter averaging 2.3 points a game, leading the way with 4.2 assists a contest and providing strong defense.
"We feel pretty good about our team," Malone said. "We've been playing a lot of good competition. We just come prepared, and we have a good game plan. We just have to be ready to go, no matter who we play against."
Asked about playing basketball with Wenger, Malone said, "He puts a lot of work in. In the summertime he's always at the park putting in work."
Second-year starter Liam Riggenbach leads the way in the front court. The 6-4 senior averages 4.8 points each time out and a team-high 5.6 rebounds.
"I take a lot of pride playing strong in the post," Riggenbach said. "It's something that's a team thing we have to work on, but as a senior I needed to step up this year and be a leader on that end of the floor. I think we can really make some noise. When we're working together and work as one unit, I don't think we can ever lose to anybody."
Also starting for Dalton in its most recent game, a 67-26 win over Rittman on Jan. 8, were senior Ezra Miller (6-1, 4.8 ppg.) and sophomore Jack Steiner (5-10, 7.0 ppg).
Coming off the bench, Jalen's 6-4 sophomore brother Braylon Wenger averages 11.7 points a game. Senior Dillon Horst (5-9) adds lots of energy and excellent on-the-ball defense, according to Reed.
Jalen Wenger and most of the Bulldogs have been playing basketball together since before any of them could jump up and touch the net. They'd love to cut down some nets later this season.
"A lot of us grew up together," Jalen Wenger said. "To have it all mesh together and have a little bit of success, it's pretty cool to see. It's a good group of guys, and we get along well. Hopefully, we can keep it going."
Aaron Dorksen can be emailed at aarondorksen24@gmail.com. Follow him on Twitter at @AaronDorksen.