Wooster's Relle playing for an elite Crew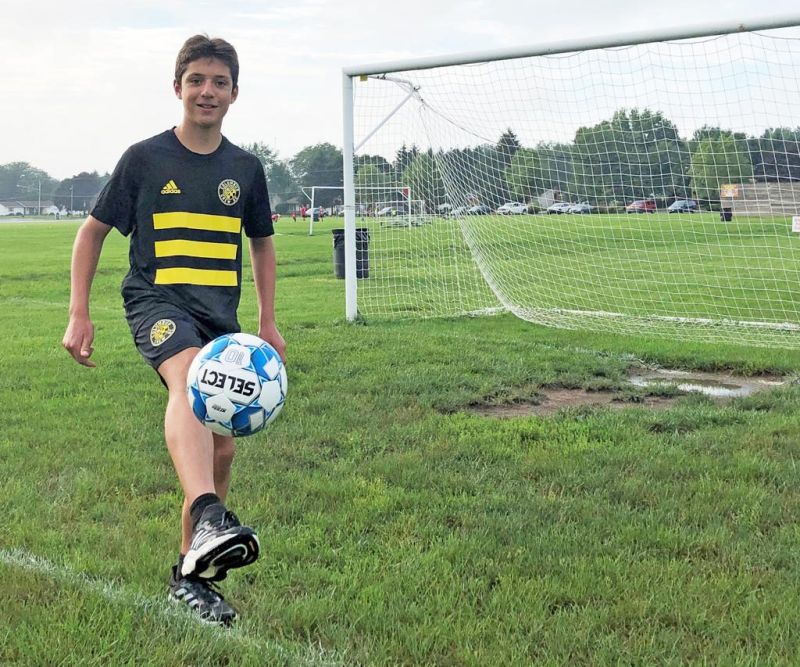 Wooster High School eighth-grader Calen Relle's eyes lit up and he flashed a big smile when asked why he loves the game of soccer.
"I just totally enjoy every aspect of soccer," Relle said. "It's like perfect. It's challenging, it's fun and it just checks all the boxes for me."
The elite Columbus Crew Youth Academy U14 coaches saw a lot they liked in Relle.
The Crew offered the 13-year-old a spot on the top travel soccer program in Ohio, which is part of MLS NEXT. The Crew's mission statement includes the following: The youth program is designed to "identify, develop and showcase the best youth soccer talent in North America and prepare its players for international, professional and collegiate soccer."
The son of Nick and Rachel Relle, Calen started playing at age 5 in the Wooster Soccer Association. He advanced his skills and knowledge by playing for Graham Ford and Nick on the Wooster Edge. Last year he suited up for the Internationals, a MLS NEXT team out of Medina.
After connecting with the Columbus Crew this spring, Relle tried out and passed the test to earn the opportunity of a lifetime.
"In June I got to practice with the Crew U15 team because the program starts at 14 and they didn't have a fully formed U14 team yet," Relle said. "I was a little bit nervous, but I just did my best. I got offered a spot after my fourth practice. It was really awesome."
To play for such an elite team, the players and families have to make a major time commitment.
Uniforms, equipment and participation fees are covered by the Crew. Players practice at the Obetz Soccer Complex, located just south of Columbus on Mondays, Tuesdays, Thursdays and Fridays, followed by weekend games in Columbus and other venues throughout the Midwest. The team will play 11 out of 12 months a year.
The Relles are commuting one hour and 40 minutes each way from Wooster, although down the road Calen could stay some of the time with a host family.
"I can't fathom (a host family) yet," Rachel Relle said. "We're trying it and seeing how it goes. There are two families north of us in Medina and Cleveland that we are going to try to carpool with. It's homework in the car and dinners prepared early, eat in the car and then straight to bed when we get home. We'll see how it goes. School's most important. The coaches stress that, and we stress that. I think we'll be OK."
Nick and Rachel Relle both graduated from Wooster High School in the late 1990s. Nick Relle went on to play soccer at Rochester Institute of Technology.
Rachel Relle credits Nick and Ford with playing huge roles in Calen's development.
"Calen is where he's at because of his dad," Rachel Relle said. "He coached him on the Wooster Edge. He built an indoor soccer field in the basement for Calen and our younger son, Emmett (10). Graham has been a mentor in terms of teaching technical skills and always being there for Calen. They talk all the time."
Ford is as knowledgeable about soccer as anyone in the area. He played semi-pro soccer in England and then served as The College of Wooster men's coach for 20 years before joining the Wooster Soccer Association as its director of coaching in 2016.
Although Ford wants the best for every player he coaches, he'd love to be able to look back one day and say he coached a future pro. He believes Relle has what it takes.
"It's a tremendous achievement for Calen. He's going to be playing at the highest level of youth soccer in the U.S.," Ford said. "It couldn't happen to a nicer kid. Only MLS teams have these soccer academies. We've had some other kids come through the WSA who went on to play on really good club teams, but this is a first for one of our players."
Relle is such a versatile athlete that he can play anywhere on the field other than keeper, Ford said. It remains to be seen where he'll play for the Crew, but early on he's been a defender.
"Calen has great skill and soccer IQ, and he's physical," Ford said. "He's also an honor student and a wonderful kid."
Relle said Ford has been a huge influence.
"He's a truly amazing coach, and he doesn't let me get away with any bad habits," Relle said. "At the same time, he's extremely kind and generous and has a great sense of humor. He taught me my technical ability, to be able to make certain plays that I need to make in practice or a game. He's also just taught me to be a really kind person, to leave it all on the field and enjoy every second of it."
Relle will have to try out each year to remain a part of the Crew age group teams. If the Crew sees him continue to develop, he'll eventually get to play at Historic Crew Stadium in Columbus.
"My goal is one day to play on the U.S. national team," Relle said. "It was an easy decision to play on this Crew team. They have some really amazing resources, great coaches and leaders."
Aaron Dorksen can be emailed at aarondorksen24@gmail.com. Follow him on Twitter at @AaronDorksen.