2019 provided area fans with another sensational sports year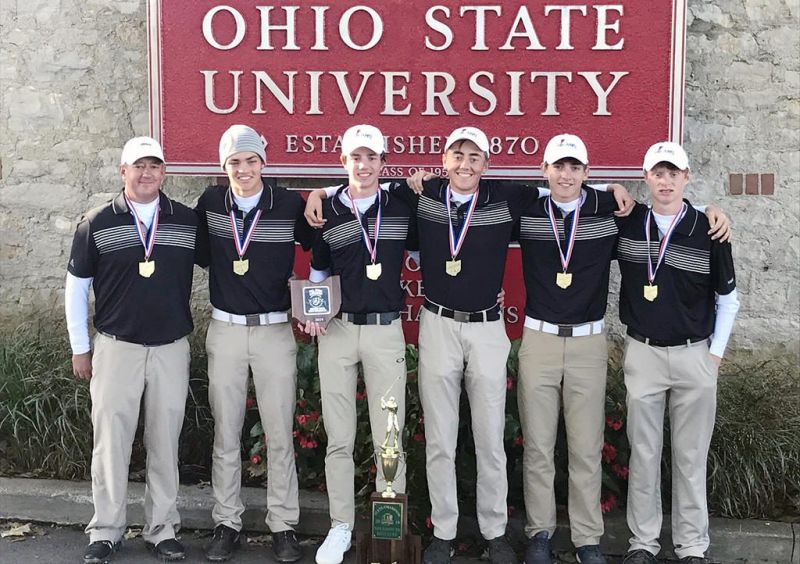 With a state championship team, a large number of state-tournament appearances, and countless incredible individual and team efforts, the year 2019 gave area sports fans plenty to talk about and enjoy. Here are some of the highlights from a memorable year.
Crown them the champs
Hiland's golf team has been quite good for some time, but having to navigate its way into one state-qualifying spot has been difficult in recent years. After breaking back into the world of state tournament golf in 2018, the Hawks parlayed a dedicated group of five returning lettermen who all had state-tournament experience the prior year into a state title in 2019.
Seniors Dylan Kaufman and Bruce Yoder and sophomores Carter Mishler, Brookston Hummel and Kenny Weaver went above and beyond in terms of preparation, both mentally and physically, and brought home the school's first state championship in golf.
Garaway arrives a year early
Garaway head golf coach Brad Nyholm knew his team was good, but the run to state was expected to be next season. However, his players got him there a year earlier, parlaying solid play into a fourth-place finish in Div. III. Senior Ethan Miller and underclassmen Zehnder Gibson, Rendall Weaver, Charles Beachy and Mikey Blauch got the job done in making it to state.
Knights grappled their way to a first
Despite a program that has experienced tremendous success, the West Holmes High School wrestling program had never battled its way to a state team duals berth, that is until 2019.
The Knights crossed that goal off the bucket list when it pushed past Norwalk 48-31 in February to earn the program's first state berth.
Jack Welsh, Cael Woods, Tyler Masters, Kendall Weber and Tucker Kaufman got the Knights off and running with six-straight fall wins to begin that match. Then Walker Uhl, Stephen Baldridge and Skylar Anderson added wins to sew up the big win.
The Knights would later fall to a talented Aurora team in the state tournament in Columbus, but the wall had finally been knocked down, and the bar set for future generations to chase is now in place.
Hawks use "Big D" to take Div. IV state runner-up trophy home from Columbus
Mark Schlabach's crew wasn't particularly big, potent offensively or dangerous looking, but one thing his 2018-19 Hawks could do was play defense, led by Andy Miller, widely considered the defender extraordinaire in the state at his guard position.
However, it wasn't just Miller. The entire team bought into the defensive game Schlabach designed. They let that move them past a rugged Zanesville Rosecrans district game in an absolute thriller, cruised through regionals in dominating fashion and smacked St. Henry around 57-50 in the Div. IV state semifinal contest that saw Sam Habeger lead the way with 17 points, followed by Miller's 14 and Kendall Hochstetler's 11.
Just as important was the defensive effort of those guys and players like Hunter Sommers and Jared Raber, who came up huge in unnoticed ways.
Crestview Convoy's deep and very big team took down Hiland in the finals, but the run solidified Schlabach's ability to get the most out of his players, this trip marking the fifth time in 14 years the Hawks have made it to state under their current head coach.
Lady Hawks add to their state tournament record with 16th appearance
After dismantling Wheelersburg 61-23 in the Div. III regional final game, the Lady Hawks had the foreboding pleasure of facing defending state champion Africentric, a team loaded at every position.
Hiland was not intimidated.
Africentric came in having beaten their tournament opponents by an average of 47 points, and early on it looked like they might do it again, but Hiland guard Morgan Yoder played inspired basketball to keep the game within shouting distance. With Brynn Mullet heating up, Hiland had a chance to forge a third-quarter lead but couldn't connect. Africentric's physical play eventually wore down Hiland, and the Nubians eventually claimed another state title two days later.
The state-tournament appearance marked a state-record 16th trip to Columbus for the Hiland program and 14th under the tutelage of head coach Dave Schlabach during his 28 years.
Heartache among a classic accomplishment for Woods
Ringing up an individual state runner-up medal to add to a collection is a wonderful thing for any wrestler, and what West Holmes junior Cael Woods did in March was nothing short of sensational.
However, along with his Div. II runner-up title in the 113-pound weight class was heartache as big as heartache can come.
Woods came up shy in his bid for a state championship, dropping a heartbreaking 4-2 sudden-victory decision to three-time state champion and four-time state placer Jacob Decatur of Cuyahoga Valley Christian Academy in the title match. Woods and Decatur tested each other during the first minute with Woods the aggressor. At time Woods looked like the three-time state champion, but in overtime with less than one second remaining, Decatur recorded a takedown and won the match.
Meanwhile, another Knight was putting his name among the all-time WHHS greats. Junior Tyler Masters recorded his second All-Ohio performance at state, where he would go on to place third.
Racking up wins on the way to setting a new school mark
Near the end of the 2018-19 baseball season, it seemed as though Bill Pim's West Holmes Knights were making history every time they took the field.
Maybe that was because they were.
The Knights won a school-record 23 games, finishing the season at 23-3 in celebrating a sensational season.
With plenty of highlights including some fantastic pitching from Kendrick Wagler, Nate Ginsburg and Noah Clark, among others, as well as the big bats of Shane and Shiloh Jones, Wagler, Luke Vess, Zander Proper, Bridger Cline and pretty much everyone who took the field for West Holmes, it was a true team effort.
Jacobs clears all of the hurdles on her sprint for glory at state
Garaway senior Carly Jacobs went into the 2019 track season with hopes of claiming the 300-meter hurdle state title in Div. III. Her hopes were dashed by a one-hundredth of a second in the finals, but that didn't stop her from capping off one of the finest seasons in Garaway track and field history. Jacobs finished runner-up in the 300 hurdles and also added a seventh-place finish in the 100-meter hurdles, marking the first time in three trips to state that she pulled off the All-Ohio double. Not only did Jacobs accomplish a lot, but also she did so with grace and gratitude.
Zoe's effort to rebuild the Lady P's softball record book
Garaway senior Zoe Johnson's incredible zeal for the game and her ability to be uplifting to her teammates was paralleled by her immense skill set. She destroyed the Garaway home run record, set the school mark for consecutive game hitting streaks and played the shortstop role like she invented it. In the end Johnson probably fashioned the greatest offensive season in Garaway history.
Gray and Kandel fulfill the dream at state track meet
Hiland's Brayden Gray and West Holmes' Jonathan Kandel may run very different races, but the state track and field tournament resulted in both running right to the podium to celebrate All-Ohio honors.
Gray's final race of his incredible career was his best, as he finally broke the 40-second barrier in the Div. IV state finals and placed fifth to make him an All-Ohioan.
The versatile Kandel, who could run just about any type of race from sprints to distance, settled on the 800 meters, where his final race at the state meet saw him grab eighth, perching him on the podium as an All-Ohioan. He also bolstered the boys 4-by-400 team, which nearly made the finals with an incredible run at the state meet.
Alysha Troyer finds gold in France
Alysha Troyer overcame not only some of the greatest athletes in the world, but also fought off a fractured ankle in a gold medal performance at the Crossfit French Throw Down this past summer.
The Crossfit French Throw Down is a fierce international competition that features the finest Crossfit athletes in the world. The three-day championship took place in Paris, France, an event in which the top-20 athletes in each division qualify to compete.
Troyer won the first event. Then came a treacherous run that saw her break her ankle moments into the mile-long race over rough terrain.
A record year and a point away highlight Hiland's volleyball season
The Hiland Lady Hawks carved out a record-setting season this year in terms of wins. Along the way they racked up plenty of huge victories, dominated most of their competition and then set their sights on doing something no Hiland team has ever done: reach the state tournament.
At Logan High School on Saturday, Nov. 2, up two games to none in the Div. III regional contest over undefeated Wheelersburg, who had not lost a single game all year, the Lady Hawks had a 24-23 lead and were serving for the win. That point never came, and Hiland fell 26-24. Wheelersburg used its tall and talented front line to bang its way to state instead.
However, that sting does not diminish everything these girls achieved, led by All-Ohioans Kim Miller and Madison Yoder. This past season is one that future generations will shoot for.