A pair of tough losses drop Lady Knights to 12-3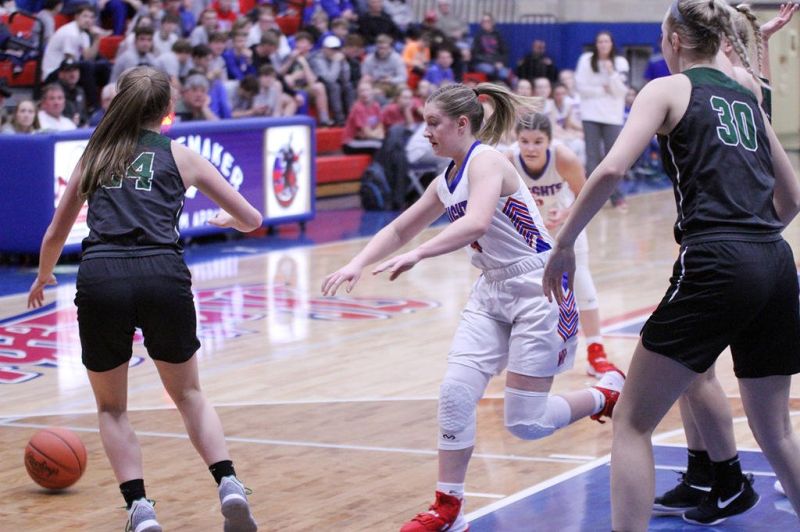 The one-loss Lady Knights basketball team entered games 14 and 15 of their schedule knowing they had their work cut out for them in facing two tough opponents in Mansfield Madison and Garaway.
The two games turned into two losses as West Holmes fell to Madison 46-35 in one that got away before succumbing to the Lady Pirates 45-43 in overtime.
Versus Madison, it appeared as though West Holmes was in firm control, using a second-quarter surge to take a 23-12 lead. That came courtesy of three Katrina Rolince 3-pointers, a pair from Claire Reynolds, a couple of drives from Katie Sprang, two free throws from Hannah Rohr and a nice move in the paint by Melanie Fair.
Everything was all systems go, but with under two minutes remaining, the tide was about to turn. A pair of buckets inside from Kailie Blaising to end the half trimmed the Lady Knights' lead to 23-16. Out of the break the Rams kept ramming it at West Holmes, turning up the defensive pressure and forcing a number of costly turnovers. Leah Boggs then heated up for Madison, and when Jennifer Wigton scored on a lay-up, the teams were locked up at 23-all.
Madison took a short lead when Wigton scored inside, but Sprang's 3-pointer got WHHS the lead back at 26-25. Kinsey Patterson would follow that up with a triple, completing West Holmes' scoring for the period, while Madison was not done. Easy scores from Taylor Russell and Boggs gave the Rams the lead, and when Kari Eckenwiler beat the horn on a steal to end the period, Madison was up 33-29.
Reeling, the Lady Knights needed to find scoring, but that would be tough as the Rams continued to apply defensive pressure and push West Holmes out, away from the arc.
A couple of Rolince free throws made it 35-31, but Madison kept scoring, beating West Holmes down the floor. Boggs and Wigton scored four points on lay-ups, and suddenly the Lady Knights were facing an uphill battle, trailing 43-31.
A couple of late scores from Sprang and Reynolds did little to cut into the deficit, and West Holmes dropped its second game of the year and its first in Ohio Cardinal Conference play. Rolince netted 11 points to lead the scoring for WHHS while Sprang added nine, Reynolds added six and Alicia Alexander snared 10 rebounds.
In the Garaway loss featuring two very similar teams with hard-nosed defense and not a lot of height, it was, as expected, a tight contest throughout.
WHHS led 14-12 through one quarter and fell behind 21-19 at the half as shots were not falling. West Holmes drew even in the third period, and the two teams played to a dead heat in the fourth to set up overtime, where Garaway was able to generate just enough offense to pull out a win.
Sprang led the way for West Holmes with 16 points, followed by nine from Reynolds and eight from Patterson, as West Holmes fell to 12-3 on the campaign.