Balanced Hiland attack fends off Pirates' late comeback bid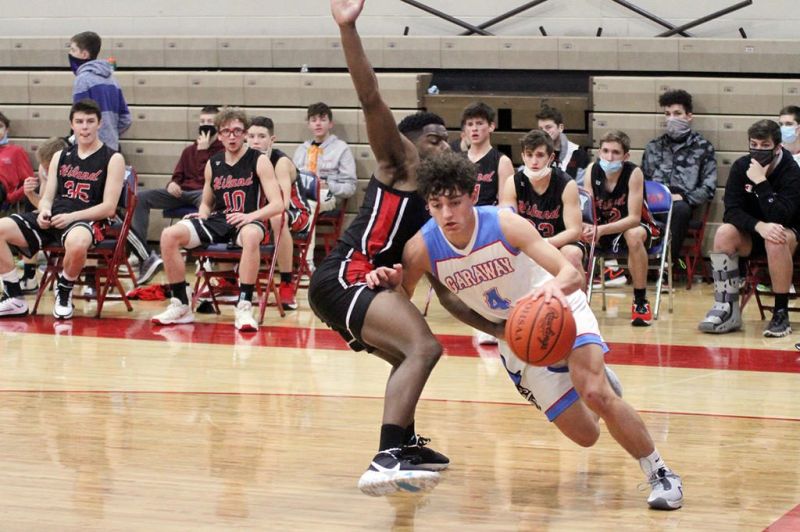 Garaway versus Hiland always seems to bring out the very best in both teams in what has become one of the area's most entertaining high school boys basketball rivalries.
On Friday, Jan. 15 in Sugarcreek, the two teams renewed that rivalry, and the tone was set for the evening by yet another incredible junior varsity game the Pirates eventually pulled out in triple overtime.
The only problem was, with all of that excitement, the gymnasium lacked the same fire and spirit it usually does due to a limited crowd, including having next to no student sections driving the place into a massive frenzy.
While the varsity game lacked the tightness of the JV game, it still showcased some of the positives both teams possess, but in the end Hiland simply grabbed a double-figure lead, then fended off a late challenge from the Pirates to record a 60-51 victory.
"A triple overtime JV game, and normally this place is rocking, and it sets the tone for the varsity game, and it usually stays at that fever pitch," Hiland head coach Mark Schlabach said. "That energy just wasn't there, and the thing I hate the most is that both teams have seniors that don't get to play in front of their friends and classmates, and these are games that these kids aren't going to forget. It takes away from the game."
The two teams traded buckets, or perhaps Hiland traded buckets with Zach Bickford, who pumped in eight of Garaway's 11 first-quarter points as the Hawks took a 15-11 edge, the Hawks getting five points from leading scorer Will Schlabach.
The Hawks then pushed out to a 19-12 lead with Schlabach taking the leading role, but Jarrett Wallick got the Pirates back in business and trimmed Hiland's lead to 21-19. However, a Schlabach trey and Caden Miller's score inside allowed the Hawks to take a 27-21 lead into the half.
The third period proved to be the turning point in the game, Hiland outscoring Garaway 16-8 to take a 43-29 lead through three periods. Grant Miller and Dylan Weaver would play key roles in building the lead, and to start the fourth quarter, Grant Miller would answer Brady Roden's triple with one of his own to make it 46-32.
The Pirates produced a furious rally in the fourth period, and when Alex Roden cranked home a trey to trim Hiland's 14-point lead to 11, it seemed to fire up the home team.
The Hawks actually stretched the lead back to 15 on Ryan Miller's score inside and a Weaver drive, but Brady Roden hit a trey for the Pirates, and when Schlabach and Miller each hit one free throw and Matthew Beachy hit two triples for the Pirates, the score stood at 54-46. Garaway got a turnover, and Bickford hit from downtown to trim the Hiland lead to five at 54-49 with just under two minutes to play.
"We've got guys who can shoot, but we need to start believing in ourselves," Garaway coach Terry Rowe said. "We're not quite there yet, but we have to keep striving so we are playing at our best at the end of the year. We have seen ourselves grow, but we need to add the intensity part for 32 minutes."
With 1:24 on the clock, Tony Yoder, who scored all six of his points from the charity stripe, hit two huge free throws, and that seemed to take the momentum away from Garaway, which misfired on its next four 3-point attempts. Grant Miller and Yoder each hit a pair of free throws, and Ryan Miller split a pair. The Hawks had staved off the torrid comeback attempt.
"Once Tony hit those first two free throws, we were able to catch our breath," Schlabach said.
Schlabach also gave the Pirates a ton of credit, having shot poorly from downtown the whole game only to turn up the heat when it counted the most late in the game.
"Give them credit. We relaxed for a minute and gave them two open looks, and they took advantage, and that got them going," Schlabach said. "The basket went from looking mighty small to looking so big for them, and they were back in it so fast. That's what makes them so dangerous, and it made us scramble to hold on."
For Rowe, watching his team play with the guts and determination they exhibited over the final few minutes is something he would love to see for 32 minutes of play.
"We have to bring that kind of intensity in practice and for an entire game as we continue to grow so it becomes a habit in these situations," Rowe said. "They are a good team, and Schlabach is a tremendous player. I thought he made more tougher, tightly contested shots than we did open looks. We can't afford to dig ourselves into a hole like that against a good team. We were very disappointed with the loss tonight."
Both teams got strong scoring across the board. Schlabach led Hiland with 17, but Ryan Miller added 11, Weaver scored nine, Grant Miller tacked on six, and Yoder and Caden Miller added six and five, respectively. Garaway got 11 from Bickford, nine from Beachy, eight apiece from Alex Roden and Wallick, and six from Brady Roden with Payton Keim and Garrett Newsome adding five and four points, respectively.
The balance pleased Schlabach, who saw his team fall to Triway one game earlier despite his son Will scoring 33 points.
"The recipe for us winning is not having Will score 33 points," Schlabach said. "We got really nice balance tonight, which is what we want. That's when we are at our best, and our biggest wins have looked like that."