Cael Woods' stellar wrestling career about more than things that glitter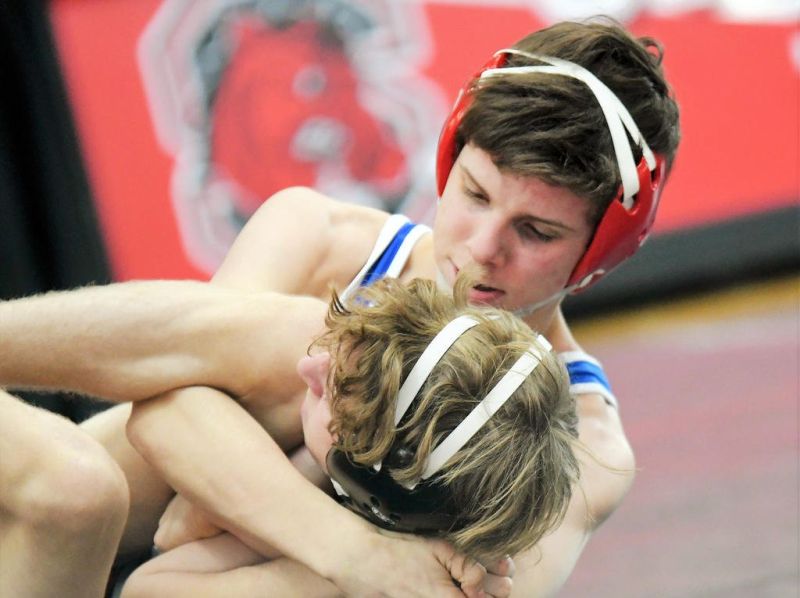 Like most OHSAA wrestlers who had earned one of the top-four spots in their respective district meets, West Holmes senior Cael Woods was gearing up for a run at the OHSAA state tournament that was slated to take place March 13-15 in Columbus.
Unlike the vast majority of those wrestlers qualifying for state, Woods was a heavy favorite to capture a 2020 Div. II wrestling title.
The three-time All-Ohioan had inched his way up the ladder, placing eighth as a freshman, third as a sophomore and runner-up last season in an overtime loss that left him hungering for that elusive title.
Sadly he and his four qualifying teammates never got the chance to compete, the tournament being postponed and finally cancelled due to the COVID-19 threat.
Joining the 120-pound Woods in the trek to state were two-time All-Ohioan senior Tyler Masters, two-time state alternate and senior Walker Uhl, senior Kendal Weber and junior Jack Welsh.
What made it even more disheartening for Woods, his teammates and all of the other wrestlers who had poured themselves into their trade for so long was that this year's tournament was rolled back one week. Had it taken place in its normal time slot, it would have been completed before everything shut down.
All of the memories and accomplishments of state are now just an empty hole for the Knights wrestlers and for Woods, who had an extremely good shot at capturing the ultimate goal.
Woods said at first it really ate at him, knowing he was not going to get a chance to compete for the gold and reach the pinnacle of the sport.
But as time passed, he has taken on a very retrospective approach to what has happened.
"It hurts, but there are always better things ahead in life," Woods said. "I had some very good opportunities to get there before this. I was definitely angry at first, but wrestling in high school was always just the next step to wrestling collegiately, and now I have turned my attention toward that."
Woods described his ultimate goal. "I put in all of the hard work and put myself in position to win a state championship, which was a big goal, but it was never the ultimate goal. My main goal has been to get to college and wrestle there. I have achieved that, thanks to a lot of great people who have helped me and all of us along the way," he said.
Woods explained how the current situation will become motivation. "I've achieved some really great things in my career. This is just one that won't happen now. It is just another stepping stone that is going to inspire me to work even harder in college," he said. "I did everything I could have done and was prepared. I was in a great place, my head was right and I was proud of the way I was wrestling going into state. That is how I want to remember competing. That is what is really fun."
That list included many coaches, inspirations and supporters whom Woods surrounded himself with during his wrestling career.
"I've learned a great deal along the way from a lot of great people," Woods said. "Hopefully that state title will now be within reach of the kids coming after me, and hopefully I have served as an inspiration for them to work hard toward their goals."
The waiting game for all of the wrestlers was difficult, not knowing if the state tournament would take place, wondering when and if they would get a chance to compete.
Maintaining weight was hard. Remaining mentally focused became a challenge.
Woods said at a certain point the inevitable conclusion of a lost season was evident, and it wasn't himself whom he felt the worst for, but rather his teammates including Uhl, who had waited for this moment and watched as an alternate the past two years. Seeing his friend and teammate finally get to state, only to see the chance to wrestle on the big stage disappear, was disheartening for Woods.
"I wasn't so mad really about myself as I was for Walker especially," Woods said. "I felt terrible for him and for the other guys. I was so happy for him, Kendal and Jack finally making it to state. Then they didn't get to wrestle, and I was really bummed. But they seemed to be taking it really well. I talked to Walker and Tyler (who will be his teammates at Ashland University next season), and they were taking it really well."
In securing a spot as one of the all-time greats at West Holmes High School, Woods has created a resume that any wrestler would gladly take, even though he didn't add the state championship to the list.
For him, knowing what he has accomplished and knowing how the hard work and discipline that comes with it will pay off, not just in his wrestling career, but also in life, is enough to nullify the gnawing thought of what might have been.