Wayne County athletes had a winter finish for the ages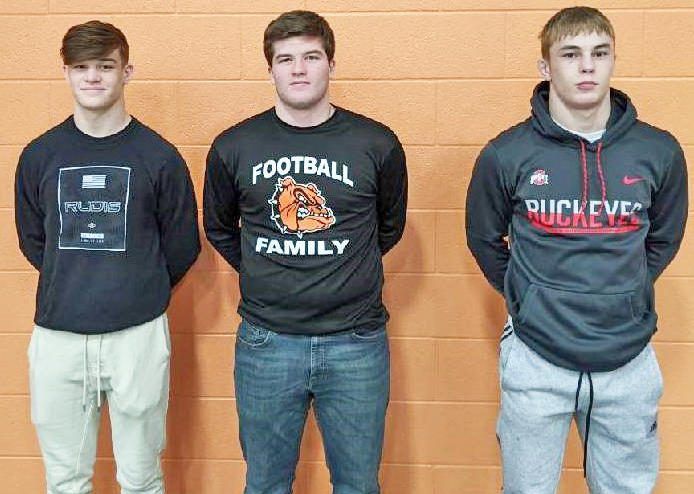 Nothing will ever take away the disappointment for high school winter sports athletes and teams that saw regional and state tournaments canceled a year ago due to the COVID-19 pandemic.
However, a large group of Wayne County athletes made up for a lot of lost time with a historic end to their 2020-21 seasons this past week.
A huge congratulations goes out to all the winter sports athletes who put in countless hours of workouts and practice time with no guarantees of even having a full season, especially the area state wrestling qualifiers, as well as Waynedale girls and Norwayne boys basketball teams.
Leading the way was Rittman senior Sevi Garza, who defeated Waynedale junior Peyton Lemon 5-2 to win the Div. III 170-pound state title at Marion Harding on March 13. The only other all-Wayne County state final occurred when Northwestern's John Huber defeated Waynedale's Joe Kikume 9-8 in 1984.
Garza was just the second state finalist in Rittman history: Kevin Lively placed second at 105 in 1982. Garza ended his season with a 41-0 mark while Lemon finished 30-5 with four of those setbacks against Garza. Garza became the WCAL's 12th different grappler to win a state title while the good news for Lemon is he still has another season left.
Also placing second from the area in Div. III were Norwayne's Austin Shepherd (145) and Dalton's Tate Geiser (152). The four finalists from the WCAL set a league record.
Also placing from the WCAL were Waynedale's Storm Stanley (145, third), Smithville's Michael Harris (138, sixth) and Dalton's Austin Ryder (220, seventh).
Stanley avenged a district loss to defeat Garrettsville Garfield's Hunter Andel 8-4 in sudden victory in a third-place bout. Stanley wrapped up a great career with a 152-38 mark and was a three-time WCAL champ, four-time sectional champ and three-time state qualifier.
In Div. I, Wooster senior 195-pounder Joey Lyons ended an outstanding career after a 1-2 state finish. The OCC MVW opened with a pin but then lost to the eventual state champ before falling 3-2 in the consolation round.
Much has been written this winter about the Garza-Lemon rivalry and the Waynedale program.
Another great story line that may have gone underappreciated by some is the record-breaking season for Dalton under sixth-year coach Kenton Lemon.
The Bulldogs set a school record with their three state qualifiers, and they were all underclassmen. Their fourth at the district also was a school-best, and they were second in the WCAL Meet.
"Our kids just really wrestled well throughout the entire tournament," Kenton Lemon said. "I'm ecstatic for everyone in our program. It shows that hard work really pays off. Tate didn't quite get the ending he wanted, but he raised the bar for our program. He was ranked 15th and beat the top-ranked kid in the second round. The kids he beat wound up finishing third, fifth and seventh."
Ryder bounced back from an injury-riddled sophomore season to reach the state podium while freshman 138-pound state qualifier Greyson Siders showed he has a bright future despite going 0-2 in the state meet.
"Austin wrestled a tough tournament, and it was a big accomplishment to place seventh," Lemon said. "Greyson wrestled fantastic at the district to qualify but had a tough draw as one of only two freshmen in his weight class. It was a great experience for all of them, and we graduate just one senior, Eric Miller (state alternate, qualifier 2020)."
Instead of state wrestling being held at the Schottenstein Center, each of the three divisions were held at a separate site this year due to COVID concerns. Coach Lemon praised the organizers at Marion Harding for helping to provide a "great experience."
Waynedale's girls advanced to the state hoops tournament for the first time in program history. Coach Rick Geiser's team fell 46-36 in a Div. III semifinals matchup to Ottawa-Glandorf, which went on to lose to Hiland in the championship game. The Bears ended with a 25-2 record.
Norwayne's boys reached their first regional final but dropped a 74-55 contest against state powerhouse and eventual state champion Lutheran East. Coach Brian West's squad ended with a 23-5 record.
Finally, congrats to a local sports person who also saw his career end this weekend.
Charlie Hardman, a longtime referee, retired after working his final state wrestling tournament at Div. II Marengo Highland. The 1977 Smithville graduate officiated at the state tournament six times, 18 districts and 20 sectionals over a 23-year career.
Aaron Dorksen can be emailed at aarondorksen24@gmail.com. Follow him on Twitter at @AaronDorksen.