Knights senior golfers building a year to remember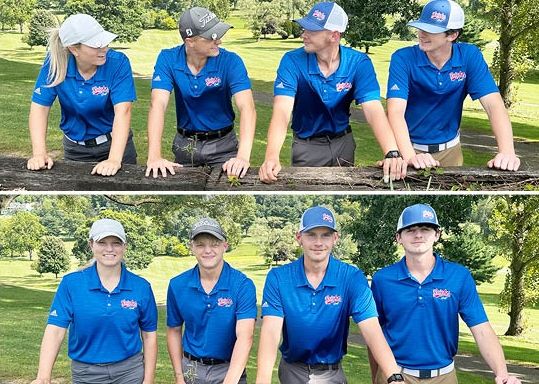 As far as seasons go, the West Holmes golf team couldn't envision this season going much better than it has.
The Knights have plowed through the Ohio Cardinal Conference unfazed and performed well in several tournaments, and as they prepare to set sail on what they hope will be a successful postseason tournament run, hopes are riding high.
The success didn't come out of nowhere. The Knights boast a veteran team, energized by four seniors who have been around the varsity game for three or four years, competing, honing their skills and building confidence, all of which have led the team to this point, their final dance.
The senior crew includes Trey Baker, Grady Toye, Kenzie Woods and Daniel Baird. That quartet now has 14 years of veteran varsity experience between them, and with Maverick Rickly, the Knights pose a threat that coach Mike Molnar said is capable of doing some special things.
"We've got four seniors, three of whom are four-year letter winners, and they've been good since they started in middle school," Molnar said. "They have worked hard at their sport, and that shows in the way we're competing this season."
Toye and Woods are both two-sport stars, Toye in wrestling, Woods in softball. Molnar said since they can perform so well in two sports, it shows off their athleticism and dedication to working hard to hone their skills in those sports.
"I think golf took a back seat to both of those sports for them, and this summer both of them put in more time into golf than they ever have before, and it's really paying off for them," Molnar said.
He said Woods has gained length off the tee and consistency, while Toye continues to be someone who can lead the team every time out.
"Grady has so much potential and is probably the purest golfer we have," Molnar said. "He's a perfectionist, and that can bog a player down sometimes, but his effort is always going to be there. His talent is really up there."
Molnar said Baker has been golfing for what seems to be forever, and he brings a major shot of stability to this team. He said part of Baker's strength is that he cares, yet doesn't care, an oxymoron that Molnar explained this way.
"In golf, you have to care a lot, but at the same time care little enough that you can forget the last shot," Molnar said. "Trey brings that experience to the game. He's able to shake things off and not agonize over missed opportunities and bad shots. He is able to bounce back so quickly."
He said Baker's consistency has buoyed the team and has been a rock in its scores this season.
Molnar went on to say that having some strong mentors like Hunter Ellis — who was an upperclassman when these seniors came into the varsity scene — has helped this group learn to develop some course management skills and to handle the mental part of the game.
Molnar said Baird is a much-improved player who has shown the ability to be a consistent contributor on a team that has accomplished a lot this season.
"Daniel is kind of one of those unsung guys that every team needs to be successful," Molnar said.
The Knights continue to work on the mental part of their game, something they all realize is vitally important during these final few weeks of golf season when there is so much on the line.
He said the fact that the kids show up long before a match to work on their putting and to get in the proper mental frame only adds to the success this group has experienced.
"It's not just goofing around anymore," Molnar said. "There's a lot of purpose in what we're doing. There's not a lot of wasted time, and that's neat to see that taking place."
He went on to note that playing on the same home course as a Hiland team that has experienced immense success at the state level and seeing his kids learn from that program and working to compete with them is exciting.
Molnar said in working with former Knights basketball coach Matt Voll in the past, the head coach always said there were two ways to get better, that being playing with people better than yourself or playing against players better than yourself.
Molnar said this group of seniors has taken that mantra to heart in working on their game, leading to an exciting fall season.
"They're great kids, and I wouldn't trade the last four years with all of them for anything," Molnar said.