Excitement on The Hill as full field makes for a fun night of racing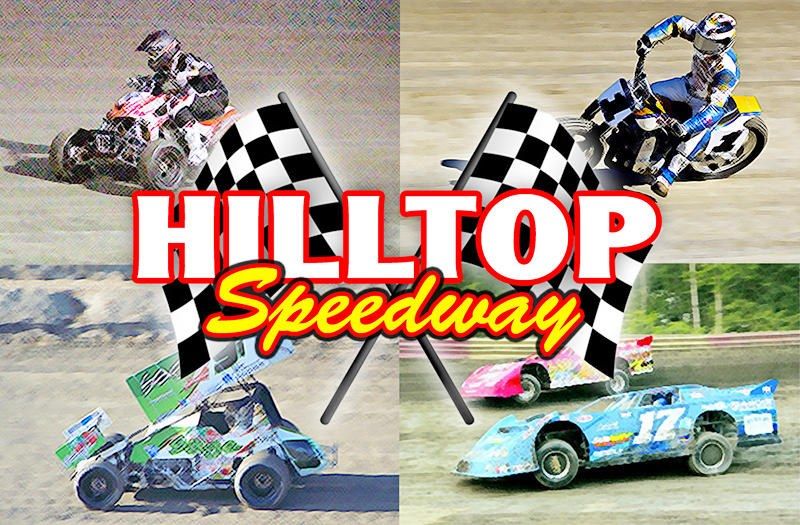 When it comes to dirt track racing, nothing beats a full house, which is what took place at Hilltop Speedway on Friday, July 31.
A field of 21 made up the Holmes Tire late model division with Shane McLoughlin setting fast time at 15.760.
Heat race wins went to Corey Conley, Mike Basich and Brandon Francis. With the field set, the green was out and pole sitter Conley would take the top spot. One lap in the books, a caution would bring the field single file back to green. Conley got out front as the battle for fourth would ensue between McLoughlin and Rick Mardis.
Mardis secured fourth with six laps down. Nearing halfway, Conley and Francis would begin to navigate their way through lap traffic. Francis looked to use the lap cars to his advantage and close the gap on Conley.
Lap 16 would see another yellow with the final caution on lap 19. Six laps to go, the green was back out, and Francis would again challenge Conley but be unable to surpass as "The Flying Ace" would once again find himself sitting in victory lane. Francis finished second, JR Gentry third, Mardis fourth and Dave Hornikel fifth.
Setting fast time at 17.010 and picking up heat race one in the Bugs-R-Gone modifieds was "The Outlaw" Jesse Wisecarver. Heat two went to Kyle Moore and heat three to DJ Cline. The last chance race was won by John Disbennett. With an additional $300 incentive added to the Bugs-R-Gone feature winner, the green was out, and outside pole sitter Kyle Moore would look to redeem himself against Wisecarver, who had taken the bounty on him just weeks ago.
Moore got to the lead with one lap in the books, Wisecarver running second. A final caution on lap 17 would set up one last attempt for Wisecarver to again take the win from Moore. However, this time he would be unable to do so as Moore would go on to lead every lap to the checker picking up the $1,000 to win Bugs-R-Gone feature event. Second went to Wisecarver, followed by Jess Hartman, Cline and Chris Basich.
Mark Baier and Gary Hensel would each pick up a heat race win in the street stock division with Baier and Denny Shear on the pole of the night's feature after a top-three redraw. Baier would take the early lead as Hensel would work his way into the top three with six laps down. Baier, Trae Schonauer and Hensel had a three-way battle for the lead. With 10 laps down, Hensel would look to the outside of Schonauer to secure second just as the caution would come out. Single file back to the green, Hensel would work the bumper of Baier for the lead.
Three laps to go, Hensel would make his move, working around Baier off four to take the lead and ultimately pick up the win. Third went to Schonauer, fourth to David Potts and fifth to Brad Hensel.
Heat race winners in the Snyder Hot Shot Truck and Trailer modlite division were Reece Bollinger and Joe Burkhead. A top-three redraw after the heats would place Tanner McLoughlin and Levi Lease on the pole for the night's feature event. With the drop of the green, McLoughlin would take the early lead as the battle for second through fourth would ensue between Lease, Bollinger and Jimmy Smith.
Four laps down, Smith would look to the inside of Bollinger for third but be unable to capitalize as caution would come out. Back under green, McLoughlin again took the top spot as Bollinger took to the inside of Lease, securing second with five laps in the books. Not settling there, six laps down Bollinger would take the lead from McLoughlin.
Once out front, Bollinger would fend off challenges by Smith to pick up the feature win. Smith was followed by Jon Preston, Tim Callahan and Joe Burkhead.
Back in action for this week were the Short Track Safety Team mini stocks with a 28-car field. The event went caution free. With three laps to go, Doug Hensel passed Jordan James, who had led the first half of the race, to pick up the night's feature win.
Rounding out the top five was Corey Staley, Jason St. John and Colton St. John. Heat race winners were Jason St. John, Hensel, Colton St. John and Jordan James.