Fast start can't propel Hawks in regional soccer loss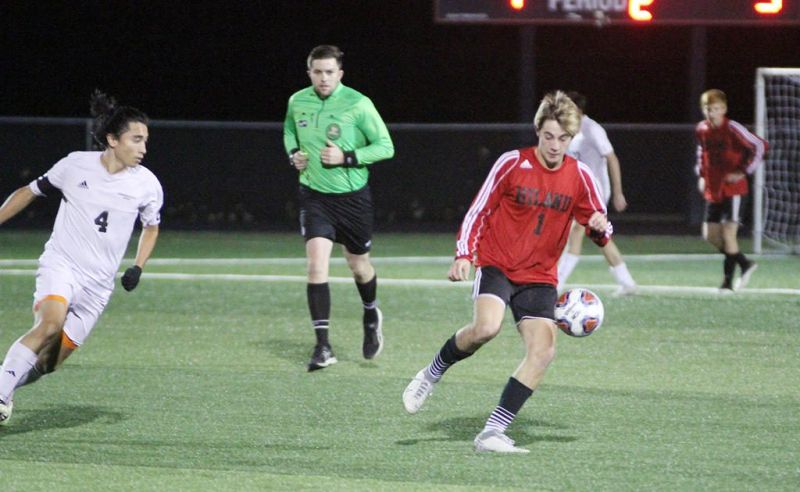 When Casey Lowe popped in a goal just three minutes into the Hiland Hawks regional semifinal soccer game versus a very talented Grandview Heights team, it gave Hiland all kinds of hopes of drawing a victory.
However, things went downhill from there, as Hiland produced an own-goal just moments later and eventually fell to GH 4-1 in the Wednesday, Nov. 4 game that took place on Hiland's home pitch.
"We felt it would be competitive, and for most of the game it really was," said Hiland head coach Scott Bodiker. "We were clearly dominated at times, but we competed all night and kept it close."
It was truly an odd game for Hiland, which allowed four goals but saw only one of them be a score that Bodiker would say was a truly earned goal.
After Zach Mullet fed Lowe for a score before fans had a chance to settle in, in the 12th minute, Grandview Heights knocked a ball into the box, where a series of miscommunications led to the Hawks sending one in for GH to produce the equalizer.
Will DeVere then gave the Bobcats the lead for good in the 31st minute when he took a pass from Kai Iisaka and crushed a beautiful shot in the lower right corner that just eluded diving Hiland keeper Wyatt Freeman.
Down just 2-1 at the half, the Hawks were still right in the thick of things, but that would change in the 47th minute when two Hiland defenders and Freeman met Adam Bechtel, who had broken loose. As Bechtel entered the box, a massive pileup took place and the Hawks were whistled for a foul. Bechtel nailed the PK to make it 3-1.
Grandview Heights' final goal came with three minutes to play, after Bodiker had added a fourth attacker and pulled a defender. Weakened in the backfield in the press to create an offensive attack, the Bobcats countered and sailed downfield for an easy score.
"We couldn't afford to make mistakes against a team like that, and the reality is, we put a corner kick in for them and made a bad decision and gave them a PK, and their fourth goal came when we put four forwards in," Bodiker said. "Only one of their four goals did they really earn it, we kind of gave them the other three."
Bodiker said that they knew GH was going to be a tall task, but they didn't try to make any major adjustments in their game plan, noting that they tried to possess and attack as usual.
"They are really good, and they make that really hard to do," Bodiker said of the Bobcats. "All we could do was go out and play the best we could."
While the Hawks managed to hang around for much of the game, it was an impressive effort for Grandview Heights, which outshot Hiland 17-5. Freeman produced 10 saves while GH keeper Owen Carter was rarely challenged and needed to make just three stops.
However, the biggest edge for GH was that they seemed to anticipate extremely well, beating Hiland to many balls throughout the night by getting that a first quick step to the ball.
"They had nice team speed and skills, but the biggest difference tonight was the speed at which they are able to play, not because they are athletic, but because thy move and anticipate and see and repsond to everything just a half-second faster than us," Bodiker said.
Grandview Heights advanced to the regional finals with a 13-3-4 mark while the Hawks bowed out at 14-5-1. Despite the loss, it was yet another fine season for Hiland, which has made regional appearances nearly every year over the past quarter-century.
Bodiker credited this senior group, saying several of them have been around the program for many more years than just in high school, because they had older brothers that played before them.
"We graduated a huge senior class last year, so a few of these guys really had to wait their turn and be patient," Bodiker said. "But we saw that class step up and raise their level of play this year, which is always gratifying."
Bodiker said while it is always an honor and a great accomplishment to earn a district title, and it is something they will never take for granted, the program expects more and is never satisfied with just reaching that level of play.
"In our program, the minimal expectation is that we win district, because we have done it often before," Bodiker said. "If you're a program like our girls' basketball team, that expectation is to reach state because they have done it before, often.
"We need to keep raising our expectations like that. We aren't just happy to be here," he added. "We have been close to reaching state, but we never have been able to kick that door down. It's going to take that one time for us to believe."