Holmes sports wrap: Five-set volleyball matches, rivalry thriller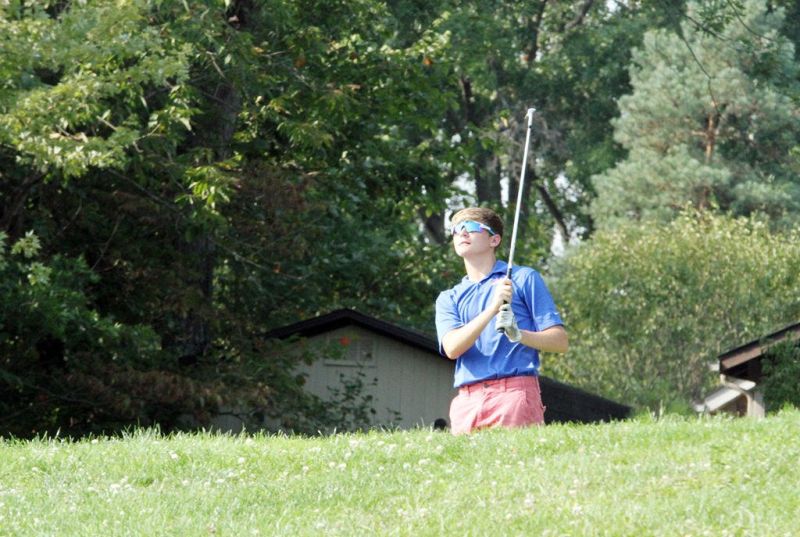 Some five-set matches on the volleyball court and a cross-county thriller highlight this week in high school sports.
Volleyball
It was a wild night in Holmes County on Sept. 11 when West Holmes and Hiland locked horns on the volleyball court, where the Lady Knights pulled out a five-game victory, winning 14-25, 25-20, 29-27, 15-25, 15-9.
Jerzey Morris paced the Lady Knights by scoring 21 service points including four aces, and Megan Jones added 19 points and two aces to go with 10 kills and 12 digs. Harmony Mast added nine kills and 13 digs, and Dani Miller pitched in with a dozen digs.
The Lady Hawks were paced by Maddie Miller, who dished out 21 assists and racked up 17 service points including three aces. Haley Yoder added 11 points, Annika Schneider chalked up 17 kills, Grace Schlabach added seven, and Amanda Troyer and Sara Schlabach recorded 23 and 12 digs, respectively.
Hiland and Garaway squared off on the volleyball court on Sept. 9, where the Lady Hawks earned a tight four-game win. Hiland took the opener 25-23, and Garaway won game two 25-20 before the Lady Hawks won game three 25-18 and then sealed the deal in a scintillating 26-24 contest.
Hannah Schrock led Hiland with 10 service points including two aces while Annika Schneider pounded out 14 kills. Sara Schlabach and Grace Schlabach added nine and seven kills apiece. Maddy Miller doled out 43 assists while Amanda Troyer and Sara Schlabach recorded 29 and 22 digs, respectively.
Brooklyn Frey drilled home 13 kills, adding three blocks and a strong six service aces to pace the Lady Pirates. Lizzie Mullet added 17 assists while Laiken Wallick had 22 digs.
The Lady Hawks took on a talented Indian Valley team on the court on Sept. 10, falling to the Braves in four games by a score of 23-25, 25-16, 27-25, 25-19.
West Holmes dropped a three-game match to Wooster, falling 25-14, 25-17, 26-24. Harmony Mast had a solid game for the Lady Knights with 11 service points and two aces, four kills, and 10 digs. Jerzey Morris added 12 points including two aces while Avery Yoder served up 11 points. Megan Jones and Ella McMillen had five and four kills, respectively, while Lauren Jones dished up 12 assists.
The Lady Hawks kept up their willingness to play five-game sets, this time clipping Claymont in five. The Lady Hawks won 26-24, 20-25, 23-25, 25-15, 15-6. The impressive thing for Hiland was the way it managed game five, getting out to a big lead and cruising to victory. The fact they have been involved in so many game fives could have easily played a role in that.
Sara Schlabach served up 17 points including three aces while Amanda Troyer and Ava Weaver each served 11 points and four aces. Anika Schneider racked up 25 kills, and Troyer pitched in with 10. Maddy Miller posted 38 assists, Ava Troyer posted five blocks, and Amanda Troyer and Schlabach collected 33 and 31 digs, respectively.
The Lady Pirates battled with Tuscarawas Central Catholic, but despite a tough battle, they fell in four games, losing 25-17, 25-22, 19-25, 25-21.
Brooklyn Frey had 11 kills and 17 digs, Laiken Wallick added 10 kills to go with 13 digs, Shelby Gerber served up four aces, Jordyn Fearon had 15 digs, Nicole Custer had two blocks, and Lizzie Mullet doled out 12 assists.
Soccer
The Hiland Hawks boys soccer team upped its record to 4-1 on Saturday, Sept. 12, fending off a pesky 4-2 Smithville team in a 3-0 shutout at Hiland High School.
The Hawks attacked the net early, getting a pair of key goals in the opening 12 minutes of play, then let the defense do its job in the whitewash victory.
Just four minutes in, Zach Mullet worked his way through traffic and scored an unassisted goal. Then in the 12th minute, Mullet's assist found the foot of Casey Lowe, who finished off the play with a score that put Hiland up 2-0.
That was how the game stood at intermission, and teams always talk about scoring early in the second half when leading, which is exactly what the Hawks did. Collin Lowe's assist to Caleb Beachy gave Hiland a little more breathing room, although in the end no more was needed, Hiland limiting the Smithies to no success on 10 shots on goal. Meanwhile, Hiland cranked out 19 shots and five corner kicks.
Hiland keeper Wyatt Freeman made four stops in goal while Logan Smith tallied seven stops for the Smithies.
"I was really happy with our effort and focus tonight," Hiland coach Scott Bodiker said. "Smithville is a really good team, and this was a quality win for us as we continue to gain experience with a less experienced team than we have had recently. Our first goal was especially satisfying because it came directly from something we worked on at practice from our scouting reports."
The Hiland Lady Hawks battled John Glenn to a 3-3 deadlock on the pitch.
After falling behind in the fifth minute on a Marina Nikolozakes goal, Hiland answered in the 25th minute when Paige Gertz worked her way into a good look and delivered a shot to the back of the net. Five minutes later Gertz took a Maici Money feed and drove home a shot to give Hiland the half-time advantage.
John Glenn's Ashlynn Clark scored consecutive goals in the 56th and 65th minutes to put the Lady Hawks down, but with time becoming a factor in the 75th minute, a Gertz pass found Money, who knocked in the game-tying goal.
"That was a good game against a tough John Glenn team," Hiland head coach Conner Lee said. "Our defense made a few costly mistakes. We just need to learn from it and move on."
Rayauna Lies made four stops in net for the Lady Hawks, and the Muskies outshot Hiland by a slim 11-10 margin. The tie moves Hiland's record to 3-3-2.