Galbraith pounces at chance to celebrate on state podium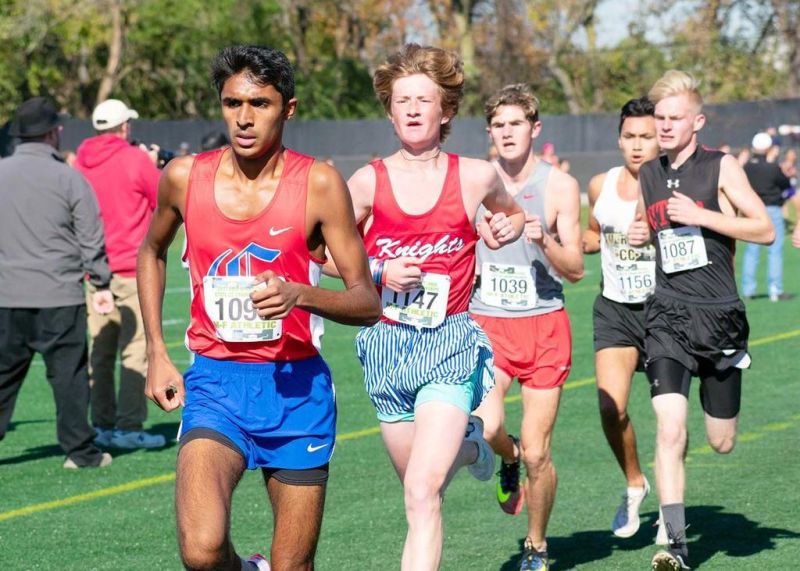 Studying hard doesn't just pay off in the classroom.
Just ask Zeke Galbraith.
Galbraith recently churned his way to an 18th-place finish in the Div. II boys cross country state meet, earning a spot on the West Holmes Wall of Fame as an All-Ohioan, and according to head coach Kevin Beachy, Galbraith is one of the most studious runners he has ever coached.
"That's something that's always been in me," Galbraith said of his desire to drink in knowledge in whatever he is doing. "Coach has given me books, and I look for anything that will help me improve my mind-set on reaching my goals."
That commitment to honing his craft paid off handsomely for the Knights' junior, who will celebrate his new All-Ohio status for now but is already preparing for track season and his final year in cross next year.
"We knew I was going to make state, but we weren't sure I was going to place that high," Galbraith said.
Beachy told Galbraith the goal was to run a 16:25 and place 20th. He was spot on, running a 16:11 to grab 18th.
"He ran an awesome race," Beachy said of Galbraith. "He set a 24-second PR at state, which is incredible. He executed the game plan to perfection, and he did what he does best in putting himself in position to pick guys off one by one as they fall off the pace from that lead pack."
That's exactly what Galbraith did.
"Coach told me to get out fast so I didn't get caught back in the pack because it's tough to navigate through that much traffic," Galbraith said. "I got out in the top 40 and stayed with the separation, and coach always tells me to stay on people's back and pounce when they start to falter. That was the strategy, and it paid off."
Galbraith said he knew he was in good shape, but he could feel himself slowing a bit at the end, but he forced himself to stay focused and finish strong. He said adrenaline carried him past the finish line, knowing he was going to be on the podium, and the feeling was not one of exhaustion but rather exuberance as he immediately started looking for anyone to hug.
"I was so excited I was hugging everyone I knew," Galbraith said.
Galbraith wasn't the only one celebrating at state.
The Lady Knights became the first WHHS girls cross country team to ever qualify for the state meet, and Beachy said their finish wasn't the end-all, be-all of the meet.
West Holmes placed 16th in a field of 20 teams. In a field of 180 runners, Lexy Starner was 77th, Zora Starner was 79th, Noelle Smith was 96th, Brenna Myers was 133rd and Carolyn Miller was 166th with Emily Truax and Autumn Conner rounding out the field of Lady Knights.
"It was a really good, unique experience," Beachy said of the girls' effort and performance at state. "On one hand they really enjoyed being the first team in West Holmes history to qualify for state. They created some life-long memories for themselves. At the same time, I don't think they were happy with the way they performed. They grasped the enormity of what they did, but they were disappointed with the results, and they're already fired up to get started on practicing for next year."
The performance ended a strong season of growth for West Holmes. Beachy said the excitement on the girls' side is evident, and the youthful boys team showed great improvement throughout the year, setting the stage for an exciting season to come.