Generals sew up tie for OCC but looking for more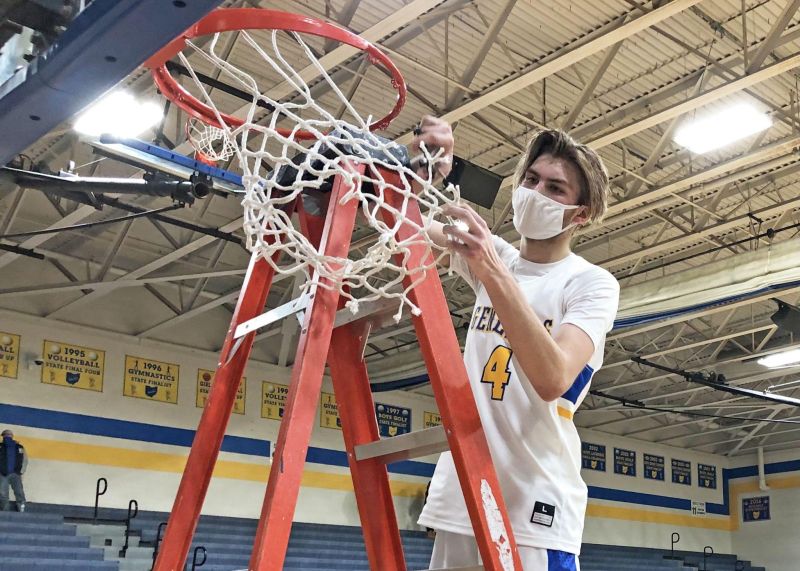 The Wooster boys basketball team has been a big fish in a little pond the last few seasons when it comes to the Ohio Cardinal Conference.
The Generals locked up a share of at least a repeat OCC title with a 68-60 win over visiting Ashland on Feb. 12. They can make it back-to-back outright championships if they can win at home against Lexington.
That's all well and good, but Wooster coach Michael Snowbarger and his team are thinking bigger. They want to venture out of the OCC waters and get some postseason wins later this month.
"Winning the OCC is nice for the kids, but honestly, I don't talk about it a lot," said Snowbarger, who also guided the Generals to a league title in 2016-17, the program's first since winning the inaugural OCC championship in 2003-04. "We talk about 'let's think big, let's think big.'"
The "big" part of the season will start Feb. 27 when the eighth-seeded Generals (14-3, 10-1 OCC) host the Copley (15 seed) vs. Barberton (17) winner in a sectional final. If Wooster can prevail, it will likely be headed for a district semifinal at third-seeded Medina on March 3. The Akron-Canton District also includes Shaker Heights and Cleveland Heights in the opposite half of the bracket, which is part of the Northeast Ohio super district.
Wooster hasn't enjoyed much postseason success in recent years including last season when it won 20 games but lost its sectional opener against Boardman.
It's not easy for Wooster to be one of the smallest Div. I schools in its district, but Snowbarger will make no excuses. That's why he's scheduled the likes of Massillon (76-69 loss on Jan. 19) and Canton McKinley (96-62 loss on Feb. 16).
"If we continue to get better every day, then things like OCC championships will come along with it," Snowbarger said after the win over Ashland. "Credit to our kids because they put in the time and they continue to work.
"We had a tough one last Friday (59-56 loss at Mount Vernon), but I think our kids bounced back. If a loss like that makes us better, then you give one or two like that a year, but I thought we played some of our best basketball of the year (against Ashland), and that's what you want to see as a coach."
The Generals savored clinching at least a tie for the OCC title by cutting down the nets after the victory.
Juniors Micah McKee and Brayden Hamilton led the way with 17 points and 16, respectively. McKee grabbed 12 rebounds, and Hamilton pulled down eight.
Senior David Nolen scored 12 points and handed out five assists while junior Jack Williams added nine points on 3-for-3 shooting after starting at point guard.
"I don't get hung up on that kind of stuff," Snowbarger said when asked about the Generals coming through with a win over Ashland (14-4, 8-2) in what many billed as the OCC championship game. "What I liked the best about it is that we were playing a quality opponent at the end of the season, and it was great to see us playing some of our best basketball of the season.
"We limited their second-chance buckets and won most of the 50-50 balls, which we said were keys coming in because every possession would be very critical."
Senior Drew Dossi gave Wooster a big lift by returning to the lineup only a week after having surgery on his right wrist. The third-year point guard scored six points, helped run the offense and strengthened the perimeter defense.
"Drew got a pin placed in his wrist, and when he went to get a checkup, the doctor cleared him to play," Snowbarger said. "Drew has a ton of grit, and he wants to get out there. He does a lot for us that doesn't always show up in the scoring column, but what he does defensively, sharing the ball passing, moving and just having his basketball IQ, it helps our team a ton."
Hamilton leads Wooster overall with 15.4 points a game, helped by connecting on 46-for-129 3-point attempts and shooting 78% from the free throw line, statistics as of Feb. 11.
Nolen (14.9 ppg) and McKee (10.2) also average double-figure scoring, followed by Dossi at 7.4 ppg. McKee leads the team with 8.1 rebounds a game, with Dossi averaging 4.5 assists each time out.