Lady P volleyballers down undefeated Hiland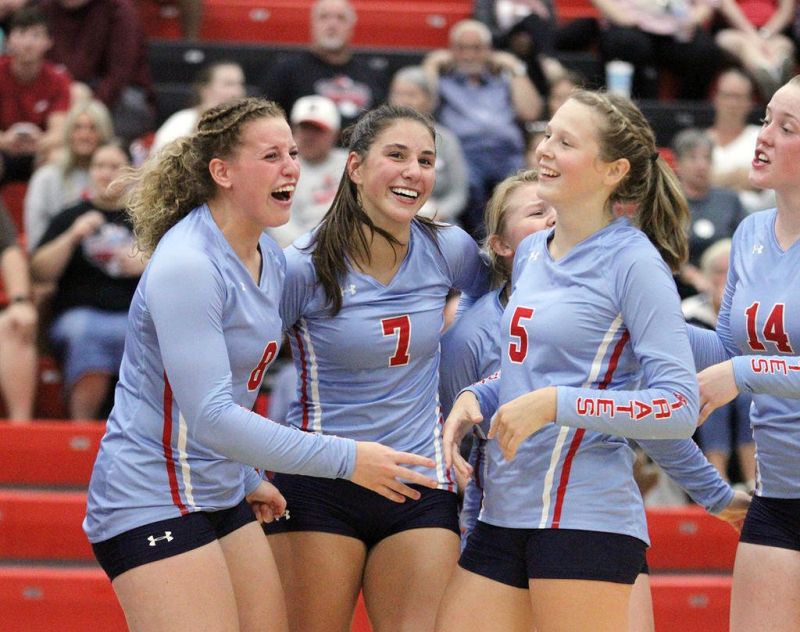 If someone walked into the Perry Reese, Jr. Community Center the evening of Tuesday, Sept. 7 and thought there was tournament volleyball taking place, it would have been understandable.
With Garaway (6-2) facing undefeated Hiland, the two rival teams enjoyed a loud, fierce and raucous atmosphere in what turned out to be an incredible five-game match that was eventually won by the Lady Pirates 25-23, 25-18, 13-25, 21-25, 15-13.
This was one of those rivalry games that presented an early-season taste of tournament play, and both teams deserved to emerge victorious.
The evening started ominously for Hiland. Already down an ailing Ava Troyer, moments before the game was about to start, Hiland's other big net player Hannah Schrock came down awkwardly on her knee while warming up and spent the entire game icing her knee on the sideline.
It was a gut punch for the Lady Hawks, but head coach Kelly Miller said it wasn't going to stop her team from performing.
"We practice these types of situations all the time," Miller said. "We practice without our best player on the floor. We haven't practiced with those two off the floor, but we have kids ready to step up, and we had some JV kids step in and really deliver big performances."
Miller said reserve Lehla Schlabach and Callie Kaufman were called upon and did a great job while Grace Schlabach was asked to play in the middle at the net, a position she has never played before.
"Our girls are very close-knit and willing to step in wherever they have to," Miller said.
On this night they had to because Garaway brought its A game to the gym.
"I am super-proud of these girls," Garaway head coach Jess Schwartz said. "We have been through a lot over the past years in terms of feeling confident and believing in ourselves, and tonight was a huge step for us in pushing past that."
If it was confidence Garaway needed, it got it early with game one tied at 22, and Meghan Petitte hammered a winner. When teammate Laiken Wallick followed suit, Garaway led 24-22, and a hitting error by Hiland ended game one in favor of Garaway.
Garaway took an early 6-1 lead in game two, and although the Lady Hawks rallied to tie it at 9-all, McKenzie Miller took over for Garaway, powering several big winners to push the lead to 20-15. Morgan Schlabach scored a pair of kills to end game two in favor of Garaway, and Schwartz said they desperately wanted to get game three and get out of Dodge because she understands how easily momentum can swing.
"Yeah, we wanted game three in a big way," Schwartz said.
The Lady P's wouldn't find a winning formula there, nor in game four. With a depleted and much smaller front line, the Lady Hawks had to rely on their back row defense, and what an effort they got from libero Maddy Miller and defenders Jamie Yoder and Belicia Yoder.
Hiland forged an early 8-4 lead in game three and rode that momentum swing to an easy win, with outside hitter Annika Schneider providing the offense. However, it would be Ava Weaver, just returning from an injury, leading the way from the service line. Hiland led just 13-9 when Yoder started serving, and a bunch of bullet serves and three aces later, it was 21-9.
"We wanted to ease Ava back in, but she played an incredible role for us in getting turned around," coach Miller said.
Game four was a back-and-forth affair that saw Maddy Miller and Yoder playing extraordinary from the back line. Miller was doing everything from digging to serving to setting while Yoder was flying all over the floor, digging up would-be winners and keeping the ball in play.
Hiland held leads of 17-13 and 21-17, and after a Petitte kill, the Lady Hawks forced a fifth and deciding game.
"I can't say enough about the way their back row played tonight," Schwartz said of Hiland. "They played inspiring volleyball, and it kept them in the game."
Game five would be a thrill-ride as both sides of fans ratcheted up the volume.
Hiland would get a dink kill from Haley Yoder and another ace from Weaver to forge a 4-2 lead. Garaway responded with an ace from Nicole Custer and a kill from Morgan Schlabach for a 5-4 lead. Hiland would retake the advantage on a kill from Belicia Yoder and an ace from Haley Yoder. Trailing 9-6, Garaway would get a huge kill from Custer, followed by a Wallick ace. When Custer struck again, it was knotted at nine.
"When we got it back to even there, I really felt like our girls started to gain confidence and believe they were going to win this thing," Schwartz said.
It started with a McKenzie Miller kill, and when Makayla Sitzlar delivered an ace, Garaway was sniffing victory up 12-10. Morgan Schlabach crushed another kill to make it 13-10, but a net serve was followed by a pair of service aces from Hiland's Maddy Miller, knotting things at 13.
It was now a game to two, winner take all, and Morgan Schlabach delivered the first big blow with a tremendous kill to give Garaway the edge. After a lengthy battle on the ensuing serve, a Hiland hit went just wide left, and the Lady P's had their confidence-building win.
"Just a huge win for us," Schwartz said. "It's one of those wins that can turn a good season into something special. We were able to stick to our game plan early and were attacking, then got timid and played on our heels until we pulled it out. I give our kids all the credit in the world because they found a way to win against a team that never goes away and keeps coming at you. We had to overcome a great team, and we found a way."
Coach Miller said despite the loss, she couldn't be prouder of the way her team responded to adversity and the disappointment of losing one of their star players right before the game.
"Jamie and Maddy were amazing," Miller said. "We had every opportunity to pack it in, but the girls refused and kept battling. I told the girls with everything that happened, I didn't care if we won or lost as long as we left it on the floor, and we did that, and I am so proud of them for the effort they gave against a really good team."