A look at Waynedale High's winter sports teams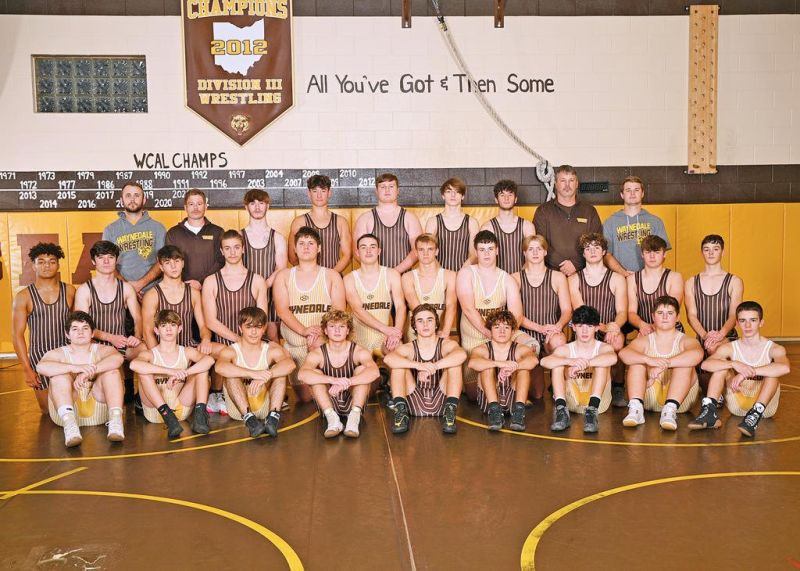 The winters have been warm and cozy recently for Waynedale, and the Golden Bears are looking to light it up again on the court and on the mat this year.
Girls basketball
Waynedale's girls basketball team has established itself over the past couple years as a premier area powerhouse. The Golden Bears will look to extend a remarkable run this winter and have plenty of pieces to do it.
Coming off a 28-1 season and unbeaten run through the Wayne County Athletic League, Waynedale also has back-to-back trips to the Div. III Final Four in Columbus under its belt. Gone are players representing about half the minutes on the team that lost to Worthington Christian in the Div. III state semifinals a year ago.
"The biggest strength of our team is the high-character girls that we are fortunate enough to coach every day," Golden Bears coach Rick Geiser said. "We have a lot of girls who buy into playing really hard and sacrificing of themselves for whatever the team needs at any given time."
Waynedale was ranked No. 3 in the state behind Wheelersburg and eventual champion Cincinnati Purcell Marian a year ago. Gone from that team are Brooklyn Yoder, Cherlyn Miller, Alyce Yoder and Kylie Nussbaum. That would do in lesser programs.
Waynedale, though, will look to pick up where it left off. That will be done with two-time state tourney starter Alyssa Geiser leading the way at guard, along with senior forward Jewel Persinger, who started the state semifinal last season.
Junior forward Cheyanne Chupp and senior guard Sydney Reber were key contributors a year ago, along with junior guard McKenna Baney.
The group will be joined by junior guard Addesa Miller, sophomore guards Tiana Mast and Kayle Miller, and freshman guards Kylie Geiser and Jorjia Persinger.
"Our team strength is our ability to score inside and out with a variety of girls," coach Geiser said. "We will be balanced in our scoring and be able to rely on different players on any given night to provide points. Defensively, we have a bunch of girls that are willing to guard inside and out and play really hard while they compete."
Boys basketball
Second-year head coach Dane Held's boys basketballsquad will have a bit more work to do. Coming off a 10-14 season overall, 5-9 in the WCAL and needing to replace five graduates, the Golden Bears will have plenty of opportunities for new players to make their mark.
Four returning letter winners should be heard from, though. They include 6-foot-1 senior guard Trey Barkman, 6-1 senior guard Gavin Spitler, 6-2 junior post Mark Yoder and 6-1 junior guard Jeremy Reber.
New to the fold are 6-1 junior guard Jaden Zuercher, 6-2 junior guard/post Jake Coblentz and 5-10 sophomore guard Mattias Raber.
"We have some guys that are going to be stepping into some new roles, and we have been working on a little bit different offense, so we have been adjusting to that so far this season," Held said. "I think our athleticism should help us out matching up with teams this season, but we are going to need some guys to step up and score the basketball some more this season."
Wrestling
Louie Stanley is wrapping up three decades coaching Waynedale's wrestlingsquad, and like all years, big things are expected from the Golden Bears. Coming off 11 consecutive WCAL championships and five sectional titles running, the Golden Bears will need to fill the shoes of eight graduates.
Those include three-time All-Ohioan Peyton Lemon, All-Ohioan Caiden Heller, and state qualifiers Caleb Zimmerman, Jake Sundberg and Justin Hershberger.
Caden Schmeltzer, a state placer at 126 a year ago as a freshman, leads the returners. He will wrestle this year at 132 or 138.
Sophomore Robert McCrork and juniors Liam Mitten and Cole Lewis were district qualifiers a year ago. Collin Kearney, Alex McCartney and Braden Mast return with varsity experience.
Among the newcomers are freshmen Stephen Patterson (106), Seth Hostetler (113) and Lance Kearney (120); sophomores Michael Villafranca (126), Ethan Garrod (144/150) and Jayden Schlabaugh (175); junior Marquel Troyer (165); and seniors Ashton Kauf (132) and Ethan Lemon (138). Freshman Gradey Posey and Kamden Lemon will compete for the 220 spot.
"We expect to be a very competitive dual as well as tournament team," Stanley said. "We look to push for a WCAL title and make a nice tournament run."