Hiland golfers set school record with 281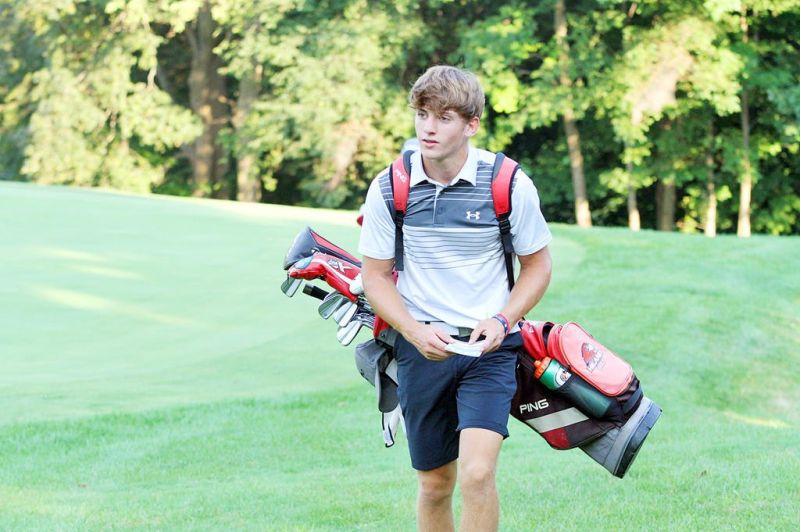 When the Hiland Hawks golf team fired a school-record 286 two seasons ago, shattering the old record easily, head coach Austin Kaufman figured that score would stand the test of time.
Well that lasted less than two years.
On Saturday, Sept. 25 at River Greens Golf Course in West Lafayette, the Hawks smashed through the recently set record in a big way, firing a team score of 281 to win The Eastern District Open and crush the former record by five strokes.
"Yeah, I thought that old record might stay around for quite some time, but was I wrong," Hiland head coach Austin Kaufman said.
How good was Hiland on this day? They fired off not one, not two, but three 69s, with Carter Mishler, Brookston Hummel and Kenny Weaver all sharing tri-medalist honors for the event. Five-man Nathan Kline added a 2-over-par 74 to round out the scoring, but the Hawks were so good that they could have switched Kline's 74 out with Garret Shoup's 77 and still beaten the old record.
"Three 69s is kind of unparalleled in high school golf," Kaufman said. "The fact that we could have switched out our last score and still beaten the record speaks volumes as to how good of a day it was."
Mel Pesuit, head coach at Meadowbrook High School, which has been a pretty strong golf program itself, told Kaufman in his 30-plus years of coaching he has never seen a golf score like that before.
Kaufman said he could feel something good brewing early on. He said Hummel got to 3-under quickly and stayed there. Weaver played several holes, threw down an eagle and found himself right there as well. Then Mishler heard tell of his teammates' impressive work and wanted to join the crowd.
"I talked with Carter about six holes to play, and he asked me where everyone was at, and I told him what the other two guys were doing," Kaufman said. "He got fired up and started making birdies in a hurry to get to 3-under. He's that kind of kid who can turn it on."
Both Mishler and Hummel have found sub-70 this season already, but for Weaver, it was a huge step in a very good direction.
"Kenny's been in the 80s for his freshman, sophomore and most of his junior season," Kaufman said. "Now it is in the 70s, and he comes up with this effort. He's been outstanding."
He said watching Kline and Shoup really come into their own this season has been fun to watch, and it has given the Hawks incredible depth. He said from a confidence standpoint, this type of effort helps everyone relax even more, knowing they can pick each other up.
"This is the culmination of a lot of hard practice and pushing themselves," Kaufman said of his team. "It's really nice to see them playing this well at the right time of the year. We're coming to the tournament run, and this is when you want to be peaking."
The chase for an Eastern District title seems like it should have been somewhat close, with runner-up Garaway firing a strong score of 313. That included a 75 from senior Charles Beachy, a season-best 76 from Emmet Royer, and 81s from Trace Gibson and Carter Miller, with Caleb Meek adding an 89.
That type of score is often good enough to compete for a title, but not on this day.
New Philadelphia (318), Dover (321), Carrollton (325) and John Glenn (327) all should have been chasing a championship. New Philadelphia's Shad Kenily posted an even-par 72 to lead the Quakers while teammate Nathan Menapeace added a 76. Dover was paced by Carter Begue's 76 and Jacob Hanner's 78. Carrollton was led by John Birong's 73. Ridgewood's Charlie Kilpatrick also fared well with a 74.
However, this day belonged to the Hawks, who put the OHSAA on notice that it is seeking to better last season's runner-up finish at state.
A few days earlier, the Hawks took care of business in the Inter-Valley Conference Postseason Tournament, managing a 301, a score that would normally be incredible. Again, Garaway was right behind in the runner-up spot at 320, followed by Sandy Valley's third-place finish of 340.
Hiland was led by Mishler's 69. Hummel shot 74, Weaver carded a 75, Kline tacked on an 83, and Shoup and Lucas Yoder each carded 85.
Garaway was paced by Beachy's 74 with Gibson shooting 76, Royer adding an 83, Miller carding an 87 and Meek adding a 93.