Holiday hoops at COW on Dec. 21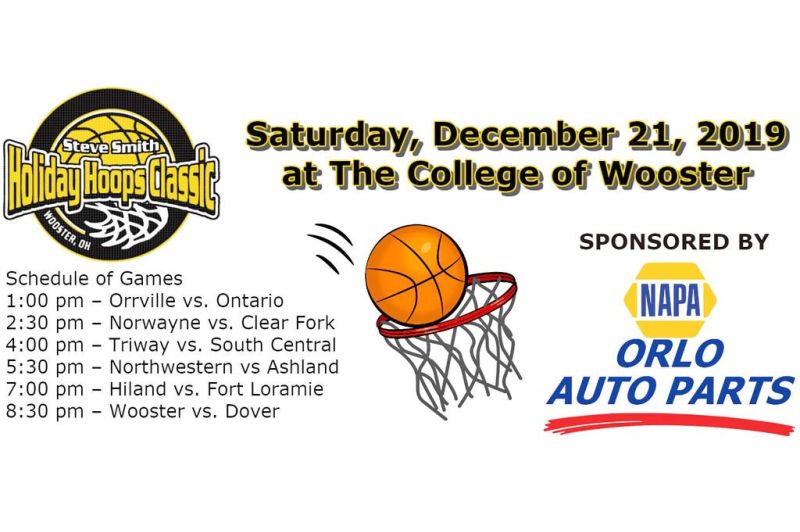 There are plenty of high school basketball events being played in Northeast Ohio throughout the months of December and January, but one of the first is still one of the best.
For the 16th time, the WQKT Steve Smith Holiday Hoops Classic is coming to the College of Wooster's Timken Gymnasium. Sponsored by Orlo Auto Parts, the Classic will feature six boys basketball games, starting at 1 p.m. on Dec. 21, all pitting local squads against teams from outside the area.
Aside from the basketball, the best part of the day-long event is that one ticket — $5 for students, $7 for adults in advance, and $6 and $8 at the door — is good for the whole slate of games.
"There's really no better bargain anywhere," said Mike Breckenridge, the longtime WQKT broadcaster who co-founded the Classic with College of Wooster coach Doug Cline back in 2004. "It's basically a buck a game, and people can come and go as they please."
In 2005, following the death of former Orrville High coach Steve Smith, his name was added to the event. Proceeds from the Classic go to the Steve Smith Scholarship Fund at Orrville High School, where Smith guided the Red Riders to three state championships. "He's still known throughout Ohio," Breckenridge said of the Hall of Fame coach, "and his name adds a lot."
Together with Cline, Breckenridge puts the Classic field together each year. This year's schedule includes Wooster, Northwestern and Triway — all of whom have played in every Classic — as well as Norwayne, Hiland and Orrville.
The day will tip off at 1 p.m. when Orrville meets Ontario, followed by Norwayne against Clear Fork, Triway against South Central, Northwestern against Ashland, Hiland against Fort Loramie and Wooster meeting Dover in the finale.
"We try to make it so people will see games against teams they don't normally match up with," Breckenridge said. "The allure for teams is that they get to play on a big, neutral floor in a matchup that's as close to a tournament-type game as you can get at this time of the year. We try to make it as easy as possible on the teams too. They come in and play; we feed them and take care of them. It's easy for the fans too. They can stay and watch as much as they want. They can come and go. It's a great gym, and there's plenty of parking."
Presale tickets for the WQKT Steve Smith Holiday Hoops Classic are available at the radio station, 186 S. Hillcrest Drive, Wooster, or at any of the participating schools.