Jocelyn Troyer earns Div. II WGCA Kim Moore Spirit Award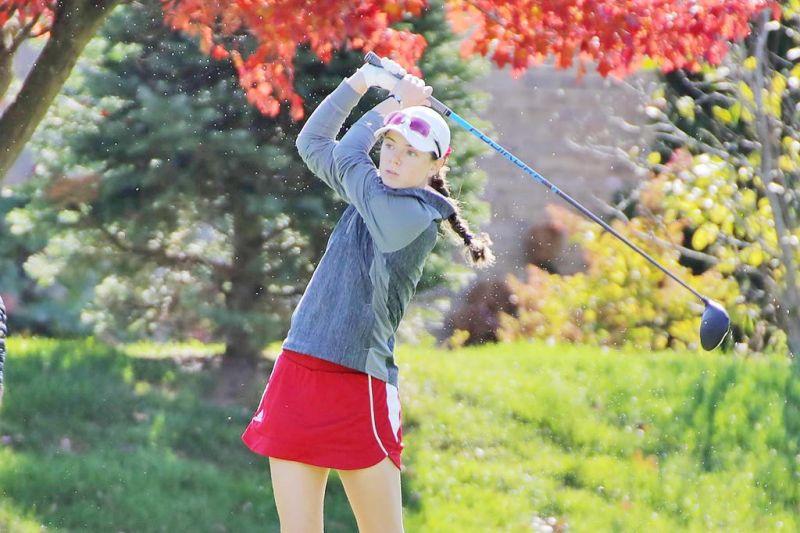 The Women's Golf Coaches Association announced the recipients of the 2020 Kim Moore Spirit Award on Thursday afternoon. Malone University women's golfer Jocelyn Troyer, a freshman from Sugarcreek and Garaway High School, has been selected as this year's recipient from NCAA Div. II.
The award is dedicated to Kim Moore, who played golf for the University of Indianapolis from 1999-2003. Moore was an inspiration to all as she persevered through many physical challenges while playing collegiate golf. Her positive outlook and dedication toward the game was only outdone by her sense of humor and passion for the game.
The purpose of the award is to recognize and honor a student-athlete or coach who exemplifies a great spirit toward the game of golf, a positive attitude on and off the golf course, a role model for her team, and mental toughness in facing challenges.
The following was written by Pioneer women's golf coach Bill Eddins, who nominated Troyer for the award:
Jocelyn Troyer is coming off of an exceptional fall season where she played in 10 rounds and was second on the team in birdies, third in pars and second in scoring average with an 80.6. She also was a part of the record-setting team that broke 18- and 36-hole school records.
Troyer was set to have a record-setting spring before the coronavirus halted virtually everything. She has an incredible future in golf and teaching and coaching ahead of her. However, this successful start to college and college golf almost didn't happen.
On March 9, 2016, her parents found themselves in a life-or-death moment for their daughter. While preparing for the upcoming softball season, Troyer was hit in the head by a softball near her right temple. At first, concern was not necessarily very high, but within hours things became critical and she was fighting for her life.
Troyer was initially taken to be with her father, where he had her eat a little something, but soon afterward she threw up. Her father Kevin then took her to the fire station where he volunteers and consulted with the fire chief. Kevin was advised to take Jocelyn to a nearby hospital for a CT scan.
At the hospital, an IV was started, and they met Troyer's mother Susan. As Troyer talked, her responses became slower and slower, and when she returned from the CT scan, she had lost almost all movement.
It was discovered Troyer had a severe brain bleed. Her doctor told Kevin and Susan that Jocelyn was very sick and that he could make no promises. At this point it was decided Troyer would be taken by ambulance to Akron Children's Hospital in Akron; MedFlight was not an option due to inclement weather conditions.
Upon arrival Troyer was rushed into surgery, and 3 ½ hours later, doctors had inserted three small metal plates in her head. She was hospitalized for three days. Kevin and Susan learned when Jocelyn arrived at ACH, she had no movement whatsoever in her right side. The Troyer's prayers were answered as they were told by doctors and her therapist that she came through the surgery extremely well.
In typical Jocelyn fashion, incredibly, after just two months of recovery, she was preparing for her golf season, showing her relentless competitive, fighting spirit. She and her family are grateful to their family and friends for their prayers and support throughout this ordeal. Her extraordinary toughness and never-give-up attitude has impacted many lives in her community as a result of this accident.
"We are so proud of Jocelyn Troyer and the person she is. She embodies the Kim Moore Spirit Award, having overcome adversity like she has with tremendous character. Jocelyn is a special young lady, and through this ordeal she has shown unbelievable courage, perseverance and toughness," Eddins said.
Troyer is the second Pioneer recipient of the Div. II WGCA Kim Moore Spirit Award, as Mikayla Johnson also earned the award in 2017.