Knights 5-0 and feeling fine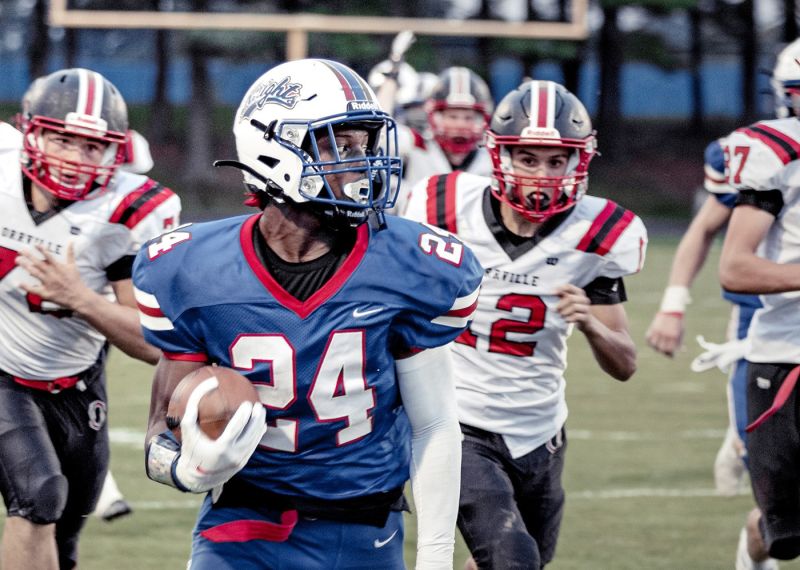 While West Holmes head coach Zach Gardner readily admits he has some fantastic athletic players bolstering the line-up of a team that currently stands at 5-0 and is ranked as the top team in Div. III Region 10, the mid-point assessment and success of his team is not so much focused on his players' athleticism, but rather their willingness to work at the little things that wmake football teams great.
After dismantling Madison Comprehensive 40-7 in week five, the Knights stood at a perfect 5-0 mark, and Gardner said it has been the commitment of his players and staff that has led them to where they are at the midway point of the season.
"Our young men have set a great culture so far," Gardner said of his team's early success. "They understand what it takes to compete at the level we want to compete at. They are working hard to improve in the area we need to improve to reach our goals."
One of the biggest pluses to date has been the team's ability to turn to a large variety of weapons on offense that has kept opponents guessing what will come next. Quarterback Noah Clark has used both his arm and legs to create big opportunities. Sam Williams-Dixon and Bret Shearer have created a dual-headed monster in the backfield for West Holmes, both runners showing they can both run and catch the ball out of the backfield.
The quintet of Williams-Dixon, Shearer, Kyle Maltarich, Garrett Eastep and Tucker Kaufman has allowed Gardner to call a multitude of offensive plays that have broken that talented group open for some monster plays. With all those weapons at his disposal, Gardner said none of his guys possess egos, allowing the team to function at its best.
"We always strive for balance on offense," Gardner said, "both schematically and in terms of touches. We are blessed with great athletes who bought in to our system and understand what they need to do."
That offensive prowess has led to some huge scoring plays and many other big plays that led to victory.
In utilizing the spread offense, Gardner said those big plays are a byproduct of the system and come naturally in the flow of the game.
"To run a spread offense appropriately, you have to be able to take advantage of big plays when they are there," Gardner said. "You also have to be able to take the open space that teams give you. Our players and coaches take great pride in running a sound, explosive spread offense."
The defensive effort and even special teams have led the Knights to a perfect record thus far, and they currently sit atop the Div. III Region 10 rankings. That accomplishment hasn't deterred the team from continuing to hone the skills that put the Knights in that position.
"We are taking a win-the-day approach," Gardner said. "Whatever it is we are doing that moment, we strive for improvement, whether it is in the weight room, on the practice field or on the game field."