Big plays send West Holmes past Mansfield Sr.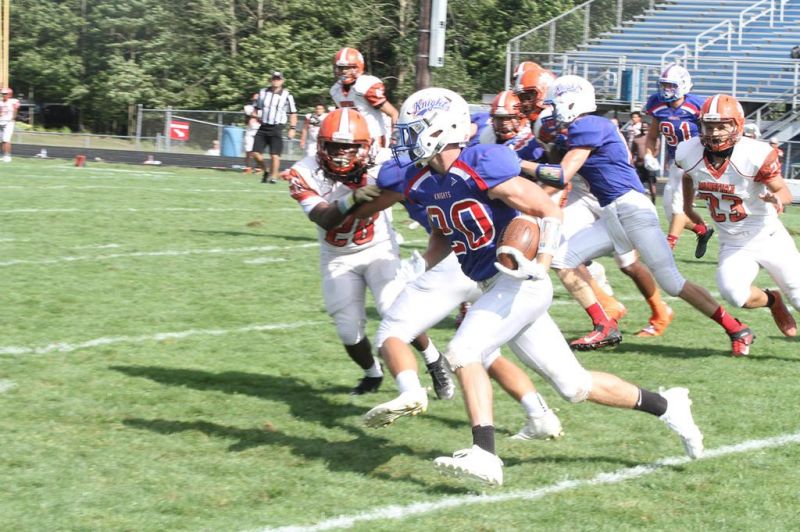 In a wild opening high school football week in Ohio, the West Holmes Knights won day one of their contest at West Holmes Stadium with visiting Mansfield Senior, then a day later the Knights won day two, all of which added up to a strong 56-21 victory over an always-dangerous Tygers team.
The Knights took a 21-0 lead on Friday, Aug. 28, by after a thunder delay that sent both teams to the locker room, lightning struck close by and knocked out power, moving the stadium into utter darkness and forcing the game to be finished Saturday, Aug. 29.
Saturday turned out to be a continuation of huge plays that highlighted the opening evening.
With wild weather threatening all evening on Friday night, WHHS senior Brady Taylor generated his own bit of lightning.
Taylor took a pass from quarterback Noah Clark and turned it into a 52-yard scoring romp on the game's second play. He wouldn't stop there. He electrified the home crowd with an 80-yard third-quarter run to glory on a kick return and tacked on 34-yard scoring catch from Clark, in addition to playing a key role on defense.
"Brady Taylor has become one of the physical, emotional and vocal leaders on this team, and his play today obviously showed that," Gardner said. "When you run a spread offense, you want to have your guy, and he's our guy, and it all goes through him as a skill player."
For Taylor and the rest of the Knights, just getting a chance to get back to work for real was exhilarating.
"This felt good, it was a good day for us," Taylor said. "We overcame some adversity and came out played with all of our hearts. We were so ready to get out here and play. It was a long time coming."
West Holmes' defense dominated play throughout Friday evening, stopping all seven of the Tygers' possessions while building the 21-0 lead before stoppage with just a few seconds left in the first half, and Clark connected with Garrett Eastep on another long scoring strike on the Knights second series to give them a 14-0 lead. Clark would run one in to give WHHS the 21-0 lead it carried into Saturday.
A perfect day of weather greeted the teams on day two, and after the Tygers ran out the first half, they seemed to gather some momentum after stopping West Holmes' initial drive to begin the second half. Senior marched down the field, but an errant pitch to Miles Bradley bounced off of his fingertips and Tucker Kaufman was more than happy to scoop it up and race 83-yards to give the Knights a 28-0 lead.
That could have taken all the wind out of the Tygers' sails, but on the ensuing kick, Aveon Gross raced down the left sideline for a 90-yard touchdown to breathe life back into MSH.
It took West Holmes all of 10 seconds to respond, as Taylor did his thing on the ensuing kick to push the lead back to 28 at 35-7.
Between Kaufman's and Taylor's two plays, it answered one of Gardner's biggest questions: How would his team respond to the long delay to day-two.
"We told our guys that would be a big step for us in the way we handled that situation," Gardner said of the delay. "We had to fight through the adversity, and usually in these situations, the team that is losing has a chance to regroup and change their game plan and the team that is ahead can become complacent. We challenged our kids. We knew we were going to get Mansfield Senior's best shot. Those two plays showed us we can bounce back."
Senior was far from finished with its big plays. On its first set of downs, quarterback Brock Hill lofted a bomb over the Knights defense and into the hands of Amarr Davis, who raced 64-yards to trim the deficit to 35-14.
Taylor nearly broke off another TD jaunt on the ensuing kick but was wrangled down at midfield. Clark let him do the honors again moments later with the 34-yard scoring strike.
Another monster play, this time a 73-yard pass play to Davis that would have been a score had it not been for Taylor's monumental effort to track him down on the 1-yard line, ended with a QB sneak by Hill again got the Tygers to within 21 points, but Lane Graham took a muffed kick-off and raced around the left end, setting the stage for sophomore running back Brett Shearer to take over, his four-yard run in which he plowed over several Tygers defenders giving the Knights breathing room. Clark would grind his way into the end zone for the final score of the game and West Holmes had its victory to open the year.
"We came out here every day this summer and worked really hard to prepare for this day," said senior lineman Luke Vess. "It feels great that the work paid off. We just kept our heads up all year and kept looking forward to this game. It was big for us to win our first game and give us some momentum moving forward."
The 56-point outburst tied the school record for offensive points in a season opener and also was the most points WHHS has racked up against Senior. Nate Ginsburg was a perfect 8-of-8 on extra points, adding another weapon at Gardner's disposal.