Knights can't overcome five turnovers, suffer first loss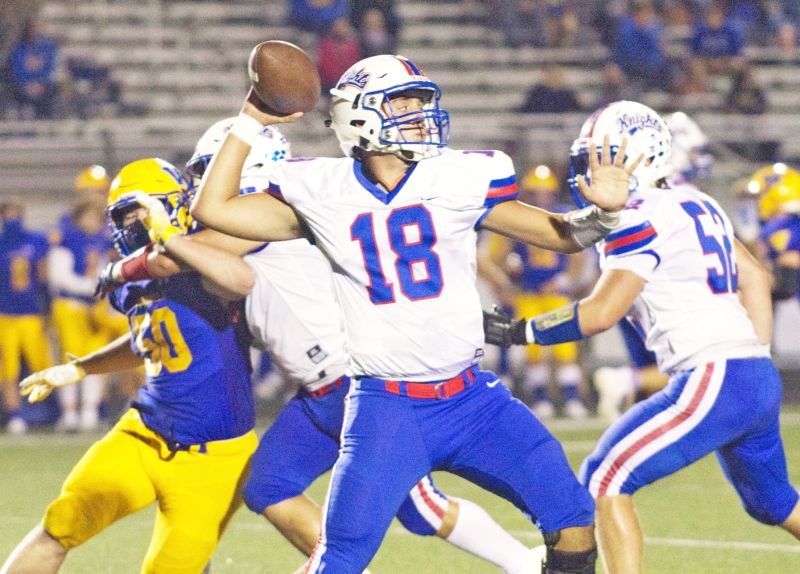 Fans who weren't at Wooster's 38-14 victory over West Holmes most likely looked at the score and thought, "That wasn't even close."
The outcome was still very much in doubt midway through the third quarter, though, before turnovers led to the Knights' downfall.
"Oh, absolutely," West Holmes coach Zach Gardner said after being asked if he felt his Knights (2-1, 2-1 Ohio Cardinal Conference) played more competitively against the host Generals (3-0, 3-0) than the final score reflected. "We can't lose the turnover battle. We haven't turned the ball over all year, and we turned it over five times. You can't turn it over and then give up scores. We had individual breakdowns, but we're gonna learn from it and get better."
Wooster won its 16th-straight league game, thanks to a 17-0 closing blitz starting midway through the third period. West Holmes came into the contest averaging 59.5 points a game but couldn't overcome the turnovers.
"This was a big deal," said Wooster coach Doug Haas, whose team was playing its only home game among the six before all teams qualify for the playoffs in a never-before-used, shortened-season format implemented by the OHSAA due to the COVID-19 pandemic. "This is our Senior Night. I told the group before the game, for the seniors this may or may not be the last time you get to play on this field. Nothing's guaranteed in this day and age of a pandemic, so I think our seniors really came out wanting to put a good product out on the field."
West Holmes cut the deficit to 21-14 when Garrett Eastep made a fantastic catch in the end zone between two Wooster defenders to pull in a 24-yard touchdown pass from Noah Clark with 9:06 left in the third period.
The Knights got the ball right back and drove to the Generals' 33-yard line, but Jack Williams intercepted a Peyton McKinney pass with 7:25 left, and Wooster dominated the rest of the way.
Owen Roach closed the third quarter by throwing a perfect strike to lead Dajon Brown on a fly pattern up the left sideline for a 32-yard touchdown, which extended Wooster's lead to 28-14 after three quarters.
The Generals put the exclamation point on the win when Bradeon Cook recovered a fumble in the Knights' end zone with 6:11 left in the game after Wooster's Koty Henry strip-sacked Clark.
Gardner said a big part of the breakdowns could be attributed to Wooster's rotating three-man defensive front, which put consistent pressure on West Holmes quarterbacks while allowing eight defenders to drop into coverage.
"When they were able to give pressure by bringing only three, that's very tough," Gardner said. "I thought at the start of the game, our offensive line held up well, but we weren't making the right reads when we had open guys. Then our quarterbacks started making better reads, but the pressure really came. You can come out in any offense you want — spread, wing-T. At any level of football — peewee, NFL — the trenches are what win big football games. Tonight, the trenches for Wooster won the football game."
Wooster and West Holmes traded touchdowns in a first quarter that ended up deadlocked at 7-all.
Roach broke free for a 65-yard touchdown run on the Generals' second possession, but the Knights answered when Clark tossed a 34-yard TD pass to Brady Taylor.
Wooster converted a fourth-and-goal from the 3 when Roach lofted a fade pass to Micah McKee for a score early in the second quarter, and the Generals' signalcaller added a 5-yard TD run with 2:23 left for a 21-7 lead at the half.
The Generals finished with a 455-298 advantage in total yards, and even more important was a 5-1 edge in takeaways. McKee had two interceptions while Williams and Joey Lyons also had pickoffs.
Roach led the Wooster offense with 230 yards passing and two TDs while also carrying the ball 13 times for 145 yards and two more scores. Roach was 17-for-29 through the air, completing passes to seven different receivers led by McKee's five grabs for 117 yards. Aedan Chavez had 12 carries for 46 yards.
Clark was 15-for-35 passing for 192 yards, two scores and three interceptions while leading the ground game with 23 totes for 59 yards. Eastep finished with eight catches for 115 yards, and Taylor hauled in seven aerials for 47 yards. McKinney also made some strong throws after coming in to give Clark a break in the second half.
"We have two really good quarterbacks who we feel can both lead our offense," Gardner said.
The defeat was deflating for the Knights, but Gardner still sees the glass half-full. "Everyone makes the playoffs," he said. "It's up to us as coaches to keep working to make our team better, and our players will learn from this."
West Holmes traveled to Lexington (0-3) on Sept. 18.
Aaron Dorksen can be emailed at aarondorksen24@gmail.com. Follow him on Twitter at @AaronDorksen.