Knights dominate OCC mat tourney as 6 earn titles, 7 more in top 4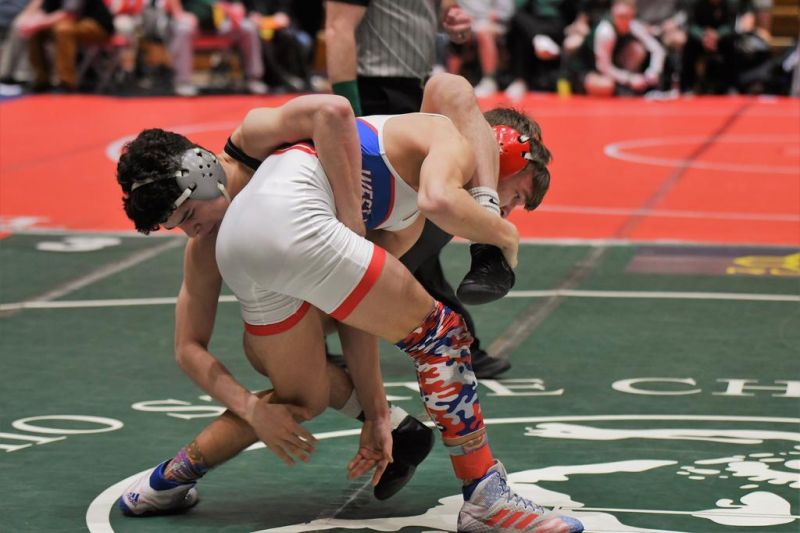 The West Holmes High School varsity wrestling team put on a dominating performance at the 2020 Ohio Cardinal Conference Championship Tournament at Wooster High School on Saturday, Feb. 22 as six wrestlers claimed individual championships and seven others placed top four to power the Knights to the team title over defending OCC team champion Ashland, 339.5 to 297.
The team title for WHHS broke a 13-year OCC title drought, dating back to 2007 when the Knights last laid claim to the title.
"It is hard to believe that we haven't won an OCC championship as a team since 2007," Knights wrestling head coach Scott Vaughn said following the tournament. "We have had so many good teams since then. It really speaks to the competition level for the OCC. Coming in, I thought Ashland would be the favorites, as they have been the last few years. The boys came out hungry. They wrestled really well. More times than not, we out-wrestled our seeds. I know we beat some kids that we lost to earlier this season as well."
Vaughn said there was still room for improvement. "I know there were a couple matches that we lost that the boys would really like back. I think that is what I dwell on the most after a tournament: those few things that we could've had," he said. "As a coaching staff we really focus on things that we could improve on going forward instead of being complacent with what we've accomplished. I think this gives us good momentum going forward to sectionals next week in Steubenville. Everyone has something they need to work on for next week. And we also have that euphoric feeling of being OCC champs going into next weekend."
The Knights were unstoppable in the lightweights, snaring individual titles at 106, 113, 120, 126, 132 and 138 pounds. In order, Jack Welsh went 3-0 with two falls; Cael Woods was 5-0, all wins by fall; Tyler Masters went 4-0 with three falls; Kendel Weber was 4-0 with three falls; Tucker Kaufman went 5-0, winning all of his matches via fall; and Dylan Strouse was 3-1 with two falls. Those title-holders led the parade of Knights to the top step of the podium.
Woods rolled to his fourth-consecutive OCC title, pinning four of his five opponents in less than one minute each and barely missing his fifth under 60 seconds when he pinned Noel Ward of Mansfield Senior at the 1:03 mark in his fourth match of the day. Woods also was honored as the 2019-20 OCC Wrestler of the Year in a vote by the coaches.
Scoring his third OCC crown, Masters chalked up three fall wins including his first match when he stopped Rylan Firebaugh of Mount Vernon at 43 seconds to give him 150 career wins. Masters posted a 6-2 decision victory over Case George of Ashland in his final bout to lock up his third conference title.
Welsh scored his second-straight OCC title, posting two fall wins before downing Roman Parobek of Ashland by a 6-3 score to sew up his championship.
Weber, Kaufman and Strouse all earned their first OCC championships. Weber topped Griffin Adkins of Ashland with a pin at 3:38 in his final match to earn his championship. Kaufman knocked off Josh Lyons of Mansfield Senior by pin at 1:45 to notch his first title.
Strouse earned his first title on criteria after the top-three placers — Strouse, Triston Bowens of Mount Vernon and Adam Cook of Ashland — all finished with 3-1 records. Strouse earned two fall wins and one major decision win while Bowens and Cook had scored two fall wins and one decision win. Criteria gave the title to Strouse.
Scoring runner-up honors were 152-pounder Gavin Greer, who went 3-1 with two falls; 160-pounder Walker Uhl, who was 3-1 with two falls; and 170-pounder Cruz Alexander, who went 4-1, courtesy of three falls.
Posting third-place finishes were 145-pounder Hunter Bowling, who was 3-2 with two falls; 182-pounder Josh Sayers, who went 2-2 with two falls; and 220-pounder Skylar Anderson, who finished 2-2 with one fall.
Finishing fourth was 285-pound freshman Collin Gardner, who went 1-3 with a fall win.
"We had so many wrestle well today," Vaughn said. "Jack defended his title from last season and wrestled one of his better tournaments of the season. Tyler beat a returning Div. I state qualifier in the finals and defended his OCC title. Kendel looked dominant today taking his first title. Tucker pinned his way through the tournament. On his way to that achievement, he pinned a returning state qualifier. Dylan won his first title as a number-four seed."
Of other placers, Vaughn said, "Gavin dropped a close bout 11-10, then came back to place second in his weight class. Walker lost a tough [sudden victory] match in the finals that I know he'd love to have back. I think he is going to use that as motivation for next week. Cruz took second as a four seed, pinning the two seed and teching the three seed. Hunter took third and had to battle out some matches. Josh continues to impress up at 182 with his third place. Skylar's third was in a weight class that had some battles in it as well."
Vaughn also complimented others. "Collin, as a very light heavyweight and a freshman, taking fourth was good to see. Colt Cox (195 pounds) didn't place but wrestled a lot of close matches that could've gone either way," he said.
Vaughn, who was honored by his fellow OCC coaches with the 2019-20 OCC Coach of the Year award, tabbed Woods as the Knight of the Week award winner.
"Cael won his fourth OCC championship and also won Wrestler of the Year," Vaughn said. "It's hard to top that. Cael puts in countless hours and deserves this."
Couch and Young both finish 0-2 at OHSWCA Girls State Tournament
West Holmes High School Lady Knights wrestlers Cylie Couch and Paige Young competed at the Ohio High School Wrestling Coaches Association Girls State Championship Tournament on Saturday, Feb. 22 at Hilliard Davidson High School in Hilliard.
Couch (106) and Young (101), both freshmen, went 0-2 on the day and were the third and fourth Lady Knights wrestlers in nearly 10 years to compete at an Ohio Girls State Championship Tournament.
Samantha "Sammi" Collett was the first Lady Knight to compete in a girls state championship, finishing as a multi-time United States Women's Wrestling Association state champion in the late 1990s to early 2000s. More than a decade later, Tessa Baker became the second Lady Knight to chase a girls state championship.