Knights open up football playoffs with a bang, runaway win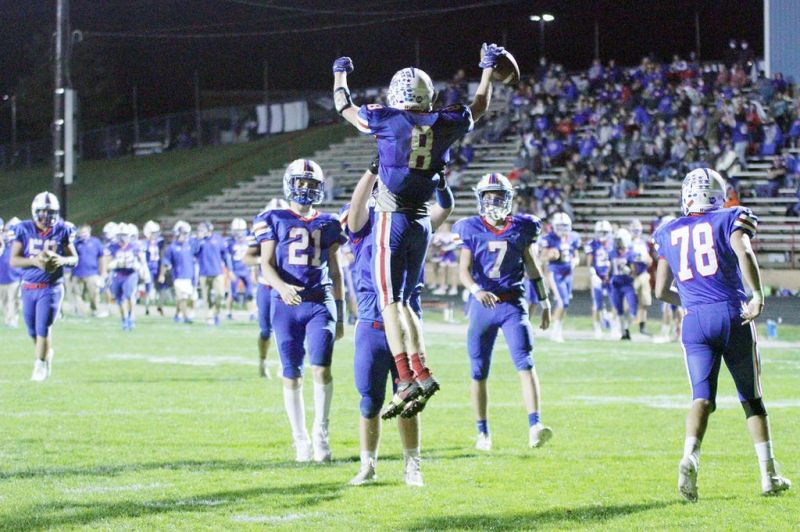 Doritos cool ranch, Pringles cheddar, Lays wavy barbecue, Shearer home-style classic?
The West Holmes Knights football head coach Zach Gardner didn't say what kind and flavor of chip was on his team's collective shoulder, but whatever flavor it is, the chip is a large one and his Knights are bent on turning it into victories.
The chip didn't budge in the opening of the Div. III state playoff game with Mansfield Madison at West Holmes Stadium Friday, Oct. 9, where the Knights thumped the Rams 45-10 on the strength of a monster first-half.
Following West Holmes' big win, the 12th-seeded Knights were reminded by their head coach that they were seeded much lower than they felt they deserved. Dismantling a Rams team that they clobbered earlier this year was simply a starting point, and now the Knights will face No. 5 seed Cloverleaf. That playoff game is scheduled for Oct. 16 in Lodi.
The giant chip on the shoulder for the Knights began when they were severe underdogs to visiting Ashland in week six. After falling behind 14-0, the Knights would go on a tear, reeling off 35 unanswered points for a convincing win.
Voters were not impressed, seeding West Holmes 12th out of 22 teams in the region.
"We've made no bones about it, our kids have a huge chip on their shoulder," Gardner said. "We played a very good schedule, and if you're just record-watching, I guess we are the No. 12 seed."
Gardner said his team understands who they have played and how they have played this season, and they simply disagree with the assessment placed upon them in the seeding process.
"That is something that will drive them through this tournament run," Gardner said.
While a large number of Knights contributed across the board against Madison, senior Brady Taylor was a one-man wrecking crew for WHHS. After giving up field goal on the Rams' first drive to fall behind, West Holmes went to work. Taylor scored four times, three of them through the air and one by ground, as Gardner made sure he got his speedster involved early and often.
"Brady is a great athlete," Gardner said of his senior leader. "He has grown so much as a player, and gotten better, and when you have a guy like him, you have to get him the ball."
The Knights did that in a variety of ways in the first-half, twice from the arm of quarterback Peyton McKinney, then on a sizzling 77-yard end-around that Taylor took to the house to make it 24-3 as he continued his almost terrifying first half.
"We started off not very good, but we rallied together and started scoring some touchdowns and got it going," Taylor said.
Rather than talk about his accomplishments, Taylor said this senior group has been playing together and talking about this moment since seventh grade, and this was simply a step in the process as they march along to what they hope will be a lengthy playoff run.
"It's happening and we are ready for it," Taylor said of his senior crew's final go-around. Taylor went on to say that the chip on the shoulder extends well beyond the seeding, all the way back to 2018, when the Knights pushed eventual Div. III state champion Kenston to the final seconds before falling in heartbreaking fashion.
Back to 2020, the Knights continued their blitzkrieg on the Rams.
McKinney, also a senior, would highlight his senior wideout one more time near the end of the half, when he and Taylor teamed up on a 33-yard catch-and-run to make it 31-3.
West Holmes kept the pedal down and delivered a knockout blow to the Rams when McKinney found Garret Eastep on a screen pass, and Eastep turned it into a 53-yard touchdown romp to make it 45-3.
A late 80-yard blitz to the end zone by Rams' running back Isaac Brooks provided a highlight for Madison, but the night belonged to the Knights.
McKinney would look fantastic, Taylor was dominant and an unsung hero emerged in Zach Stairs, who played a little running back in place of a depleted running back corps and came in to play quarterback late in the game to relieve McKinney.
"Zach Stairs did a great job of playing a little running back, playing a little quarterback and getting the tough yards when we needed them," Gardner said.
Was getting his team pumped up for a playoff game against a team his Knights dismantled 63-0 earlier this fall difficult for Gardner? He said after watching the film, his team was ready to rectify some errors it had made early in the year.
"We went back and watched the film from week two, and what you could see from that game was us being very sloppy and getting away with being sloppy," Gardner said. "That carried over to the Wooster game (a loss). That's what we pushed on our kids. We could not have a repeat of that and our kids took pride in doing that."
So, with one playoff win in the rear view mirror, the Knights can look at their reflection and feel good about it, but when they take a closer look, they will still see that chip, lurking their on their shoulder, driving them to work toward perfection as they march forward.