Knights pick their way to 51-14 blowout win over Shelby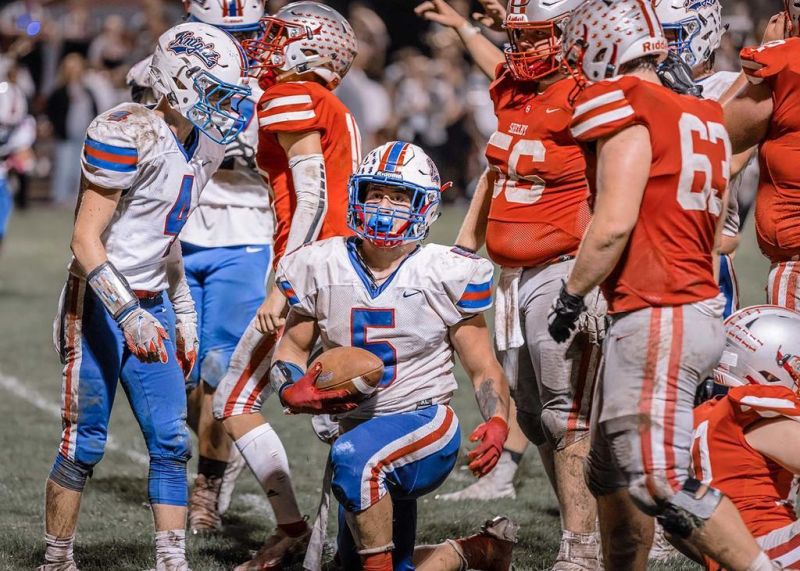 Few people expected to see a running clock taking place when West Holmes traveled to Shelby on Friday, Oct. 8 in a game featuring two highly ranked teams in their respective divisions.
The Knights came in at a spotless 7-0, ranked number six in Div. III Region 10, while Shelby came in at 6-1 in Div. IV Region 14 with a quarterback in Marshall Shepherd who had shattered a number of Shelby's school records, helping the Whippets average more than 41 points per contest coming into the affair with West Holmes.
However, by the time the game rolled into the fourth quarter, the clock was running and the Knights' defense made sure they left with a win, leading WHHS to a resounding 51-14 victory, and it was all set up by a defense that produced four interceptions and a fumble recovery.
West Holmes set the parameters for the game on the very first play from scrimmage when Sam Williams-Dixon intercepted a Shepherd offering that led to a Noah Clark to Tucker Kaufman bubble screen touchdown pass and a 7-0 lead.
Shelby would tie the game at 7-all, and after the two teams traded stops, the Whippets pinned the Knights deep in their own territory on the 3-yard line.
Looking to get some breathing room, the Knights did more than that when Clark found Williams-Dixon circling out of the backfield and down the sideline, where they connected on a mesmerizing 97-yard touchdown catch and run for a 14-7 Knights lead.
Later Kaufman would come up with another interception that would aid in allowing Clark to find Garrett Eastep on a touchdown pass, and Nick Ginsburg's 24-yard field goal with time expiring in the half after the Knights forced another turnover led to a 24-7 half-time lead for WHHS.
The Knights took over possession to begin the second half and went right back to work. Clark found Williams-Dixon on a 42-yard pass play, and that set the stage for Clark to find Eastep again, this time on a 10-yard scoring strike and a 30-7 Knights' lead.
Korben Felton's sack of Shepherd on the ensuing possession put the Whippets in a hole, and they turned the ball over on downs when Blake McCombs batted down a throw at the line of scrimmage on fourth down.
The Knights were forced to punt, and Shepherd used his wheels to get Shelby to midfield on a nifty 26-yard run. He would later find Andre Hill, who made a pealing grab on a 23-yard scoring strike to trim the Knights' lead to 30-14, but from there out, it would be all West Holmes.
On the ensuing kick, Shelby tried to catch the Knights off guard with an onside kick, but Bret Shearer quickly pounced on it, setting the Knights up in great field position. Shelby got a full dose of Williams-Dixon to start the drive, and after Shearer drug several tacklers with him on a 15-yard catch from Clark, a sensational leaping catch by Kaufman set up Shearer's 4-yard touchdown run, which again saw the burly running back carrying tacklers into the end zone.
Trailing 37-14 in the fourth quarter, Shelby had to strike quickly, but Eastep stepped in front of Shepherd's offering, intercepting the pass and racing 31 yards for a touchdown. Ginsburg's kick made it 44-14 with 7:49 to play, and with the 30-point lead, the Knights had set in motion the running game clock.
Now in frantic mode, the Whippets had to throw the ball. The Knights knew it, and it would be Kaufman who would jump a route, picking off a Shepherd pass and returning it 30 yards to the Shelby 2-yard line.
With the clock running, the Knights took their time, and Sawyer Pritt put the exclamation mark on this huge victory, plunging in from 3 yards out with Ginsburg's point after sealing up a 51-14 win.
For a game that saw West Holmes compile 51 points, it was truly the defense that set the table for the victory, coming away with five turnovers in a game that few expected to be the blowout it turned out to be.