Knights put five on Holiday Invite medals stand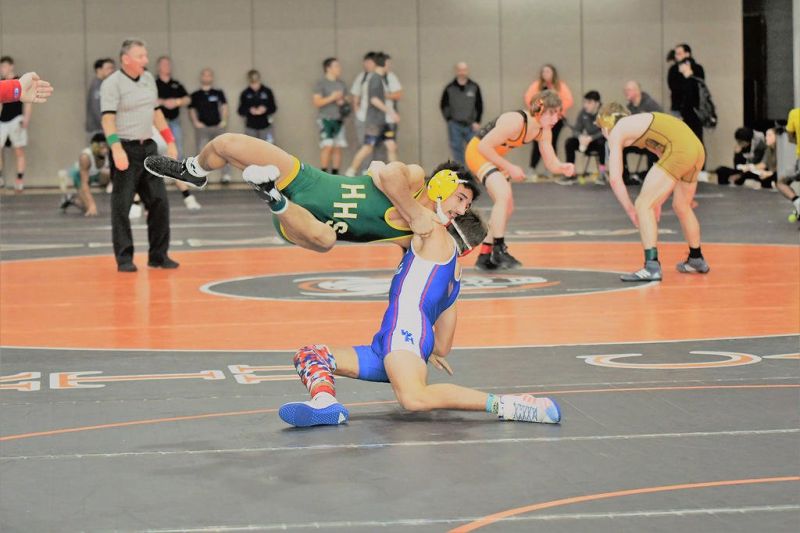 The West Holmes High School varsity wrestling team finished sixth in the 32-team field at the 60th annual North Canton Holiday Invitational held Friday and Saturday, Dec. 20-21 at Hoover High School in North Canton.
With an individual championship from senior Cael Woods at 120 pounds and fourth-place finishes for seniors Tyler Masters at 126, Walker Uhl at 160 and Cruz Alexander at 170, plus a sixth-place finish from sophomore Tucker Kaufman and several other nonplacing Knights who scored wins, WHHS racked up 126.5 points and earned a solid standing, trailing only team champion Mentor Lake Catholic (234 points), Louisville (222), Wadsworth (181), C.V.C.A. (148.5) and Dublin Coffman (140).
Completing the top-10 team finishers were the Knights and seventh-place Steubenville (123), followed by Akron St. Vincent St. Mary 122), Holt-MI (100.5) and Minerva (96).
"We had a great first day. Friday the kids got after it," Knights wrestling head coach Scott Vaughn said following the tournament. "We won the matches that we should've and took 13 wrestlers into the second day of the tournament. That was a big change from last season here when we only brought four wrestlers into the second day. Coming into [Saturday] morning, we didn't have the best first round (consolation) ever. We lost a couple wrestlers that I was hoping would make a deeper run. In tournaments like this, everyone is good. You don't enter this tournament unless you can compete with the best kids and teams in the state. I have to step back and remember that it's only the third competition weekend of the season."
Woods dominated his weight class, racking up a perfect 4-0 mark with two fall wins. One of those fall wins was in the championship match when the Knights three-time state placer stuck junior Mikey Lewarchick of Wadsworth at the 1:30 mark of the first period for his second-straight North Canton title.
Woods, the number-one seed for the tournament, began his title quest with a first-round bye, then pinned freshman Joe Mitchell of Canal Fulton Northwest at 1:54 before posting a 19-4 tech fall victory over Jonathan Dimos of Massillon Jackson. In the championship semifinals Woods kept it rolling, posting a convincing 6-1 decision win over Canyon Wells of Copley.
"Cael must really love competing in the Hoover gym," Vaughn said when naming Woods as the West Holmes Varsity Wrestling Knight of the Week award winner. "He looked very focused and battled through a very tough weight class that saw a fifth-place state finisher take fifth at this tournament. I love watching him dominate all three levels during the match: neutral, top, bottom. Cael works so hard to be a complete wrestler, and it showed this weekend."
Fourth-place finishers Masters (4-2, two falls), Uhl (4-2, one fall) and Alexander (3-2, one fall) lost by tight decisions in their third-place bouts. Masters lost to junior Koen Kish of St. Clairsville 2-1, Uhl dropped a 5-4 decision to Steubenville junior Ethan Pappas and Alexander fell 4-2 to junior A.J. Dempsey of Huntington, West Virginia.
Kaufman (5-3, one fall) lost his second-round match Friday and then cranked off four straight consolation-round wins to reach the consolation semifinals. There he was stopped by sophomore Ethan Smith of Mentor Lake Catholic by fall at 4:35 and then fell by a 12-8 count to sophomore Ismael Ayoub of Dublin Coffman in the fifth-place match.
Also competing for the Knights were freshman Mason Taylor (113 pounds, 1-2), sophomore Conner Varnes (138, 2-2, two falls), senior Hunter Bowling (145, 2-2, two falls) and junior Gavin Greer (152, two falls). In their first varsity appearances of the season, junior Colt Cox (195) finished 0-2 while freshman Collin Gardner (285) finished 3-2 with a fall win.
Wrestling as nonteam scoring wrestlers for the Knights were senior Kendel Weber (126, 2-2, one fall) and sophomore Dylan Strouse (132, 2-2).
"We have a lot of learning and growing to do before the end of the season," Vaughn said. "I think our kids are starting to compete with high-level kids. A big part of this sport is believing that you belong and believing that you should win every match. I saw a lot of good things out of the boys and a lot to work on as well. I'm excited to enter Christmas break and reset our minds and bodies and get ready for the second half of the season."