Knights' quick-strike offense leads to 55-20 win over Red Riders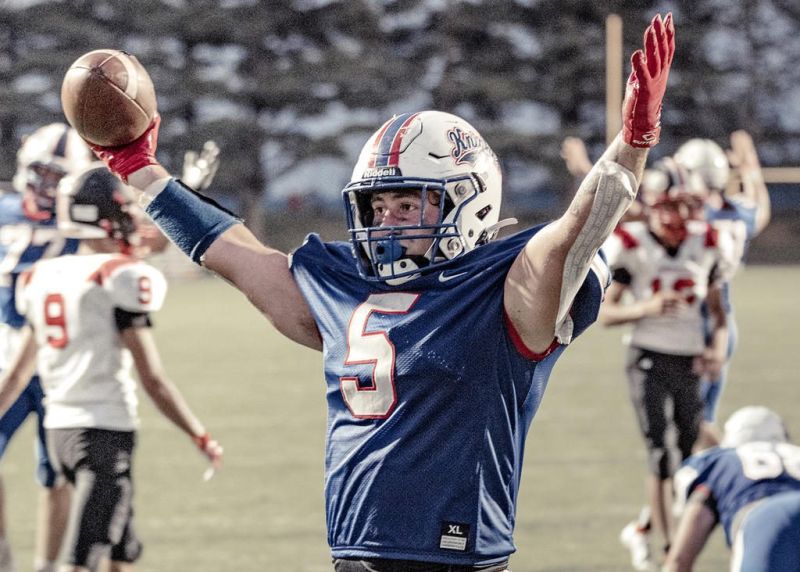 Say this for the West Holmes Knights football team: If it ever falls behind by five touchdowns, it might not take them long to catch up.
Despite a sluggish start against the Orrville Red Riders on Friday, Sept. 3 at West Holmes High School, the Knights turned up the heat in the second half of a 55-20 win, and on many of their drives, they took next to no time in scoring.
While time of possession is often looked upon as a key contributor to winning football games, Orrville held a dominant time of possession, but West Holmes flew by that statistic in an alarmingly quick fashion.
The Knights got on top early, scoring on a 2-yard run from Sam Williams-Dixon on a drive that took just under three minutes. That would be considered a time-chewing drive for WHHS on this evening.
After getting a stop, West Holmes turned the ball over on a pick-six from Connor Chereson that knotted things at 7-7. Kyle Maltarich's diving catch on a 44-yard pass play from quarterback Noah Clark would set up an 8-yard scoring strike to Tucker Kaufman that saw him twist and turn and fight his way into the end zone for a 14-7 lead. The Red Riders came right back, and on third-and-goal from the 17, Tyler Schroer launched a pass into the end zone that somehow found Brady Marshall, the missed extra point leaving Orrville trailing by one.
West Holmes then had a 65-yard scoring catch and run from Dixon-Williams come back on a holding call, and the Knights couldn't convert, but after getting a stop on defense, the Knights wasted little time in adding to their lead. Garret Eastep caught a 10-yard pass, and one play later he turned the corner and bolted 76 yards for a score and a 20-13 lead.
Blake McCombs then made a nice interception and return for the Knights, setting up another score that was wiped away by a holding penalty. This time the Knights were able to recover, with Brent Shearer rolling in from 4 yards out for a 28-13 lead.
The Red Riders stormed right back and made an impressive march, spearheaded by a 50-yard pass play to Marshall that saw him break numerous tackles, and with three seconds to play in the half, they scored on a Chris Smith wildcat run that trimmed the deficit to 28-20.
Whatever West Holmes head coach Zach Gardner said in the locker room at half-time to the defense made an impact because Orrville would not find the end zone in the second half. Meanwhile, the Knights would explode.
McCombs made his second pick of the night, setting up West Holmes on Orrville's 23. The ensuing scoring drive took seven seconds, which was how long it took Williams-Dixon to weave his way to pay-dirt on the first play from scrimmage.
Corbin Felton then made an interception along the defensive line for the Knights, but Orrville shut down Williams-Dixon on fourth and inches at midfield for a big stop. However, Maltarich got the Knights' fourth interception, returning it on a zigzagging run to Orrville's 30, but Clark fired off an ill-advised pass that was picked off. West Holmes held, and Williams-Dixon reeled off runs of 11 and 34 yards, the final one finding the end zone for a 42-20 lead.
Kaufman's interception, the fifth of the game for West Holmes, set up a two-play drive that took 1:04. The key plays were a swing pass to Maltarich and Clark firing off a 40-yard scoring strike to Kaufman for a 48-20 lead.
Eastep would finish off the pick-parade with the sixth West Holmes interception, and Quinn Cornwell would bring some hard running, setting up a 30-yard scoring pass from Clark to Zevin Proper.
With the win the Knights moved to 3-0 while the spirited effort by Orrville failed to help the Riders find their first win, falling to 0-3.