Knights roll past Mansfield Senior for big OCC win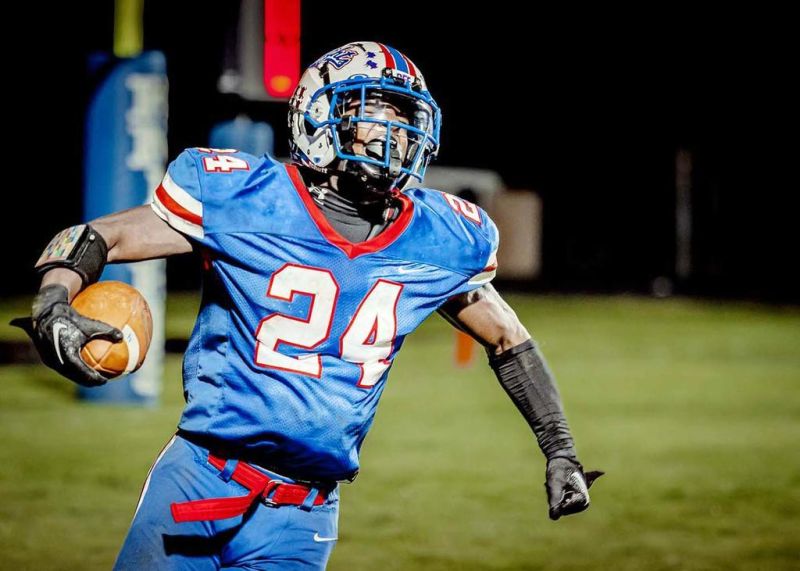 West Holmes had some extra motivation heading into its game against Mansfield Senior.
"Before the game, we heard a podcast from Mansfield Senior's coach calling out our defense and saying they were going to put up a bunch of points," Knights senior linebacker Owen Jeffries said.
That was all the motivation Jeffries and his defensive teammates needed heading into what many were calling the de facto Ohio Cardinal Conference championship game.
The defensive unit held the Tygers in check for most of the game as West Holmes rolled to a 37-7 victory Friday at Knights Stadium.
Here are some takeaways from the game:
West Holmes defense stepped up when
necessary
Mansfield (2-2, 0-1) trailed 24-7 at halftime but got the ball to start the second half. A promising drive stalled out at the Knights 9-yard line, ending with a failed field goal attempt.
West Holmes' ensuing possession ended with a field goal attempt deep in Tygers territory, but it was blocked and returned to the Knights 36. The defense rose to the task again, though, and forced a turnover on downs.
Mansfield drove deep into West Holmes territory again on its next drive, but Tygers quarterback Duke Reese was intercepted by Zevin Proper in the end zone.
"After the blocked kick, that was huge to be able to come out and (get a stop)," West Holmes coach Zach Gardner said. "Multiple times the defense was put in a bad spot, and they rang the bell every time they went out there, and they answered the toll."
West Holmes (4-0, 1-0) then put the game out of reach with two touchdown runs by Sam Williams-Dixon to usher in the running clock in the final minutes of the fourth quarter.
If it wasn't for the defense stepping up time after time in the second half, things could have gotten a little dicey for the Knights in the fourth quarter.
Good teams make plays when needed, though, and that's exactly what the West Holmes defense did in holding Mansfield's offense to 218 total yards.
That's no simple task, as the Tygers are loaded with talented offensive playmakers.
"I think our defense imposed their will at times out there in the game," Gardner said. "All of the headlines are about our offense, but we play some pretty good defense around here too."
Knights offense has
several options to
choose from
Williams-Dixon gets most of the headlines — and rightfully so — but West Holmes has several other offensive weapons. And those guys stepped up throughout the game as Williams-Dixon fought for every yard he gained on the ground against a stout Mansfield defense.
Kyle Maltarich is a legitimate deep threat, and he showcased that several times against the Tygers.
Knights quarterback Mason Wolfe hit Maltarich on a deep post for a 63-yard gain late in the first quarter. Wolfe rushed in from 8 yards out two plays later to make it 10-0 West Holmes.
Wolfe hit Maltarich for two more big gains later in the game including a 33-yarder that set up Williams-Dixon's first touchdown run. Maltarich ended with four catches for a game-high 137 yards.
Proper also flashed a couple of times, catching two balls for 76 yards. Nate Fair added 45 yards on three catches.
"We call those guys our ninjas," Gardner said. "If you focus too hard on our two guys (Williams-Dixon and Maltarich) getting heavily recruited, those ninjas will come and sting you. They just played amazing tonight."
Wolfe is in his first year of starting at quarterback, but he doesn't look like a newbie. The senior did a nice job of avoiding the rush and keeping his eyes downfield to see the open receiver. He kept the chains moving and didn't make any glaring miscues against a talented Mansfield Senior defense that features several Div. I college recruits.
"This is his fifth career (varsity) start out here, so he's going to keep getting better every time that he's out here," Gardner said. "The poise that he showed out here tonight making plays with his feet, that's huge for us for him to be able to step up.
"To go where we want to go, he's going to have to be able to make great decisions, and I think he did that tonight."
Wolfe finished 11-of-18 passing for 242 yards while rushing for 27 yards and two scores on seven carries.
Williams-Dixon was held in check for most of the game, drawing most of the attention from the Tygers defense. The talented junior running back still managed to finish with a game-high 117 yards rushing on 25 carries including a 35-yard TD run late in the fourth quarter to make the score 37-7. He ran through several would-be tacklers on his way to the end zone.
Getting it done on both sides of the ball
West Holmes has scored at least 37 points in every game this season. Its defense hasn't allowed more than 14 points in a game.