Lady Hawks soaring after stunning effort at CitC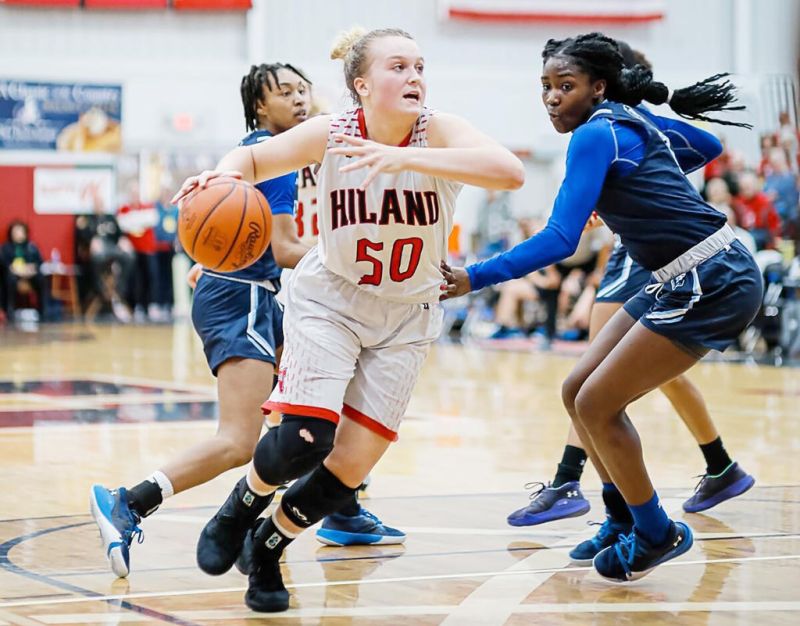 Coming off of three extremely lopsided victories in Inter-Valley Conference play, the Hiland Lady Hawks wanted a challenge at Classic in the Country XVII. They got not one but two in a pair of games that put them up against two undefeated and massively talented squads in Winston-Salem Christian out of North Carolina and Shelby High School.
Despite coming away with a split of the two games, the first a tight 44-41 loss to Winston-Salem on Friday, Jan. 18 and the second a stunning 99-25 win over Shelby to close out the CitC on Monday, Jan. 20, the final scores weren't the important thing. Just facing teams of that caliber and getting to compete was more than enough to delight Hiland head coach Dave Schlabach.
"This was exactly what we needed right now," Schlabach said of the weekend. "Our kids are just chomping at the bit to compete. I have never had a group of 10 play so hard. They have all bought in, and the two games were completely different in terms of style, and the outcomes were obviously a lot different, but this was really good for us."
The loss to the Lions in the first contest was actually a bigger game in terms of building confidence because the next night Winston-Salem lost to Ohio's premier number-one team in Cincinnati Mt. Notre Dame by a mere point. That alone told Schlabach and his staff what they needed to know about this team.
"You want to know that you can compete with the best out there, and I think our confidence level really zoomed for us," Schlabach said. "I walked into the locker room after that loss, and the kids' heads weren't hanging. They were talking and ready to get back after it."
In game one versus the juggernaut from Winston-Salem North Carolina, the Lady Hawks found themselves staring into an early 12-2 deficit that saw the nation's 10th-ranked team reel off 10-straight points. Hiland's Zoe Miller responded in a big way, getting her team back to within 12-9 early in the second quarter. However, the Lions again got rolling and took a 20-9 edge on the strength of a pair of Noble Tsumas' 3-pointers.
Again the Lady Hawks responded on a pair of threes by Miller and Brynn Mullet around a Kendra Shetler put-back. Mullet's trey with four seconds in the half got Hiland to within 22-17.
It was game on as the Lions quickly realized it was going to take a lot to defeat Hiland on its home turf, something head coach Delaney Rudd realized before he ever came to Amish Country.
"You have to play your best game, or this Hiland team will beat you," Rudd said after the battle.
Anyone who likes defensive prowess would take to this contest as these two teams exhibited time after time what it means to play great defense. Every time the Lions threatened to pull ahead, the Lady Hawks responded. Down 24-17, Hiland got an and-one from Shetler and another triple from Mullet to slice the lead to one. Tsumas hit another trey, and on that same play, a foul was called on Hiland that turned into a Kiandra Browne put-back and a 29-23 Lions' lead. Back came Hiland with Morgan Yoder hitting a 3-pointer, and the Lions led 31-26 heading into the final quarter.
The Lady Hawks quickly drew even at 33 when Yoder hit a jumper and Miller's trey and put-back knotted things. The score was tied at 35 before Sandrine Clesca hit a huge triple and then split two free throws for a 39-35 lead.
Later Browne scored inside but was given a technical for taunting, and Mullet hit both free throws with just over one minute to play to make it 41-38. Malaya Cowles split two free throws, and Miller drilled a 3-pointer. Hiland was down by one at 42-41 with 15 seconds to play.
Enter back-up guard Shelby Miller, who played all of 89 seconds. A tenacious defender, she induced a charging foul on the inbound play, and the Lady Hawks had a shot at victory.
However, they turned it right back over, Angelica Jean-Juste hit two free throws and Mullet's desperation 3-pointer at the buzzer didn't fall. The Lions had managed a win.
Zoe Miller scored a game-high 21 points while Shetler added six points and nine boards. Mullet scored eight, and Yoder added six.
In the CitC's closing contest, Hiland had another major test in another undefeated team, Shelby, a Div. II power out of Northwestern Ohio. Hiland has played Shelby in a 3-on-3 format over the past three summers and has faced them in the finals in two of those summers. It seemed like a natural fit to square off at the CitC. However, Hiland played superbly from the opening tip to the final horn in this one and left no doubt in the 99-25 win.
"We had a natural little rivalry building with them, and we felt it would be a good game," Schlabach said. "They are a talented team. We just played incredibly focused and hard."
This game was actually tied at 2-2 before Hiland went on a 12-0 run, led by Krista Troyer's two treys and another from Morgan Yoder. The Whippets got back to within 19-7 before Hiland went on an 8-0 run to end the period, Zoe Miller taking control.
The second quarter only got worse as Kelsey Swihart began making a big impact. Yoder and Mullet buried triples, and Hiland led 40-12.
The game got so lopsided Hiland actually took its own crowd out of the game, and this was against a quality team. By the half Hiland held a ridiculous 56-19 edge, and the hits just kept coming.
"This is a skilled, tough group that can wear people out," Schlabach said. "Not many teams play as fast as we do. Morgan gets very little credit, but she makes us go. The 15 teams Shelby beat will tell you how good they are, but our kids are like sharks in water right now."
"This weekend was awesome," Troyer said. "It is unbelievable how unselfish this team is. We just love playing together, and it shows on the floor. I think that loss to Winston-Salem Saturday night really motivated us. We weren't satisfied with the loss, but we all knew we played a really great game against one of the top teams in the nation. We played so well. The only thing we didn't get from that game was a win, and then they lose to Mt. Notre Dame, the number-five ranked team in the nation, by one point. That gives us so much confidence."
Zoe Miller ended her monster weekend with a 22-point, 15-rebound effort. Troyer scored a career-high 14 on 4-of-6 shooting from beyond the arc while adding five assists. Shetler scored nine points with seven boards, Swihart added 10 points, Yoder tallied 13 points and four steals, and Jenna Troyer chipped in with eight points.