Lady Hawks bow out to Columbus Academy in PK shootout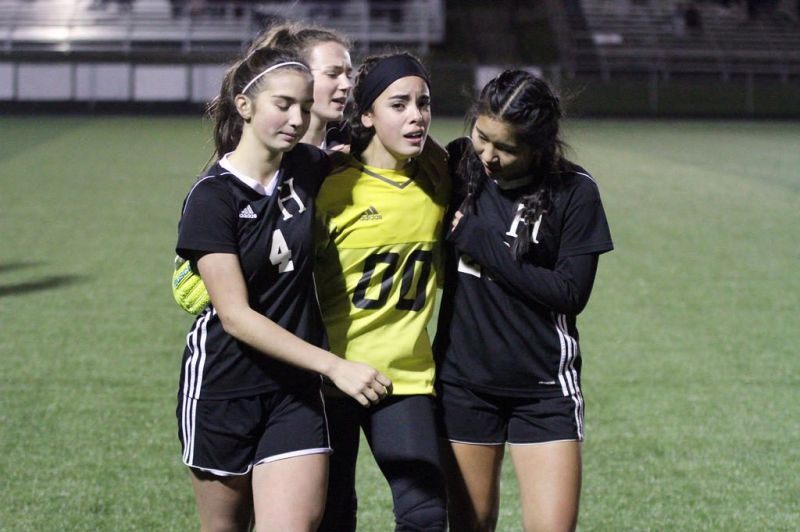 Eighty minutes wasn't enough. Neither was an extra 15, and another 15.
Hiland and Columbus Academy waged battle at Hiland High School in a Div. III girls soccer regional semifinal contest that saw neither team knock one home in regulation and two overtime periods.
It would take a penalty kick shootout to determine a winner, and it would be Columbus Academy finding the net three times to secure a 3-1 win that sent them on and sent the Lady Hawks packing.
The loss was not because of a lack of effort. Both teams appeared to be spent midway through the second overtime period. Hiland's Kate Kaufman never left the field, playing 110 minutes in the midfield.
Hiland senior Braylie Coil played like a girl on fire, flying all over the field, relentlessly attacking, even as she was forced to come out with cramps near the end of regulation.
Columbus Academy keeper Sophie Spotter played a major role, swatting away two Gabby Schlabach lasers that appeared to be destined for the back of the net. Hiland keeper Itzelle Guzman nearly matched Spotter, gobbling up 20 saves, many of them key stops in the second half and in overtime.
Hiland head coach Conner Lee said it was one of those evenly matched games that could have swung either way with a bit of luck, one misstep or one perfect pass.
"That was two teams going at it hard all night," Lee said. "I don't think either coaching staff could ask more from their kids tonight."
In the 28th minute, Schlabach fired off an absolute bullet that should have gone in, but somehow Spotter managed to get a hand on it and knock it away. Other than that, the game's first half was played a great deal in the middle of the field, with both teams trying their best to maintain possession.
In the 54th minute, Kaufman's header looked like it might sneak in, but Spotter was there again. A minute later Columbus Academy had the makings of a goal. With Guzman on the left side of the net, the ball careened right, and the hard shot was expertly knocked away by Coil, who made her second such play of the evening.
The battle waged on, neither team budging an inch until three minutes to play in regulation when Coil cut loose on a brilliant give-and-go, taking the ball down the right sideline, ahead of the defense. Spotter emerged from the line to attack, Coil zeroed in on the goal and the two met about 6 yards outside the goal. Both went down as Spotter lunged for the ball. It popped out of her grasp, and Coil managed to get up on her knees and punched it toward the open net. The ball rolled toward the left corner, and at the last second the ball was swept away across the facing by defender Olivia Archibald, drawing gasps from the crowd.
"Braylie was all over the place," Lee said of Coil. "She played so hard. She was relentless out there, and she almost did it for us a couple of times, and that play was crazy."
Hiland had one more golden opportunity with just over one minute to play but couldn't convert, and the game went to OT.
For such an exciting game, the shootout was anti-climactic with Hiland missing three of its first four shots, only Paige Gertz finding the net. Columbus Academy hit on three-of-four and sealed Hiland's fate.
"As much as it stings to lose in PKs like that, the girls left it all on the field, and that is all a coach can ask for," Lee said. "We played amazing from start to finish. I couldn't ask for anything more."
The season would end for the Lady Hawks at 10-6-4, but it was a record-breaking season including a first-ever regional appearance and a record-setting career goals scored by Schlabach.
Lee said the pain and frustration was agonizing for his team, especially his seniors, but once they are able to step back and look at everything they accomplished, it will be the many good things that will shine through.
"It's hard to even talk with the kids right now. They aren't even hearing anything we are saying, but we made it to regionals, and that was one of our goals this year. It's the first time for this program. Now we know what it takes not to just get here, but to win at this level. Sometimes it takes that kind of experience to push a team further," Lee said.
Lee said everything that played out this season in terms of success was exactly what they had hoped for and expected from this team. While the record wasn't spectacular, the difficult slate of games was designed to prepare the team for the end game, which it did.
"We were playing our best at the end," Lee said. "We really grew a lot this year. I told the girls to remember what getting here felt like and what it took to get here and let's do it again next year and put ourselves in position to win this game."
Leaving the field, sophomore Maici Money summed up the feeling that all of her teammates had.
"I'm disappointed with the loss, but I really feel for our seniors. We wanted to win for them." Money said.
They nearly did, several times, but it was not to be.