Lady Hawks cruising to open volleyball season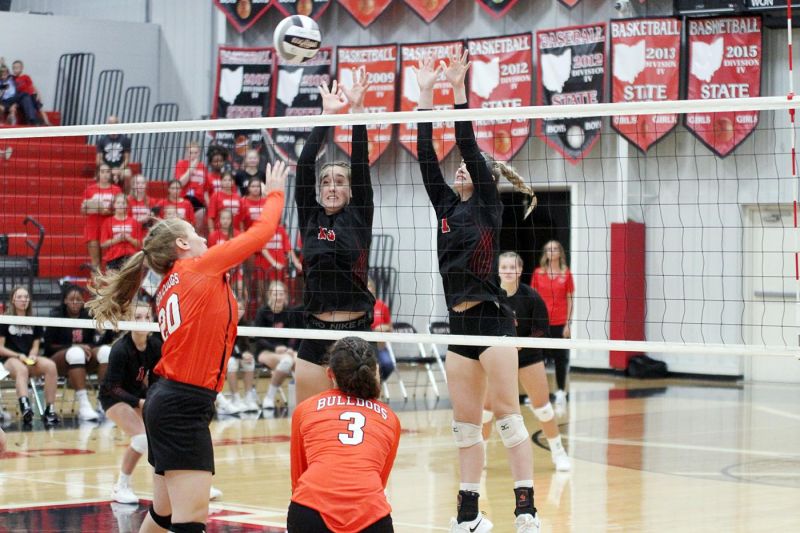 The Hiland Lady Hawks wasted little time in providing new head coach Kelly Miller with her first win, doing so in style on Saturday, Aug. 21. Hiland bashed Kidron Central Christian 25-15, 25-3, 25-15 and let area volleyball fans know they mean business in continuing the growth of a program that has risen out of the shadows the past few seasons to play a prominent role.
On Tuesday, Aug. 24, Hiland faced a perennially tough opponent in Dalton and came away with a 25-13, 25-22, 25-20 win over the Bulldogs. Gracie Keim handed out 26 assists and added 11 digs, Hannah Schrock recorded 13 kills and four blocks, Annika Schneider added seven kills, Haley Yoder had 15 service points and five kills, and Maddy Miller added 13 digs. Hiland's JV won in two.
Gracie Keim paced the Lady Hawks with 30 assists while Jamie Yoder recorded 14 service points including eight aces. Hannah Schrock and Ava Troyer knocked down 14 and nine kills, respectively, and Maddy Miller produced 11 digs. The Hiland JV team also won in two games.
Garaway and West Holmes duked it out in a thriller in a tri-match with Waynedale, where the Lady Pirates came away with a 25-20, 23-25, 25-22 win over the Lady Knights.
Garaway was led by Morgan Schlabach, who collected seven kills and four aces, while Shelby Gerber dished up 27 assists, McKenzie Miller and Nicole Custer each added a pair of blocks, and Laiken Wallick hammered out eight kills.
Peyton Carathers led WHHS in serving with 14 points and six aces, followed by Ella McMillen and Brynlee Reed each with six points. Reed also came away with three aces. Harmony Mast contributed eight kills, followed by Ella and Daphne Alexander with two apiece. Ally Baker led the defense with six digs, along with Mast, who had five. McMillen also had three blocks. Reed finished with 12 assists.
West Holmes then fell to Waynedale 25-21, 25-22 in another tough defeat. McMillen, Mast and Jerzey Morris led the Lady Knights in serving with five points each. McMillen also had two aces with Mast and Morris each contributing one. At the net Mast paced the attack with five kills, followed by McMillen, Alexander and Avery Yoder each with two kills. Defensively, the team was led by Reed with five digs while Yoder ended the game with 1.5 blocks and Reed dished out seven assists.
On Tuesday, Aug. 24, the Lady Pirates doled out a 3-0 loss to East Canton. Garaway rolled 25-7, 25-6, 25-17 in the blowout win where Wallick crushed seven kills, Schlabach added six, Miller served up six aces, Grace Yoder had four digs and Gerber dished out 14 assists.
The Lady Knights came up just shy of a win versus Mansfield Madison, falling 25-18, 18-25, 15-25, 25-23, 15-3. Reed led the Knights at the service line with 12 points and five aces. Zaylie Shultz finished with 11 points and two aces. Yoder had a big night for West Holmes, coming away with 11 kills followed by McMillen with nine. Defensively, Mast led the team with 20 digs while Carathers pitched in 11. Reed, McMillen and Alexander all walked away with 1.5 blocks.