Beachy leaves enormous imprint on golf program at Garaway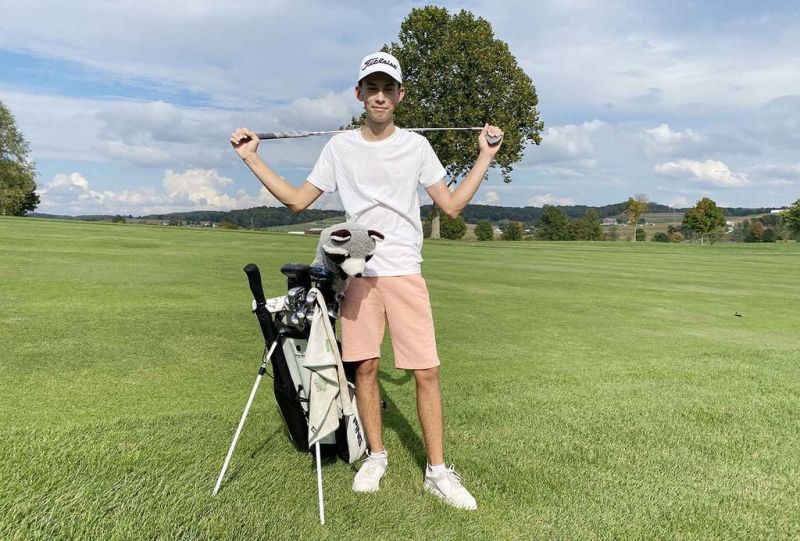 Garaway senior golfer Charles Beachy will never wow people with 340-yard drives and monster iron shots. He'll never be the guy who stands out in a crowd and dazzles.
However, for those who understand the game of golf and cherish the simple nuances that turn mediocre scores into good ones and keep a player's game from coming off the track when things go wrong and for those who appreciate the beautiful stroke of a short lob shot or magically placing a 40-foot putt within easy tap-in range, Beachy is the guy they could watch all day long.
While the Pirates fell one shot shy of qualifying for state as a team, Beachy's district score of 74 advanced him to state, where he will carry on the Garaway golf tradition. Beachy said he isn't going to outdrive any opponent; what he will do is be patient, keep the ball in play and rarely make costly mistakes. His instincts on the course and his course management and decision-making brought him to the Div. II state tournament at NorthStar Golf Course in Sunbury.
To be able to go out in his final match at the state tournament is something he has dreamt about, and he fulfilled that dream with a lot of hard work.
"When I was just a couple of years old, my dad always had golf on the television, and I watched, so after that, I picked up sticks and stones and started banging them around the lawn when I was like 3 years old," Beachy said. "I've been playing ever since."
In elementary school Beachy would have his mom drive him to what was then Willandale Golf Course. It was there he would spend countless hours honing his skills until his dad picked him up coming home from work.
A true golf course rat, he worked tirelessly on his short game, practicing chipping and putting.
"I think that is where my advantage came from," Beachy said.
Beachy spent his freshman year on Garaway's reserve team, playing in a couple of varsity matches, but the past three seasons, he has had the joy of starting and being a part of two Pirates teams that went to state his sophomore and junior year and placed third both times. As a sophomore Beachy shot a quality score of 79-86 that year, placing him 27th overall. Last year he shot a respectable 83-85.
This year, however, has been a monster step up in play for the senior. Beachy has been a picture of consistency all season, shooting right around par every time out.
Beachy spent his 10 days of practice time between district and state working on long iron approach shots because he knows with NorthStar's extra length he will hit a lot of that type of shot.
He knows hitting greens and fairways is going to be key, and he believes good course management could give him a giant edge on the competition.
He said having played under the rigors and pressure of the state tournament before helps. Knowing NorthStar also helps in his effort to finish as an All-Ohioan. Beachy said it is sometimes a struggle to hold in the frustration of struggling through a hole, but he said golf demands you keep your poise, and he said he wants to be respected as a golfer who plays with class, in good times or bad.
His head coach Mikayla Johnson said Beachy's season has been one that every future player should look at and want to emulate. His demeanor and consistency are attributes she said make him who he is as a player.
"His leadership is incredible," Johnson said.
Garaway lost four senior leaders from last year's group, and someone had to step into that leadership role. She said Beachy did so, and with that he gained a lot of confidence, and his scores show the results.
"He got to learn from a lot of great leaders before him, so he recognized what it takes, and he has been an incredible example for our younger guys," Johnson said. "His game is one that most people would love to have. He is so consistent, and he keeps the course in front of him, keeping everything in play. If you watch his short game, he is magnificent. When you miss a green and can recover and hit shots and save pars, it's a wonderful attribute to have."
While not tall in stature, Beachy certainly has left his mark in the annuls of Garaway's lengthy list of golf greats.