Mathurs hope to lead WHS tennis to repeat performance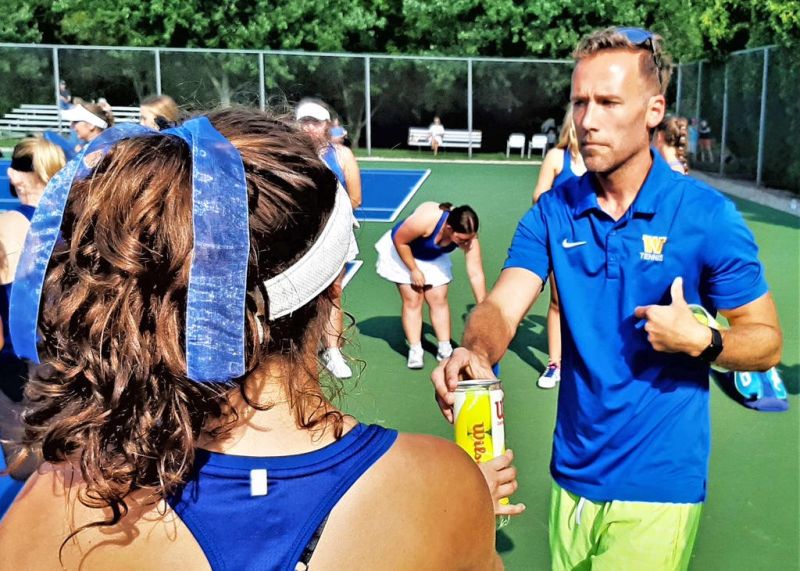 Imagine finally being a senior on your high school tennis team. And all along you've grown confident while playing in the top singles position: best player on the squad.
Then a promising freshman arrives on the scene and grabs away that No. 1 spot by winning a challenge match in practice. To make matters even more unsettling, that little ninth-grade firefly just happens to be your sister.
Credit Wooster High's Sophia Mathur, the old-timer, and Ava Mathur, the newbie, with handling the curious circumstance like seasoned pros. As long as the Generals keep winning matches in defense of their Ohio Cardinal Conference crown, the score will be love-all for the rival sisters.
"It's been a topic of discussion for a long time," the elder Mathur said just before taking the court at No. 2 singles against underdog Uniontown Lake High. "I really wasn't surprised she took it. She's a very awesome player. She'll be far better than me when she's my age."
Wooster first-year coach Justin Crooks has no reservations about penciling in Ava's name in the first singles slot against some of the best talent in Northeast Ohio.
"Everybody has improved. They're all working hard and doing their best to try to win," Crooks said. "We're just trying to live up to our expectations."
The OCC championship the girls snared last year was the first in school history — 40 years in the making. Of the seven on the 2021 varsity roster, five of the trendsetters from a year ago are back to build on their success. Crooks said the team's 2020 run boosted the students' overall confidence.
In addition to the one-two singles punch provided by the Mathur sisters, junior Minnie Pozefsky occupies the third singles spot. The No. 1 doubles team is senior Emma Boreman and sophomore Alexia Kakanuru, who advanced to the district level last fall when coach Matt Knight was at the helm.
The senior duo of Lauren Anderson and Sophie Garcia add depth and balance in the No. 2 doubles role.
Off to a stellar start, the Generals loom as the team to beat in the OCC. Stout challenges could come from Lexington and Ashland.
Crooks, an Ashland High grad who played tennis at Indiana Wesleyan, took over the boys team last spring and is handling the girls as well this fall. He calls himself a "stay-at-home dad," but he also teaches tennis at the Aspen Racquet Club. His wife, Sara, is an associate principal at Wooster High. They have two young children.
As for the Mathur sisters, their styles of play are different. Ava Mathur brandishes punishing forehand ground strokes and will only tolerate "moonball" tennis so long before she wants to put the point away. Sophia Mathur's experience makes her a consistent all-round competitor who knows how to turn up the heat as well.
Crooks said it's a bonus that five of his seven varsity players are involved in United States Tennis Association junior tournaments around Ohio, where they gain valuable hard-court experience.
Such extensive travel requires a willing driver, which is where Erica Mathur, the girls' mother, comes in. She readily admits her knowledge of the game pales in comparison to that of her husband, Kevin, who has Kenyon College experience.
"He's the one who can really help them with their tennis," Mom said. "I'm just the driver."
Of course, a mother knows her daughters like no one else can. She'll step in to shut down any typical sibling spats when it comes to such things as who will wear what shirt and which movie will be watched. On the court, the chasm between the sisters has been closing.
"For so many years, Sophia was better than Ava. Then as they started getting older, we saw the gap narrowing," Erica Mathur said. "I think it has a lot to do with Ava just looking up to her big sister and having her in her sights. Ava's game has just kind of exploded over the last year."
Dad said he tries to separate his role as a father from that of a tennis mentor. He views the girls' involvement in the game on a much more basic level.
"I want to be their dad. That's my primary goal," Kevin Mathur said. "When you slip into that coach role, sometimes it's not digested well. It's a fine line to walk. I just want tennis to be fun for them. Of course, it's great to win. But you've got to know how to lose too. But tennis has to be fun. If it's not fun, it's not worth doing."