Fred Miller nominated for OHSVCA Hall of Fame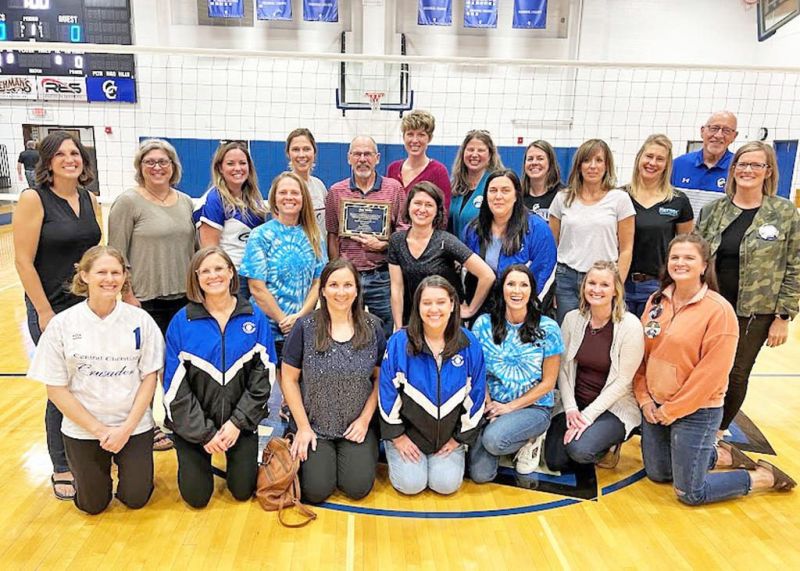 Central Christian School has nominated Fred Miller for the Ohio High School Volleyball Coaches Association Hall of Fame. Miller's legacy was celebrated at a ceremony during the CCS varsity girls volleyball game on Sept. 15.
From 1978-2004, Miller served in many capacities at CCS including as a Bible teacher and superintendent. During his term as superintendent, Central transitioned from a grade 9-12 high school to a k-12 institution. Student enrollment grew from 122 students to 408 under his supervision.
Miller established and coached a successful CCS volleyball program for 27 seasons. His passion for high school volleyball at its inception at Central Christian and in the surrounding areas was significant to the ongoing high level of play for many local high school teams.
During his 27 seasons, he accumulated a record of 471-138. He finished the 2004 season with a 22-3 record. His teams won 16 consecutive OHSAA sectional titles, 11 district titles, finished as regional runner-up five times, captured two regional championships and made two state Final Four appearances. The 1992 CCS squad finished as runner-up while the team was a semifinalist in 2003. Miller was named District IV Coach of the Year 11 times and was named State All-Star Coach once. Seventeen of his players went on to play intercollegiate volleyball including one at the Div. I level at Ohio State University.
"Fred's commitment to Central and the CCS volleyball program over his 27-year tenure is evident in the success of both the school and the program," said Zach Kooker, CCS athletic director. "Many good, committed individuals have come on board over the course of the school's history to make Central Christian who we are today, and Fred is definitely one of them.
"We are very grateful for all he gave and for the impact he made on hundreds of lives through both athletics and education."
"From the moment I started connecting with Central Christian School, I found myself drawn to the deliberately Christ-centered school," said Nate Holton, the current CCS superintendent. "Effective Christian organizations are led by people like Fred Miller, who follow Jesus first and then are innovative, intentional and devoted to strong communal engagement."
After leaving Central in 2004, Miller went on to coach men's volleyball at Eastern Mennonite University for one year. He then turned his focus to officiating volleyball at the high school, Junior Olympic and collegiate levels for the next 15 years. During that time he also served as the administrative pastor for Harrisonburg Mennonite Church. Miller is now officially retired, and he and his wife Judy reside in Harrisonburg, Virginia.
To learn more about Central Christian School, visit www.ccscomets.org.