Nice day for Knights at Meadowbrook's Joe Kasper Memorial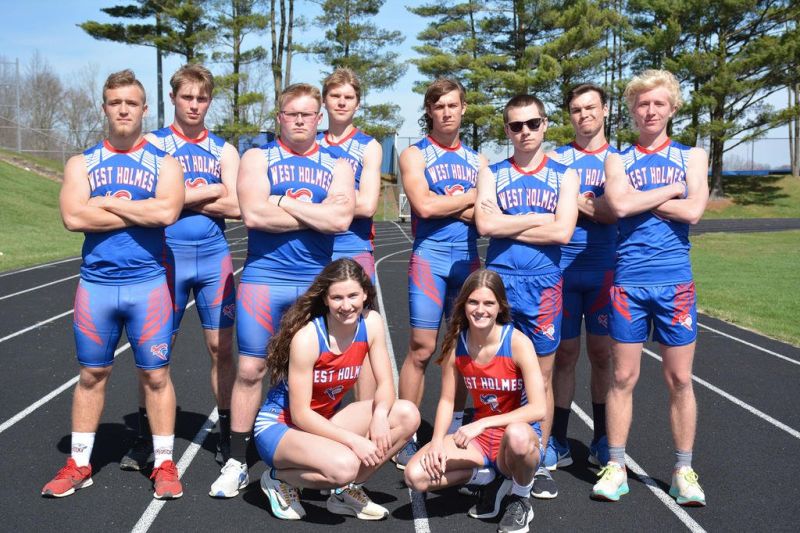 The West Holmes track teams got off to a fine start to begin the year at the annual Joe Kasper Memorial Invitational on Saturday, April 3 at Meadowbrook High School. The Knights' boys battled their way to a second-place finish behind champion New Philadelphia, which scored 151 points to the Knights' 108. The Lady Knights grabbed fifth place out of the 18-team field, where Dover clawed its way to victory.
Emerging victorious in the discus throw was senior Lane Graham, whose heave of 149-00 was 2 feet beyond anyone else. Graham made it the daily double by winning the shot event with a toss of 554-10, a whopping 5 feet further than the nearest competition.
Pole vaulter Emmett Myers also visited the winners' circle by clearing 13-00 while Zander Shultz also took top honors in the high jump, clearing 5-10 and winning the jump-off.
In other field events, Gavin Freeman leaped to third in the long jump with a 19-04.25 effort, where New Philadelphia's Reise Meechan won with a leap of 21-04. The Knights' Sawyer Pritt also gained points, placing seventh at 18-04.25.
In the running relays, the Knights team of Cade Wagers, Haeden Wolfe, Caden Zeigler and Zeke Galbraith placed third in the 4-by-800; the quartet of Pritt, Freeman, Austin Myers and Shultz ran to seventh in the 4-by-400; and WHHS came in runner-up in 1:34.0 in the 4-by-200, just edging out Meadowbrook for that honor. That team consisted of Austin Myers, Shultz, Emmett Myers and Brady Taylor.
And in a terrific battle in the 4-by-100, West Holmes sandwiched itself in between champion Meadowbrook and third-place New Philadelphia. The three teams ran in respective photo finish times of 44.44, 44.50 and 45.53 in a race to the wire.
Austin Myers grabbed sixth in the 300-meter hurdles, and while Owen Brady of New Philadelphia ran away with the 3200-meter title in 9:58, Knight Cade Wagers ran a cool second in 10:17, easily taking second.
Taylor and Quaker's Caden Richmond went at it in the 400-meters, where Richmond came away victorious in 51.33, edging by Taylor's runner-up time of 51.98.
However, Taylor would not be denied in the 200-meters, where he raced to victory in 23.2, slipping past runner-up Richmond, who ran a 23.35.
In the girls events, Lady Knight Zaylie Shultz placed sixth in the discus throw and settled in right there again in the shot.
Teammate Katie Sprang flew to fourth in the long jump at 15-02.5 while Hannah Rohr gained points for WHHS with a sixth-place leap of 15-00.5. Laney Duff finished just outside of the points in the high jump, placing ninth.
Duff, Shultz, Jasmine Giauque and Rohr raced to third in the 4-by-100 relay in 53.96, just missing out on second place. The 4-by-400 relay team did manage to grab the runner-up finish, where Giauque, Rohr, Brenna Myers and Sprang flew to a 4:29.29, inches away from the victorious team of Dover, where Sophia Bielski, Grace Smith, Ella Neading and Emerson Rainsburg won in 4:29.24.
In individual events, Sprang outlasted Rainsburg to capture the 800-meter title, running a 2:29.03 to Rainsburg's 2:30.73. It was a good showing in the 200-meters, where Jasmine Giauque took second in 27.54 and third went to Rohr at 28.37. They trailed only champion Josie Knierim's time of 26.85. Knierim also won the 100-meters in 13.54 while Giauque settled in at third in 13.83.
Garaway Pirates
Garaway's boys ended up seventh in the field at Meadowbrook while the girls placed ninth.
The big winner for the day for Garaway was Makayla Stitzler, whose heave of 35-06 was good enough to capture the title in the girls shot. She also placed eighth in the discus.
In the 400-meters, Lady Pirates Kenadi Yoder and Hailey Troyer placed sixth and seventh, respectively, while Lauren Goehring placed 11th in the 800-meters. Hailey Schlabach ran to sixth in the 300-meter hurdles in 57.25.
The team of Yoder, Troyer, Schlabach and Brooklyn Numbers placed seventh in the 4-by-200 relay while Yoder, Troyer, Goehring and Schlabach grabbed sixth in the 4-by-400 relay.
On the boys side, Pirate Mason Steiner took fourth in the discus with a throw of 131-03. Ty Winters sprinted to third in the 300-meter hurdles in 45.84, and in the 3200-meters, Heinrich Asbury placed fourth. Brendan Chapman placed fourth in the 400-meters in 54.21.
Garaway's team of Winters, Ethan Miller, Steiner and J.D. Young took eighth in the 4-by-100 relay while Chapman joined Winters, Young and Miller to place fourth in the 4-by-200 relay. Young, Caleb Miller, Ethan Miller and Chapman took fifth in the 4-by-400 relay.