No looking back for West Holmes boys basketball squad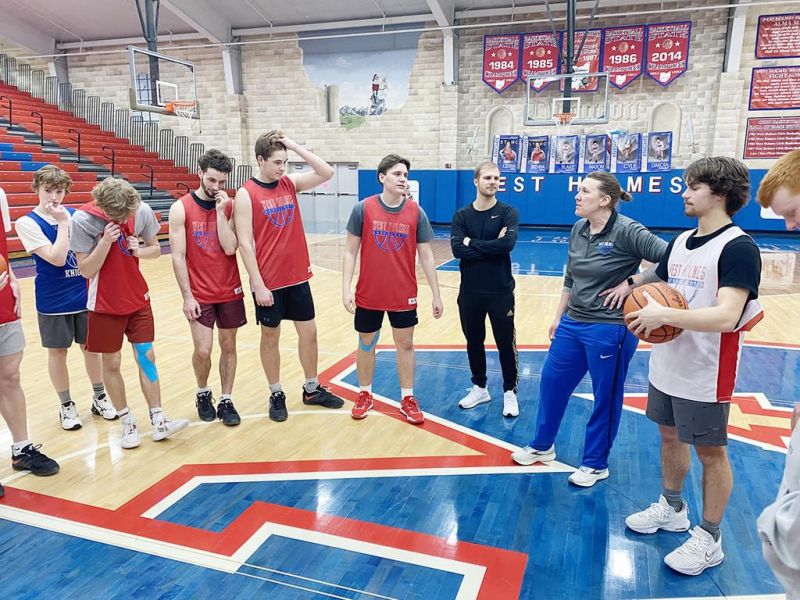 "The first rule of Italian driving, what's behind me is not important."
This declaration by Raul Julia's Ferrari-driving Italian race car driver Franco as he tears off the rearview mirror in the 1976 comedy movie, "The Gumball Rally," might be an apt way to summarize the West Holmes Knights boys basketball program.
Tennille (Turner) Cline made a major impact on West Holmes High School's basketball program as part of two girls state tournament teams in the 1990s, where she earned second-team All-Ohio honors in the 1994-95 season under the guidance of head coach Jack Van Reeth.
Now Cline will have a chance to make an impact of a very different kind in taking over the reins of the Knights' boys basketball program after head coach Seth Martin resigned from that role on Friday, Jan. 6.
For Cline and the Knights, what's behind them doesn't matter.
Cline, who had been serving as the junior varsity head coach, will assume an interim role as varsity head coach moving forward, and she is eager to bring excitement back to the hardwood.
In a spirited first practice since taking over on Saturday, Jan. 7 following the Knights' game with Lexington the evening prior, Cline summed up her role in addressing the team in the closing moments. "My motivation is not me; it's you guys," she said.
Cline has made it clear she has every intention of bringing success to a team that started the season 0-10. She also has made it evident there are many other ideals that transcend wins and losses when it comes to the game of basketball.
"These boys spent a ton of time this summer and fall working on their game," Cline said. "We had a great summer. I know what these guys are capable of, and they haven't reached that potential yet. They know they can be a good team, and they are already self-motivated in that they know they have it in them. We just have to implement the right things that fit them so they can move forward to reaching that potential. They are great kids and so fun to be around. They could have quit a long time ago, but they didn't, and they are still pushing forward."
Cline said she felt a renewed sense of confidence in that first practice, as well as in the team's performance against a talented Ohio Cardinal Conference front-running Lexington team the night before.
She said it's almost like the team has been given a do-over to restart the season, and they will be quick to try to take advantage of that feeling.
"We still have a great deal of work to do, but the intensity, positivity and kids out here going hard returned," Cline said. "There's not disappointment, bitterness or quit in these guys. We have an attitude that tomorrow's a brand-new day and we're moving forward."
Cline said even in the loss to Lex, there were many positives.
She said they implemented a zone defense from scratch that they had barely worked on and played it well, and she expects it to get even better.
She said they were patient in running their offense and didn't settle for the first available open look. She said getting a tough opponent like Lexington was a challenging introduction for her as a head coach, but that was fine because her team played hard with the attitude they were going to give the Minutemen a challenge.
She said this won't turn around on one or two days, but seeing the kind of immediate effort she got from her team is an encouraging starting point.
"It's not a sprint, and we have to keep building on what we have," Cline said. "We're not changing everything, but at the same time, a change must happen. The mind-set change has already happened. The skill they've always had. Now we need to adapt the things we want to do with the talent we have on the floor."
Cline has been working with this junior class of players since they were third-graders, and having been on staff for several years at the high school level, she is a familiar face to the players, one they respect.
She said that is a plus because seeing her walk into the gym for practice is no different than it has ever been.
"These kids are all important to me," Cline said. "I want the best for them, and I have to believe that we can work together to turn things around."
She said learning to change and adapt moving forward will be something she will deal with as she takes on her new role.
That includes entering a male-dominated world of coaches. Cline is the first female head coach for the Knights' boys program, and there are very few women in OHSAA history who have helmed a boys varsity team.
She said she recognizes the importance of that, and at the same time, she views herself as just another head coach.
"It's still the game of basketball," Cline said. "I've been part of this program for five years. It used to be a little intimidating, but now I walk in the gym and it's my team and I'm just coaching. I'm surrounded by great people."
She said many OCC coaches have already reached out to her and have been welcoming and encouraging, offering their help wherever possible.
At the same time, she said there are probably people out there who struggle with a woman coaching the guys.
"That's just because it's a little different," Cline said. "But I don't want to make that the issue. To me, the focus is on my players, building them up and helping them develop into everything they can be as players and people. I'm just a basketball coach coaching basketball, and we want to compete and win basketball games."
The Knights wasted little time in reaping the benefits of Cline's enthusiasm. On Tuesday, Jan. 10 WHHS picked up its first win of the season over a good Indian Valley team, beating the Braves 59-52.